Kylie Murphy remembers changing inside "rat-infested" containers in the early stages of her football career.
The 33-year-old Wexford Youths star says she appreciates the recent improvements in the women's game all the more because of those chastening early-career experiences, even if it does make her long to be a young player starting out all over again.
Murphy was crowned the 2021 SSE Airtricity/Soccer Writers Ireland Personality of the Year on Wednesday, and used the occasion to reflect on the women's domestic game in this country.
Her synopsis in short: a lot done, plenty more still to do.
"I would love to be those [younger] girls now coming through," she said.
"What they are coming into is incredible, you can see what is coming for them. Ellen [Molloy, her Wexford Youths team-mate] is what 16, 17 years of age? The pitches they are playing on and the dressingrooms they are getting changed in... when I was their age, I was getting changed in the boot of a car or those old box containers that were literally rat-infested. You would be afraid to leave your clothes down.
"That is what I was getting changed in when I was 16.
"Maybe in a way, it makes me appreciate all of these things so much more, where the sport has grown to. There are so many opportunities out there for young girls coming now if they put it in. The talent is always there but I always feel that if you have it upstairs, you have it in abundance.
"And I see that in the likes of Ellen and Aoibheann [Clancy]. They are so clued-in and their talent is amazing but they have it upstairs as well. The world is their oyster.
"I would be a bit envious. Even though I am so happy for them and for all of those girls coming up, yeah I wish I was about 10 years of age right now coming into what is going to happen in the sport."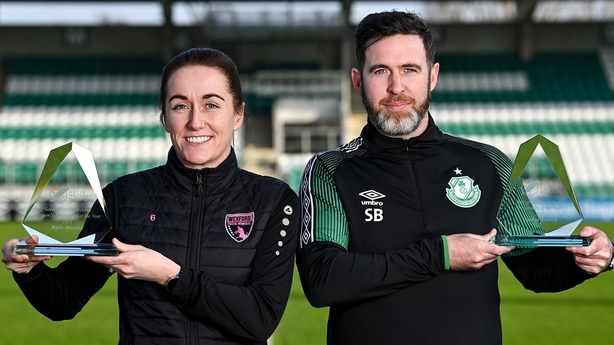 Murphy's transformation from a midfielder into a prolific striker was one of the stories of the Women's National League season, but she was only pushed further up the pitch because Wexford lost Rianna Jarrett to Brighton.
When asked what further improvements she'd like to see in the domestic game, Murphy emphasised the need for further investment to keep strong young Irish players on these shores for longer.
"Money makes the world go around and I would love to see a bit more funding coming into our league," she said.
"In the last four or five years, we have lost really, really good players to the WSL [in England] or further afield and unfortunately, it is going to bring the standard of the league down.
"I would love to see the league growing and that those players don't feel like they have to go across. I think the next step for the league is to go semi-pro or pro, as best they can.
"But obviously money is what is needed,. The more exposure that we get, the more media, the more games that are shown, people will want to watch and maybe getting gate receipts and more people to the game. It is about keeping the best Irish players in Ireland because it is the only way that we are going to grow the game.
"If every team starts losing their best players, then they are just constantly building and you are knocked again, and you have to build again, knocked again and build again. These kids coming up now, their thought is they want to go pro and that is not staying in Ireland."