Shamrock Rovers manager Stephen Bradley has confirmed that Pico Lopes' performances in the Africa Cup of Nations have attracted the interest from clubs on the continent.
Lopes' Cape Verde team take on Senegal in the last-16 in Bafoussam today, with the Shamrock Rovers centre half having started all three group games as the islands qualified for the AFCON knockout phase for only the second time in their history.
The 29-year-old Dubliner, who represented the Republic of Ireland at U19 level, qualifies to play via his Cape Verdean father, receiving his first-call up in 2019 - having initially dismissed his suitors' early attempts to contact him as scam calls.
Watching from afar, his club manager is highly enthused by his defender's displays.
"It's brilliant. When you're following Pico, it's obviously made it (the tournament) so much more interesting," Bradley told RTÉ Sport.
"It's brilliant to see him performing at that level against some of the world's stars. He's loving it which you would expect and it's great to see him perform because he deserves it."
While Lopes hits 30 at next birthday, Bradley says his performances in Africa have sparked the interest of some clubs - noting it comes from Europe rather than England - though he was coy on the exact source of the enquiries.
"There has been a few teams that have really liked him and if they make that call to us, it's a conversation we'll have to have with the club and with Pico. That's the stage he's on, he's performing, and he's getting recognised.
"There has but there hasn't been any official requests. European. Yeah he looks he's performed well and he is going to have that interest."
"There has been a few teams that have really liked him and if they make that call to us, it's a conversation we'll have to have with the club and with Pico."
Lopes made the switch from Bohemians to Shamrock Rovers in late 2016, and important part of the club's rise from mid-table under-achievers to title-challenging pretenders to back-to-back champs at the beginning of the new decade.
"He's worked every day, he's always asking questions, he's always trying to improve every aspect of his game and he's become more of a leader and a character over the years for our team.
"And he's a big big part of what we do and I think you can see that on a weekly basis.
"When we first got him, people would have said his quality on the ball would be one of his biggest weaknesses but I think he's turned it into a strength. That is brilliant to see, that he has become so comfortable on the ball. The way we play, he has to be but he's bought into that. Every aspect of his game is really strong."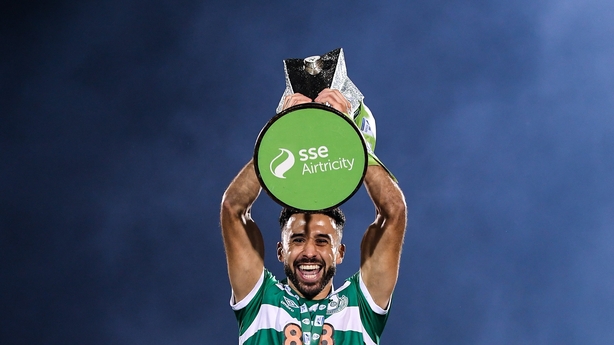 With the tournament imposing a heavy workload, Bradley is mindful of the need to give Lopes a rest in advance of the start of the Premier Division, which kicks off 18 February.
"Yeah, he'll need a little rest, he had two and a half weeks off in the off-season and then getting ready for the tournament. He will need a little break. It was all depending on how far he went so once he's back we'll sit down and put together a little plan.
"You just have to be careful that you run him right through and end up with silly injuries in June or July. If there is any stage of the season that I'd like him to miss, it would be the first couple of weeks. We'll have a look at that when he comes back."