Liverpool goalkeeping coach John Achterberg believes that Caoimhin Kelleher "could play every game for Ireland" as his development into a top class shot-stopper continues apace.
Kelleher has cemented his place in the Liverpool squad as the number two goalkeeper behind Alisson Becker and has impressed in recent league and cup outings while deputising for the Brazilian.
The Cork goalkeeper is also playing second fiddle at international level with Manchester City's on-loan teenager Gavin Bazunu laying claim to the starting berth in Stephen Kenny's side.
Former Ireland goalkeeper Shay Given recently claimed that Kelleher should leave Liverpool this transfer window on loan in search of first-team football, but the Reds are unlikely to let him go and their progress in cup competitions should see more outings for Kelleher.
Achterberg believes that working alongside Alisson and the Liverpool goalkeeping staff, which now includes Brazilian legend Claudio Taffarel is helping Kelleher's development.
"Caoimhin is doing really well. Unbelievable speed and reactions, but he's also calm," Achterberg said in an interview with The Athletic.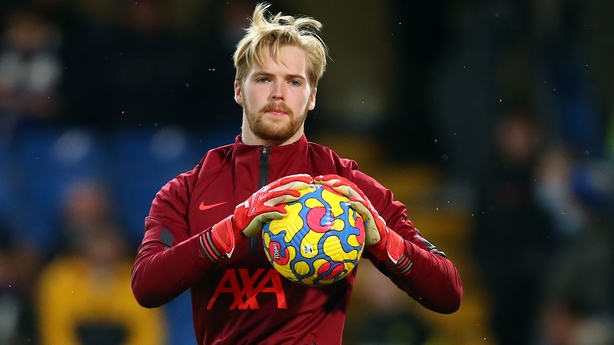 "He's learned a lot from working with Ali. He's become a man now. He could play every game for his national team, no danger. He has shown that he can play in the Premier League. At the moment, he's in the right shape and in the right mindset.
"I feel confident that if Ali has an issue and cannot play, then we have someone like him to put in. It's a good feeling for us as coaches to have."
Kelleher has played half a dozen games for the Reds this season and has impressed in each of them and as Achterberg explains, it can be a challenge for him to be ready to step in at a moments notice.
At some point in the future, there could be a time when Caoimhin might decide he wants to be a No 1
"Caoimhin is most of the time in the same rhythm as Ali but obviously doesn't play as many of the games, so we need to make sure he gets his speed reactions and his crosses and his kicking in to ensure he's ready.
"A lot of thinking and planning goes into it."
However the coach did acknowledge the fact that Kelleher may not always be satisfied sitting on the bench and backed him to be a first choice goalkeeper.
"At some point in the future, there could be a time when Caoimhin might decide he wants to be a No 1. I have no doubt about his ability to achieve that," he said.
Whether that will be at Anfield or elsewhere remain to be seen.