Drogheda United chairman Conor Hoey has called for an end to all gambling advertising associated with Irish football.
The SSE Airtricity League Premier Division side have become the first Irish club to back a UK-based campaign called The Big Step which is aiming to end all forms of gambling sponsorship in the sport.
Speaking on RTÉ's Morning Ireland, Hoey said he is concerned that an "epidemic of gambling" is being created and that the Louth club's move is part of a wider effort.
"Firstly we're following the lead of our governing body the FAI who have turned down some significant gambling sponsorships in recent years for the main national team for Ireland," he said.
"We're following the lead there and following the lead of a number of other clubs in the league here in Ireland who are against gambling sponsorship and advertising in the league such as St Patrick's Athletic who during the (FAI) Cup final had an advert going around the Aviva saying 'Stop Gambling Harm'.
"So we're not the only club who are trying to push this but we are really concerned that we are raising a generation of children who think that betting and football are synonymous and in doing that creating an epidemic of gambling."
Hoey added that Drogheda wanted to "self-regulate here in Ireland and do it before the Government even makes us".
He explained that they had received "two approaches" in the last year from gambling companies interested in sponsoring the club.
"We've turned both of them down. And I know other clubs have received significant offers for gambling sponsorship on the front of jerseys and similarly have turned them down," he said.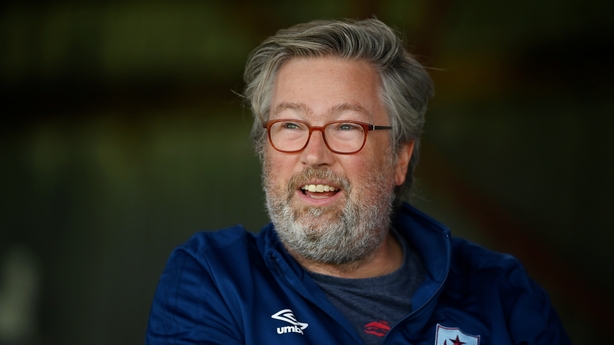 "Some of us have to lead by example here and I think it's a really good thing for the league itself for many clubs and I think the majority of clubs are in our camp here to stand and say, 'Look, we want to do what's right here'.
"The League of Ireland is a wonderful community of clubs. It provides wonderful entertainment to families and people around the country and I think we have the right values generally as a league and to stand up and say that we should pull away from gambling sponsorship in the sport is a good thing."
Hoey also added that Drogheda are considering terminating their club lottery as part of any wider action against gambling advertising.
"We're meeting as a board next week to see whether we should terminate our lottery and any funds that have been raised from it should be put into a building fund for new facilities for our youth teams and academy.
"To try to equate club lotteries around the country, where a couple of hundred quid is raised, with gambling companies, (and) international gambling companies often located in offshore locations making billions of dollars at the expense of individuals who are losing out...I don't think you can equate the two. But it's something we're certainly considering too."
Listen to the RTÉ Soccer podcast on Apple Podcasts, SoundCloud, Spotify or wherever you get your podcasts.
We need your consent to load this rte-player contentWe use rte-player to manage extra content that can set cookies on your device and collect data about your activity. Please review their details and accept them to load the content.Manage Preferences