Christian Eriksen said his "heart is not an obstacle" as he shared his dream to play for Denmark at next winter's Qatar World Cup.
The midfielder suffered a cardiac arrest during Denmark's Euro 2020 opener against Finland last June.
He received life-saving treatment on the pitch before being taken to hospital, later being fitted with an implantable cardioverter defibrillator device [ICD].
Serie A rules do not allow players to play with an ICD, and so the 29-year-old Eriksen left his club Inter Milan by mutual consent before Christmas.
He's been training on his own at Danish club Odense - where he was formerly a youth team player - but Eriksen is confident he will get a move to a top-level club this month, and work towards what would be a remarkable return to international football.
"It's up to the manager to assess my level, but my heart is not an obstacle."
"My goal is to play in the World Cup in Qatar," he told Danish TV channel DR 1.
"I want to play. That's been my mindset all along. It's a goal, a dream. Whether I'll be picked is another thing, but it's my dream to come back. I'm sure I can come back because I don't feel any different.
"Physically, I'm back in top shape. That's been my goal and it's still some time away, so until then I'm just going to play football and prove that I'm back at the same level.
"My dream is to rejoin the national team and plat at Parken again, and prove that it was a one-timer and that it won't happen again. I want to prove I've moved on and that I can play on the national team again.
"Again it's up to the manager to assess my level, but my heart is not an obstacle."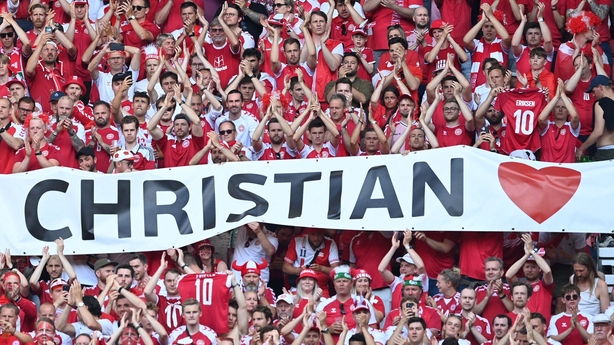 Kasper Hjulmand steered the Danes to qualification for the tournament in highly impressive fashion. They breezed through Group F and will be fancied to go deep into the knockout stages.
Whether Eriksen is part of that quest remains to be seen, but the talented playmaker is not giving up.
Paying tribute to the enormous support he received in the wake of his brush with death, Eriksen added: "It was amazing that so many people felt a need to write or send flowers.
"It had an impact on so many people and they felt a need to let me and my family know. That made me happy.
"It was weird because I didn't expect people to send flowers because I had died for five minutes. It was quite extraordinary, but it was very nice of everyone and it has been a big help to me to receive all those best wishes.
"I've thanked the doctors, my team-mates and their families in person. But all the fans who have sent thousands of letters and emails and flowers - or who have come up to me on the street in both Italy and Denmark - I thank them all for the support."