Jurgen Klopp acknowledged a "big gap" has emerged between his Liverpool side and Manchester City at the top of the Premier League table after a costly 1-0 defeat at Leicester.
The Reds were aiming to cut the lead at the summit down to three points at the King Power Stadium.
But on a night when Mohamed Salah missed a first-half penalty, Ademola Lookman's winner earned the win for Brendan Rodgers' Foxes - a result Klopp viewed as deserved - leaving Liverpool six points adrift of Pep Guardiola's City.
"We were just not good enough. We still had enough chances. What we did with the ball was just not right. We played a really bad game, so it was well deserved (for Leicester)," he said.
"We should have had more of those moments. We had enough to get the win, but if you lose you need more of them.
"You could see it coming a little bit. They had one shot on target and didn't have plenty of chances.
"We should have defended better. We do that usually, why we didn't do it today is hard to explain. There were so many performances before normal level, there's no explanation."
On Liverpool's title ambitions, Klopp said: "It's a big gap. In this moment it is not my problem. If we play our normal football, Liverpool football, we have the chance to win more football games.
"A defeat is a defeat. We have to learn and we will.
"The first thing is not to do it ever again like this. We lost our rhythm and weren't calm enough to get it back, that is our fault."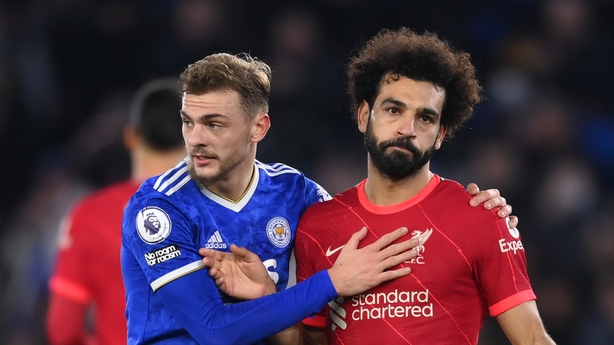 The defeat ended a 10-match unbeaten run and Liverpool could be 12 points adrift of City by the time they play third-placed Chelsea on Sunday.
Klopp said: "To top that, Chelsea and us play against each other. It was not our plan to give City the chance to run away. If we play like tonight we cannot think about catching up with City.
"If we play our football and we can win games, we can see how many points we can get and what that means.
"I don't have a proper explanation for tonight – to find it is my main concern, not City.
"We were not ourselves. We started OK, I didn't like the intensity even in the beginning but it was the start. Then we lost the rhythm and never found it again.
"We forced it a little bit too early, instead of passing the extra pass. We tried to change that at half-time but for some reason it didn't click.
"When they scored the goal it was clear we were under pressure, we were pushing them but didn't use the chances. They deserved the three points."
Leicester counterpart Rodgers praised the efforts of his own side in upsetting the odds.
"We knew coming into this game, because of the scoreline against Man City, that the headlines were probably already written with how many goals Liverpool were going to score and all the injuries we had," he said.
"But the beauty is that you write your own story in football and that is what we told the players before. They gave a big energy and we know we have quality.
"If you look at the weekend, even though the scoreline was 6-3, two were penalties and two were set-pieces. We let ourselves down with the set-pieces so we needed to break the cycle.
"I just thought 'let's just go back to the basics again' – a bit of an old-school structure, defenders go and defend, guys on the posts. The two centre-halves were amazing.
"We had to be resilient, tough and defend for your life at times but also show good moments of football."