Shamrock Rovers midfielder Jack Byrne says the League of Ireland will benefit from the post-Brexit block on Under-18s transferring to British clubs but insisted it was imperative that the homegrown development system steps into the breach to cover for any opportunities lost.
FIFA rules prohibit the international transfer of U18s (minors), though an exemption is in place allowing players to transfer between EU countries from the age of 16.
The UK's departure from the EU takes them out of this arrangement and its impact is already evident in the Irish youth set-up. When the Ireland U17s beat Andorra 5-0 in Turner's Cross in October, there wasn't a single member of the team contracted to an English club. All bar three - Inter Milan's Kevin Zefi, Celtic's Rocco Vata and Villarrael's Caden McLoughlin - were based in the League of Ireland.
This appears the way of the future, though there are some exceptions due to blood links. Brighton's Evan Ferguson, who at 17 years of age was included on the bench for their game against Wolves last night, was eligible to transfer to a UK club on account of his British mother.
Byrne, twice PFAI Player of the Season with Shamrock Rovers, belongs to a different era, having departed St Kevin's Boys for Manchester City at the age of 15.
At the time, leaving for England was an obvious choice. Now that this avenue has been closed off, the Republic of Ireland midfielder says it's vital that a way is found to provide a competitive underage structure in this country and expresses his fears about a possible lack of depth and resulting one-sided matches.
"Will it hamper some of the top young players not being able to go over to a Man City or a Tottenham or a Liverpool? We don't know yet because we haven't seen how it will play out in the early stages of people's career," Byrne told the RTÉ Soccer podcast.
"It will certainly help the League of Ireland and the clubs around here. But the structure back here needs to be good enough for them to stay.
"When I was a kid, there was nothing here for me to stay. If I stayed here past 15, 16, what was I staying for? There was no Shamrock Rovers academy, Bohs and Kevin's weren't linked. They obviously are now.
"But the standard needs to be that the top players are getting the chances that they deserve. And they can't be going out and playing against Cabinteely every week. Evan Ferguson can't go out and play against Cabinteely every week and score 10 goals. He needs to be playing against Man City U23s.
---
Listen to the RTÉ Soccer podcast on Apple Podcasts, SoundCloud, Spotify or wherever you get your podcasts.
We need your consent to load this rte-player contentWe use rte-player to manage extra content that can set cookies on your device and collect data about your activity. Please review their details and accept them to load the content.Manage Preferences
---
"The structure needs to be in place, if the players do decide to play here, that they either go into the League of Ireland, they make the League of Ireland teams stronger and they're ready to play. Or they play U19s football that's competitive and worth their while staying here.
"If not, it's a waste of time if they're not going to get the development that they need. If they're not going to get that here, it's a shame they can't go away.
"So, there needs to be a structure put in place and a platform here for them to really kick on and show the best of their abilities."
The exotic option of the continent is still theoretically on the table, with Zefi and McLoughlin from the U17 side in Italy and Spain respectively.
Byrne himself was a touch older when he availed of a loan deal with Cambur in Holland, playing 27 Eredevise games in the 2015-16 season.
"It's not England or Scotland that's the be-all and end-all. (For example) my game probably might not suit certain managers or certain styles and that might not be England - there might be a certain managers in England that I suit.
"I think there's doors out there for people. You have to try and open them. But is that what the kids want to do and is that the advice they're getting? Are the kids brave enough to do that? I went away at 19 to Holland. It was a big step but I loved it. I played a lot of games and did well. It was a great experience for me.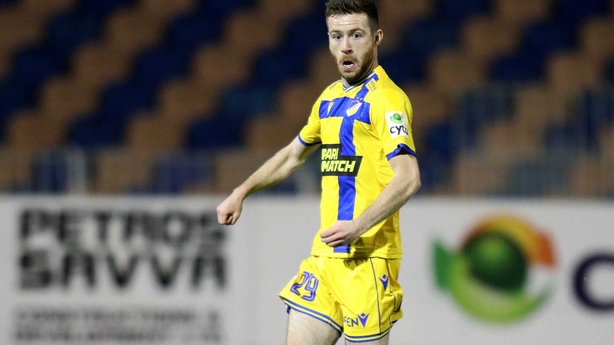 "It depends on the kid and the opportunity that becomes available to them. It's the advice they're getting as well. Because at the end of the day, a lot of the money is in England and a lot of agents will push them towards that.
"But if they do branch out, I don't think it'll be a bad thing. If they do want to go across Europe, it'll improve them in other ways."
After an unhappy spell at Kilmarnock, Byrne's own career was invigorated by his return to Shamrock Rovers, where he shone for two seasons in 2019 and 2020, helping the Hoops to the title in the latter.
Byrne, a Shels supporter in his youth, senses the attitude of young players towards the League of Ireland has shifted substantially over the past decade.
"There's young kids that would look at Shamrock Rovers and Bohemians as places that they actually want to go and play their football. They know the players there. When I was going up to watch Shels, when Wes Hoolahan was there, did I want to play for Shels? No, I still wanted to go to England.
"But you see a lot more of the younger lads now that want to make the breakthrough and play for Rovers or Bohemians. There's younger crowds going to games now. I think that helps.
"But... it will just depend on how it goes over the next couple of season. You see the young players that do well, the likes of Ross Tierney (bound for Motherwell), John Kenny (Sligo Rovers) was over at the Hibs game at the weekend.
"There's a lot of younger players here but we need to get a structure in place that we can keep the best players here. That's what we will have to do if the top clubs want to be playing in Europe every season. You don't want to be losing your best players - and your best young players - every year. You have to try to keep them but there has to be something here that they want to stay for."