Manchester United are in talks with the Premier League over the postponement of their match against Brentford on Tuesday night after a number of staff and players tested positive for Covid-19.
The Red Devils said they had closed down first-team operations at their Carrington training complex for 24 hours following the positive tests, and would not travel to London for the match against the Bees until the outcome of the discussions with the Premier League was known.
A club statement said: "Manchester United can confirm that following PCR test confirmation of yesterday's positive LFT Covid-19 cases among the first-team staff and players, the decision has been taken to close down first-team operations at the Carrington Training Complex for 24 hours, to minimise risk of any further infection.
"Individuals who tested positive are isolating per Premier League protocols.
"Given cancellation of training and disruption to the squad, and with the health of players and staff the priority, the club is in discussion with the Premier League whether it is safe for Tuesday's fixture against Brentford to continue, both from a Covid infection and player preparation perspective.
"Team and staff travel to London will be deferred pending the result of that discussion."
According to the PA news agency, it is understood that the positive lateral flow tests were returned by a small group of players and staff on Sunday morning, and that individuals were sent home before that day's training session began.
It follows the postponement of Tottenham's Premier League fixture against Brighton on Sunday.
Spurs boss Antonio Conte said on Wednesday last week that eight players and five members of staff had tested positive, forcing the Europa Conference League match against Rennes to be postponed.
The clubs have been unable to agree on a new date for that match, UEFA said on Saturday, with the matter now having been referred to its control, ethics and disciplinary body for a decision to be taken.
Meanwhile Brighton boss Graham Potter is battling a Covid-19 outbreak at the club.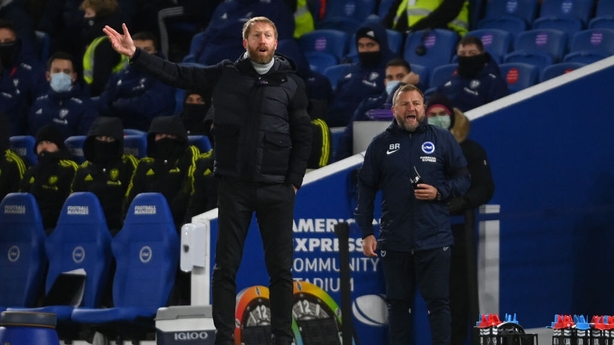 Potter revealed there are "three or four" positive tests among his playing squad ahead of Wednesday night's visit of Wolves.
"We've got a combination of injuries and a bit of Covid ourselves," he said.
"We've got three or four, I would say, at the moment. And obviously that's something we have to deal with, like everybody else.
"Now we're just checking and making sure it's at that number."
Brighton's match against Tottenham on Sunday was postponed after a number of positive cases in the Spurs camp, but the game with Wolves is not currently under threat.
"We have not spoken about that," added Potter. "We are trying to monitor and make sure we are not playing games with guys who have Covid.
"We have to keep monitoring and testing, and make sure we can keep the number as low as possible.
"We have had tests today and we'll make a decision as to whether we do another tomorrow. We just want to make sure it does not get too serious and more than three or four.
"We're all in the same position. First and foremost is the health and safety of the players and everyone around. We do all we can to make sure that is right.
"We have seen players miss games with this and the trick is not to let it spread and become more serious."