New Dundalk manager Stephen O'Donnell insists that he understands the disappointment of St Patrick's Athletic supporters after his decision to depart but says his attachment to the Oriel Park club made their offer too big to turn down.
Late last month, O'Donnell guided St Pat's to only their fourth ever FAI Cup success, having presided over their rise to the runners-up spot in the league in his second season in charge.
Mere days after the wild celebrations in front of the Havelock Square End following the shootout win over Bohemians, the word filtered through that Dundalk had parted company with Vinny Perth and O'Donnell was the first choice to succeed.
The Galway man's connection to Dundalk made it an enticing offer - O'Donnell was a central figure during their imperial phase under Stephen Kenny and their momentous European run in 2016. The switch-up was quickly accepted as inevitable long before it was confirmed as official, O'Donnell taking Dundalk, while Tim Clancy left Drogheda to take the vacant job in Inchicore.
The move unsurprisingly generated blowback and bad feeling among St Pat's supporters, but O'Donnell stresses that he had given his last managerial job his all in his two seasons in Dublin 8.
"It was a massively tough decision," O'Donnell told RTÉ Sport. "We went on a journey just over a couple of years ago. The remit was to make St Pat's competitive again.
"It culminated last season in coming second and winning the Cup. Arguably, the proudest day of my footballing career, winning the Cup, certainly from the coaching side of the fence. It was a hugely tough decision and one I didn't make lightly. But it was a decision I felt I had to make and a decision that I'm very happy that I have made.
"It's totally understandable the disappointment from a St Patrick's Athletic standpoint. It wasn't an easy decision for me. We couldn't have put any more energy into it, I don't think there can be anything held against us in terms of our total commitment to the job. It was very stressful I would say. That's football, that's life, that's the industry."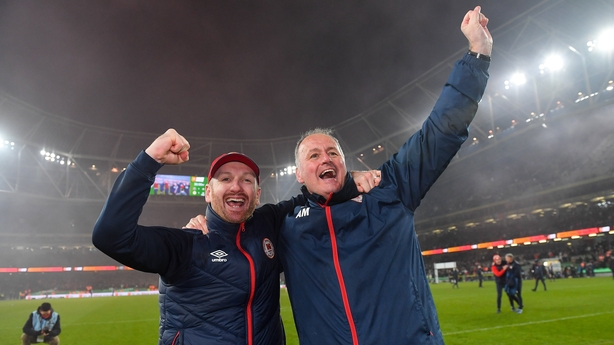 "I think loyalty is what you put in when you are somewhere. What we put in at St Patrick's Athletic was 120% effort, 24-7 for the two years we were there. That's loyalty. We couldn't have given anymore. I'm very thankful to the owner at the club for giving me my first opportunity in coaching. I think we've definitely re-paid that.
"The club is in a really good place now. I just felt this opportunity and the connection and the attachment to Dundalk was too big to turn down."
Asked whether any of the angry reaction of St Pat's had reached him personally, O'Donnell said social media wasn't his area but struck a diplomatic note, saying he understood their frustration.
"I'm not on social media or anything like that. I understand the disappointment from their side of it. I can sleep easy at night, knowing everything I've done has been with absolute integrity.
"I couldn't have done anymore, or Patrick, effort-wise, with regard to what we gave to St Patrick's Athletic. I understand emotions and the way it was depicted."
O'Donnell won four league titles, including two doubles, in six seasons at Dundalk but the club's performance has dipped sharply since the turn of the decade, with a sixth place finish in 2021, and the past two seasons being played out amid a background hum of ownership controversies and managerial upheaval. Worse again, their squad is looking considerably thinner again for 2022, with no fewer than four players departing for Derry City alone.
"I'm very much a person that goes with my instinct and goes with my gut," O'Donnell said.
'I just had to go with what my instinct was telling me' - Stephen O'Donnell on leaving Pat's for Dundalk #rtesoccer pic.twitter.com/MqcqGDeUG1

— RTÉ Soccer (@RTEsoccer) December 13, 2021
"Days after that (Cup final), I had to go and have a sit down and have a real think. I just felt with my connection to the club, to Dundalk, having experienced such great times there. I just had to go with what my instinct was telling me.
"Obviously, since I've left I haven't been privy to the way the club has been run. All I know is the club, the potential here, the growth here when the club is going well. What it does to the town and the area. That was a huge motivating factor in coming here.
"As regards aims, it's still very, very early. I'm only 48 hours in the job. We have a roster to fill in quite a short space of time. My ultimate aim is getting good people in the building right throughout the club, playing staff and backroom staff and taking it from there.
"The aim is similar to when we went to St Patrick's Athletic. It's getting a team that supporters know for sure, when they turn up at Oriel and travel away to support us, that they're getting a group of people that are working tirelessly to make Dundalk successful. There's going to be bumps along the journey but it's going to be an exciting one."