Chelsea boss Emma Hayes wants Sunday's FA Cup final to be a celebration of women's football but feels the scheduling of the match could have been better.
The Wembley clash between the Blues and Arsenal is the conclusion of the 2020-21 competition that was delayed because of the coronavirus pandemic, with the quarter-finals onwards being played this term.
Sunday will mark exactly 100 years since the Football Association imposed a ban on women's football that lasted half a century. The match will be the 50th edition of the final.
It comes after an international break - which saw Arsenal's Katie McCabe play 180 minutes for Ireland against Slovakia and Georgia - and is followed by Chelsea hosting Juventus in the Champions League next Wednesday and then playing Reading away in the Women's Super League three days later.
Hayes told a press conference ahead of the final: "It's mental. I understand the FA want to fit it on an important weekend. I totally get it.
"But, getting back to our welfare, we've got three games in six days, on the back of them coming back from an international break. I think you could have done that better.
"But it's here. I don't want the focus to be on that. It needs to be on what the women's game is about. We need to promote it, celebrate it and acknowledge everyone around it, past and present."
Hayes added of preparations: "The team have come back in, they've had a morning off. Training session for some, not for others. It won't be until tomorrow that I'll know what the team will be. Weird circumstances going into a cup final, but (it's) one I'm really excited about."
Forward Sam Kerr has been in Australia, playing twice against the United States.
Hayes said: "She can't train, we have to get her fresh. But Sam is a top professional and we have sleep plans, recovery plans for these players, and Sam will follow that.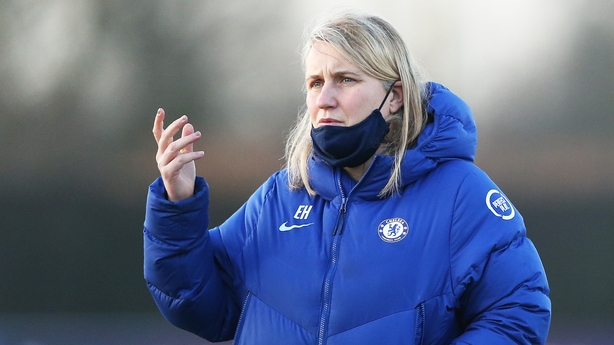 "I spoke with her and she said she feels much better than she did last time she returned. She'll give what her best can be, because these players are used to doing that, even if it's not best for them. It's Sam Kerr, she'll be fit and ready to go come Sunday."
Meanwhile Arsenal boss Jonas Eidevall believes his team head into Sunday's Women's FA Cup final against Chelsea having "developed drastically" since defeating them earlier this season.
Eidevall also feels Emma Hayes' Blues have developed since that encounter and is relishing the prospect of this weekend's Wembley showdown between the sides.
The Gunners, who appointed Eidevall over the summer, opened their Women's Super League campaign by beating champions Chelsea 3-2 at the Emirates Stadium in September.
They have won six and drawn the other of the league games that have followed, and are currently a point clear of Hayes' team at the top of the table.
Eidevall told a press conference on Friday: "I think when we look back to where we were at before that game and during that game, I think we have developed drastically and we have much, much more maturity and have lived through a lot of experience and have learned from that.
"Both in defence and in offence I think we have developed – and so have Chelsea, though. I'm excited and looking forward to the game."
Asked how confident he felt, Eidevall said: "At game day I feel very, very confident. Before game day I think about everything that can possibly go wrong because I need to prepare for it.
"One week from the game, I'm definite that we're going to lose and I panic and have to do everything, rewatch all the videos one, two, and three times again, and then we start working with it in the group and so on, and then when we reach game day, I'm 100 per cent. I know I will reach that point this time also."