RTÉ Soccer analyst Alan Cawley has said he would be "genuinely shocked" should Stephen O'Donnell depart St Patrick's Athletic for Dundalk, believing the Saints would be hugely unhappy at the time and manner of his exit.
O'Donnell led Pat's to victory in the FAI Cup on Sunday, following up a very creditable second place finish in the SSE Airtricity League Premier Division.
The 35-year-old has just finished his first full season at Pat's but speculation is rife he will switch to the Lilywhites for the 2022 campaign.
The Galwegian enjoyed huge success at Oriel Park as a player and also served as head of opposition analysis under Stephen Kenny.
The Saints were seen as a genuine title challenger to Shamrock Rovers for next season on the back of winning the FAI Cup, while Dundalk are broaching a new era following a locally based takeover, which includes figures who oversaw their golden era - of which O'Donnell was part of.
The temptation to return to his former home could be strong enough for the manager to walk out on Pat's just 72 hours after lifting the Cup at the Aviva Stadium.
Speaking to RTÉ Sport, Cawley said: "I am genuinely shocked. Sunday's win was just brilliant for St Pat's and I have been so impressed by Stephen since he has gone into the club.
"This was his first full season to put his stamp on things with his players and they have had an absolutely brilliant season.
"I know Stevie very well, I've been so impressed by the job he has done, and this would be a massive risk. It isn't to say he wouldn't have success at Dundalk, he would just give himself a far tougher job for next season than what he would have at St Pat's.
"I know in football you have to look after yourself and make big decisions that people will be unhappy about."
"For me the owner of St Pat's, Garrett Kelleher, gave Stevie the opportunity and backed him. You have to remember that and it was a brave decision at the time. He was a young manager only out of the playing side of the game.
"There are not many owners who would have given a job as big as St Pat's to a first-time manager. He gave Stephen his break and his chance. I know in football you have to look after yourself and make big decisions that people will be unhappy about.
"I just think to leave three days after winning the FAI Cup, I'd be bitterly disappointed if I was Garrett Kelleher."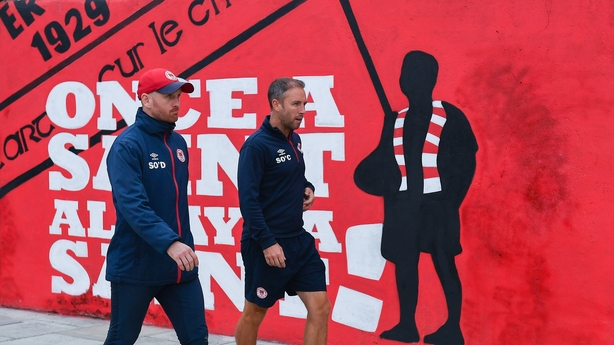 Speaking at the post-FAI Cup final press conference, O'Donnell was asked whether he expected to be manager of St Pat's next season.
"We will see," said O'Donnell. "We will get that sorted over the next week or two."
Cawley believes the way in which O'Donnell built the squad at St Pat's added to the theory that the Saints could close the gap on the Hoops.
The upcoming off-season, coupled with the additional funding from qualifying for Europe and winning the FAI Cup, was expected to see Pat's bolster their squad.
The former league winner at Shelbourne sees O'Donnell as ahead of schedule in his work at Pat's and therefore it would make it more surprising if he would depart at such a time.
"I didn't think for one second at the start of 2021 that they would be challenging Shamrock Rovers. I think they've overachieved in that regard to be second place and to top it off with winning the FAI Cup - and winning it deservedly so - it's shocking if he would jump so quickly after that.
"I thought he was building something there because in my opinion there is the nucleus of a very good team at St Patrick's Athletic now. Given he strengthened the squad this year and they've ended up winning the FAI Cup, who knows where they could be next year with another three or four reinforcements in the off-season?
"I think they are realistic challengers to Shamrock Rovers with an extra three or four players. They have the extra European revenue so I'm sure his budget at Pat's would be increased in the off-season to do that.
"He can take the job with Dundalk where of course there is the personal connection with the club and he was a brilliant player and had lots of success, but for me he is starting from scratch, while at St Pat's he is well down the track in terms of building something. It's genuinely surprising to me that all of this has developed."
O'Donnell potentially switching to Oriel Park could attract a number of players to stay at the club, including the likes of top scorer Patrick Hoban, Daniel Cleary and Sean Murray.
But with Patrick McEleney, Michael Duffy and Will Patching already moving to Derry City, there is a huge project ahead to take them back to challenging at the top of the table.
Cawley anticipates O'Donnell could be jumping into a difficult beginning from a place where he has already achieved success.
We need your consent to load this YouTube contentWe use YouTube to manage extra content that can set cookies on your device and collect data about your activity. Please review their details and accept them to load the content.Manage Preferences
"There is no guarantee of it working out. People are suggesting to me he might have a bigger budget at Dundalk but that doesn't guarantee anything.
"It's not like he would be going into the Dundalk that he knew and that have all of the best players in the league.
"He would be going into a rebuilding job again. Now he would fancy his chances of doing what Stephen Kenny did when he built it from scratch, but I think he would be taking a big gamble in moving now when's so down the line with St Pat's.
"I don't think Dundalk can challenge Shamrock Rovers next year when they are starting from scratch."
Thoughts will also turn to the future of St Pat's who had been enjoying celebrating their fourth-ever FAI Cup win in recent days.
Reports are linking Tim Clancy from Drogheda United with the possible vacancy in Inchicore but there will be worries O'Donnell could bring some players with him to Oriel.
Cawley concluded: "I'd be really concerned if I was St Pat's and the manager goes. There is a large amount of players out of contract - including a lot of the team which played on Sunday.
"Where does it leave St Pat's if Stephen O'Donnell goes?
"They were walking out of the Aviva Stadium on Sunday coming off a massive high, a brilliant season with qualifying for Europe, and thinking the future is bright.
"Now they could have no manager and a lot of the players could go as well. I'm sure Stephen would eye up the likes of Lee Desmond, Robbie Benson and Matty Smith and more of the better players they have.
"There's also Chris Forrester and Paddy Barrett of course who he has a good relationship built up with now who may find it appealing. They could easily leave as well. It leaves serious question marks for Pat's if all of this plays out."