Vera Pauw was bursting with pride on a historic night in Tallaght Stadium as her side played their way into the record books with an 11-0 victory over Georgia.
The sensational win, a record tally for the Ireland women's side, put the team's World Cup ambitions back on track as Ireland moved into second place in Group A.
World number two-ranked side Sweden remain clear at the top of the table following another victory tonight and they will most likely secure the automatic place, while Ireland are playing for second place, which will guarantee a play-off.
And now Pauw's side go into the second half of the campaign one point clear of main rivals Finland with the two sides to meet in Dublin next September, which will probably decide the play-off place.
Ireland also boosted their chances by significantly improving their goal difference thanks to the 11-goal haul against bottom side Georgia, as Denise O'Sullivan scored a hat-trick, while captain Katie McCabe grabbed two goals.
Kyra Carusa, Saoirse Noonan, Amber Barrett, Megan Connolly and Lucy Quinn were also on target as Ireland signed off the year in style.
Pauw's side will now enjoy a four-month break from competitive fixtures before the campaign reignites next April when the team face Sweden away.
We need your consent to load this comcast-player contentWe use comcast-player to manage extra content that can set cookies on your device and collect data about your activity. Please review their details and accept them to load the content.Manage Preferences

Reflecting on tonight's game, the manager was full of praise for her players, who executed the game-plan perfectly, in a formation that the manager described as 1-3-4-3, with Carusa leading the line.
"I'm so incredibly proud, because the players kept playing the game-plan," said a beaming Pauw after the game.
"And the game-plan was, 1-3-4-3, so a little alternation with Denise and Lucy Quinn in the pockets, and with wingers, far forward and constantly threatening with a lot of variation in the play through the centre and the side.
"[We were playing] balls in the box, winning the second ball, and if we cannot shoot immediately, we would go out and start again, to the other side, so we would have crosses and shots from the third line, outside the box, but also putting balls in from the different sides.
"I am so proud, they have never played a game like this, and a game-plan the way we set up and executed it is incredible.
"And don't forget, the goal difference can be a huge, huge step towards qualification, as it gets us a buffer and even if they lose many goals later in the campaign, we have them already in the pocket."
Ireland went ahead in the fourth minute through a Maiko Bebia own goal. The early strike settled the home side and set the tone for the rest of the game with the inevitable second coming in the 21st minute as Carusa headed home.
By half-time, the points were well and truly secured as Ireland went in at the break four clear thanks to goals from Lucy Quinn and O'Sullivan.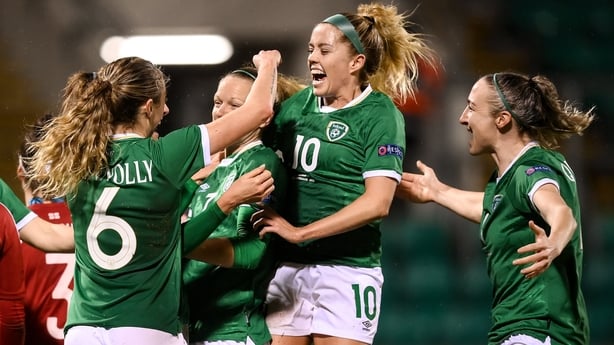 And Pauw acknowledged the importance of the early goal, which led to the complete performance with Ireland outscoring all Georgia's previous opponents, including group favourites Sweden, who only managed four in their victory.
"We said that to each other, if we cannot score the first goal then it can be difficult.
"You have seen that with Slovakia, Finland, and even Sweden only won 4-0. I don't know what happened to their team if they made changes or we were that good. They were missing their best player, but even with their best player…it is just an amazing performance, I was so proud."
Heather Payne's absence through college commitments handed Carusa a starting berth in the side, while Lucy Quinn also got a chance to cement her place in the side.
And both players impressed the manager as she paid special praise to the lone striker who provided a thankless role up top, but one that she performed impeccably, occupying the Georgian defensive unit.
While Quinn appeared to thrive in a deeper role, allowing her to link-up play as well as looking to shoot on sight whenever the opportunity arose.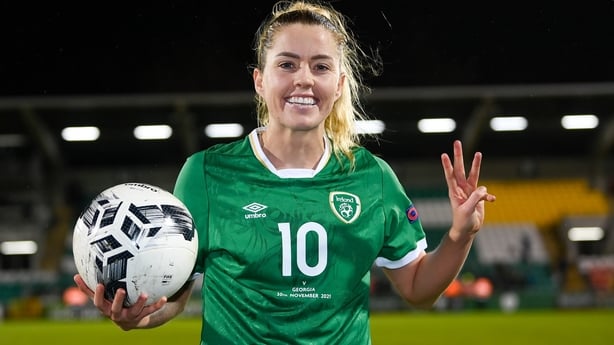 "Kyra Carusa was not much in the game, but what she did really well was stretching the play and not coming into the game, and that is so hard when you are dominating so well and you can hardly get the ball, because she kept the back line away.
"The strength of this team, there are players that stand out and catch the eye, but there are so many players that are willing to sacrifice themselves for this team. So her role in stretching the team, that was so important.
"[Lucy played] a little bit deeper. We did that so that her power would come out more, where as Denise O'Sullivan was in the pocket more playing the passes through and all the balls to pick up in between, and that really worked."
Another player to impress was the returning Ruesha Littlejohn, who had made an impact off the bench in the comeback against Slovakia on Thursday, and the Aston Villa midfielder was again impressive in her central midfield role directing play as Ireland moved the ball around at ease.
"No, because Ruesha has hardly played over the last months because of an Achilles injury," said Pauw, when asked whether she regretted not starting Littlejohn in Thursday's disappointing draw with Slovakia.
"It was actually having a lot of guts to put her on, because I've seen her playing at her club, she played 70 minutes, but she wasn't under pressure.
"The fact that we put her on, that was a lot of guts, we needed her at that moment and then we took her off because of her club. She is the only one that I took because of her injury to not overload her that her club is not suffering."
As for the record result, the manager admitted that she only found out after the game the significance of the scoreline, which will see her side take that confidence into the rest of the campaign following the winter break.
"Yeah of course, I didn't know that," said Pauw.
"You couldn't have hoped for anything like this. We were really focused, and we were so focused on getting goals, you would have saw that in our pre match meeting.
"It was all related to that and to get variety in our play. Being opportunistic at times, being composed and having patience and then suddenly again putting it in.
"So I think the focus of the whole team was helped by we scored early. But we never thought that we could make 11-0, if Sweden only gets 4-0."