Courtney Brosnan has established herself as Ireland's number one throughout the ongoing qualifying campaign and the Everton goalkeeper is allowing herself to dream about playing in the World Cup.
Brosnan has started all three qualifiers so far and will again line out between the posts as Ireland bring the curtain down on their 2021 calendar with a home clash against Georgia at Tallaght Stadium.
Victory for Ireland will put them in pole position in their quest to secure the play-off place in Group A as they would move one point clear of Finland going into the second half of the campaign.
Brosnan admitted that the team were disappointed not to take all three points on Thursday night against Slovakia, however, she feels that the ever-improving side should secure the victory if they can transfer their training ground form to the stadium.
"Every time we step out onto the pitch, everyone wants to win the match," said Brosnan, speaking at the pre-match press conference.
"Obviously, not getting three points in itself is usually disappointing for most players. As Vera said, we know we did create chances, so not putting those away to get the three points is sometimes frustrating.
"We have been working extremely hard in this camp, and it's all just coming together. Slowly you can see the progress on the pitch with some results. It's important to take the stuff we've done on the training pitch and see that correlate into a good solid performance and a win."
Brosnan is expected to have a quiet night between the sticks this evening as Ireland take on the group's lowest-ranked side, however, she said that concentration remains one of the most important aspects of her game and she will be prepared for any situation that occurs throughout the 90 minutes.
"As a goalkeeper you play in so many different types of matches. You have matches where you face 20 shots and then you have matches where you maybe face one or zero shots.
"Concentration and focus is one of the most important things. So in training you prepare yourself to be ready, whether the moment comes for one save or whether there are no saves. You just do your role to help the team as best you can."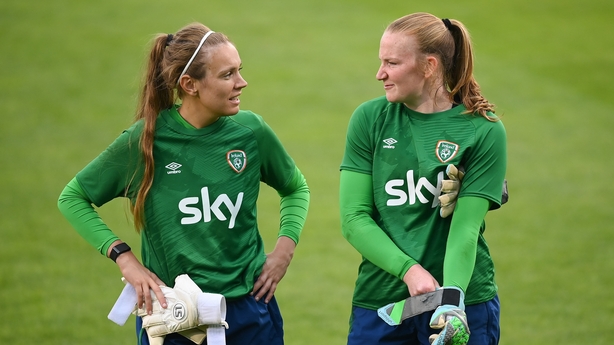 Brosnan moved ahead of Reading keeper Grace Moloney in the pecking order at the start of this campaign, however, the manager called up recently qualified Megan Walsh to offer more competition in the position.
However, Brosnan said that she welcomes the added competition which, she believes, will ultimately make her, and the other two goalkeepers, better players
"As a goalkeeper, you're always going to have competition," said American-born Brosnan.
"Obviously, here we've always had strong goalkeepers and good competition, so adding Megan has been great.
"We all offer different things and it's good when you train and bounce off each other to improve and get better.
"So I think it's been amazing, it's been really good for me to have another goalkeeper there to push you. I think everyone wants to continue to improve and be their best selves and go out there so the competition has been really exciting and healthy."
Brosnan conceded a soft goal in the recent friendly international against Australia, however, she has proved her selection with several assured performances during the games against Sweden, Finland and again against Slovakia.
However, there was a moment of concern in Thursday's game where a heavy touch from a back-pass led to a scramble in the box with Louise Quinn finally clearing the ball off the line.
And Brosnan admitted that she has always been taught to have a short memory as a goalkeeper, which helps her to move on from such situations during a game.
"Obviously, I've watched it back now about 100 times," said Brosnan, when asked what was going through her mind following the incident.
"So I was very thankful for Louise to have my back there and that's why you play team sports. We're all there to support each other and pick each other up when mistakes do happen.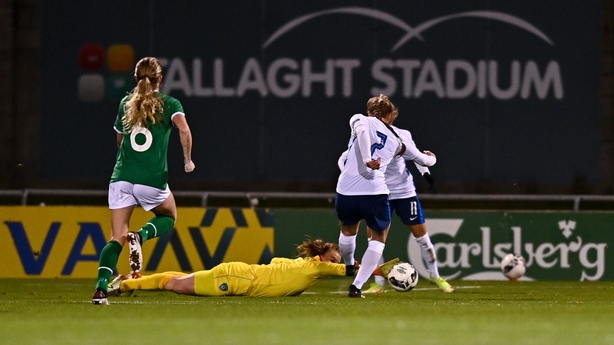 "Mistakes happen all over the pitch, I think it was just a bad touch and happy that it didn't go in the net.
"As a goalkeeper, something I was taught from such a young age is to have such a short memory, that's one of the most important things, bouncing back from mistakes and staying present in the moment.
"No matter what happens, you make an unbelievable save or you make a mistake, it's important to stay calm and composed, stay in the moment and just continue to focus on your role in the team."
Brosnan said that she has dreamed about playing at a World Cup since she started playing the game as a child, and she feels that were Ireland to qualify, it would have the desired effect on the future generation of young girls starting to play the game all around the country.
"Every footballer's dream is to play in a World Cup and qualify for a World Cup, so from a young age when I started playing, it continued up.
"It's always been my dream, as it is for so many girls that play the sport.
"And I think it's amazing to see the next generations in the crowd and see that we can be role models for them and show them what we're capable of and what they, hopefully, one day would also be capable of."