Vera Pauw expects her side to sign off in style in Tuesday night's World Cup qualifier against Georgia at Tallaght Stadium.
Already dubbed a must-win encounter, the Republic of Ireland manager is confident that her side can maintain their qualification ambitions with a victory against the group's lowest-ranked side.
Ireland currently sit in fourth place in Group A, however, a victory against Georgia will move them into second spot at the halfway stage of the campaign.
And it is that runners-up placing that is the goal of this Irish team who are looking to qualify for the 2023 tournament through the play-offs – world number two side Sweden are expected to win the group and qualify automatically having secured four wins from four in their opening fixtures.
Ireland impressed against the Swedes, narrowly losing 1-0 in their opening match, before securing a vital away win in Finland in October.
However, Pauw's side dropped two points against Slovakia in a hard-fought 1-1 draw on Thursday night in Tallaght, and the manager knows that there can be no more slip ups.
"We have to win if we are to go to the World Cup," said Pauw, speaking at the pre-match press conference. "We still have it in our own hands."
Pauw was in confident mood ahead of the game, saying that she did not feel any pressure for the must-win nature of the game, stating that she was feeling "very calm", however, she did urge a little bit of caution, stating that Georgia had some qualities that needed attention.
Georgia have lost all three games so far, conceded nine and are yet to score, however, Pauw said that they had some speed in their attack and would look to exploit the space behind the Irish defence.
"The game plan will be that we prepare for an opponent that sits deep with one striker and a second striker coming to them.
"We respect the opponent, it's not that they cannot play. They are the weaker side, but they have some strengths in their squad, they are very fast up front so we need to really take care of the space behind us and we have to block every pass forward immediately."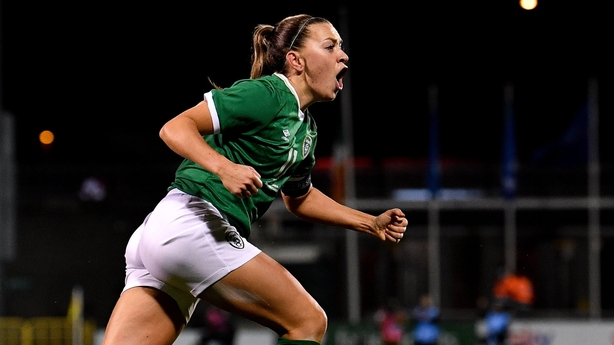 Pauw confirmed that she had no injury worries going into the game and said that Katie McCabe trained fully with the squad.
Heather Payne has been ruled out due to college commitments in the USA, however, Pauw did not feel the need to add another striker to the squad, and all but confirmed that Kyra Carusa would start up front.
"Everyone is fully fit. I'm so proud of what the medical staff has done again because many players came injured and everyone is available.
"We thought about [replacing Heather] but we don't need it. We have already players in the stands and there is nobody who could replace her that we don't already have.
"Is a wink enough?" added Pauw, when asked was Carusa likely to lead the line against Georgia.
Reflecting on the game against Slovakia, Pauw said that after analysing the performance, it was not as disappointing as first thought, and she was satisfied with the amount of chances that her side created in the 1-1 draw.
The manager did acknowledge that her side lacked quality and composure in attack and will expect her side to have learned from the game and show improvement in that area against Georgia.
"We're very confident in that [the quality and composure will be there]. The game-plan works well. Today we have to put the dots on the i. It is a system to get the best out of our players.
"For example, there is a lot of debate about Katie [McCabe's] role and I appreciate that because we are debating that every day, how to get the best out of her and every player.
"Some players are more serving and some players are more leading, and Katie is definitely a leader in that. We don't want to take her creativity away, her driving forwards away."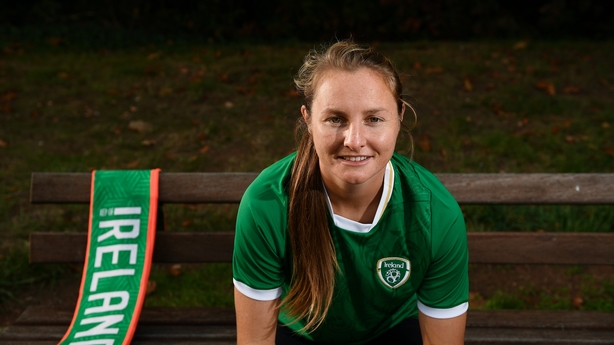 Which begged the question as to whether the team were seeing the best of their captain, who scored the vital goal against Slovakia, playing in a left wing-back position.
"We don't want to take her creativity away and we don't want to take her driving force forward away, but it is not for nothing that the new coach of Arsenal has tried her on the left wing, has tried her attacking, at right striker and she ends up as the left defender again, because Katie is so strong in getting there.
"If she is already there we don't get half as much out of her or even somebody suggesting in the centre, believe it, we have tried that of course.
"But this, in this moment, it is really the best position for her to get the best out of her."
Pauw admitted that the goal for this group was always a second-placed finish, as she had to be realistic that it was unlikely to be ahead of Sweden at the end of the campaign.
However, the coach is aware that ending the year in second place would add to the momentum going into the second half of the campaign, with no games for four months after the Georgia fixture.
"That was from the start, eh? We have to be realistic," said Pauw.
"The team ranked second in the world, to kick them off - not in a one-off game where that can happen - but throughout a full campaign, it would not be realistic.
"That doesn't mean we are not going to do everything to win in Sweden of course but tomorrow we have to get the three points to be in the race for that second place.
"It takes four months before we get together again, so in that period we can hopefully think of how we can get better. I'm thinking about that already, but first tomorrow, we must win, otherwise, if we lose it doesn't make any sense anymore right?"