Marc Bircham and Waterford FC owner Richard Forrest have been giving their sides of the story after Bircham was sacked as manager this morning, just three days before the club's promotion/relegation play-off clash with UCD.
The Blues take on First Division side UCD at Richmond Park on Friday for a place in the SSE Airtricity League Premier Division next season but their preparations for the crucial tie have been thrown into disarray after a day of dramatic developments.
In an initial post on Twitter at 7.53am, Bircham said that he had been handed a week-long suspension following a text exchange with Forrest, last night.
Forty minutes later, Waterford issued a brief statement saying: "Waterford FC have terminated the contract of Marc Bircham. The club will be making no further comment at this time."
Speaking on WLR subsequently, Bircham said that the statement from Waterford was the first he heard that he had been removed from his post.
The former QPR player and coach said: "I put out a statement today which I thought was perfectly fine, just stating facts and letting everyone know I wasn't there and I won't be at the game
"Then I just found out on social media that they terminated the contract. Nobody has contacted me whatsoever."
Bircham went on to claim that he has been forbidden from contacting his players by the club's owner.
"The owner texted me last night that I was suspended for a week and I'm not allowed contact players or staff. I was surprised this morning and even more surprised now.
"My official statement is that I am surprised. It's all out of my control. The decision has been made without me.
"Hopefully the players and staff can get the job done and get what they deserve to stay in the Premier Division.
"But I've not a clue [who will take charge of the club on Friday]. I'm not allowed to speak to anyone with the club."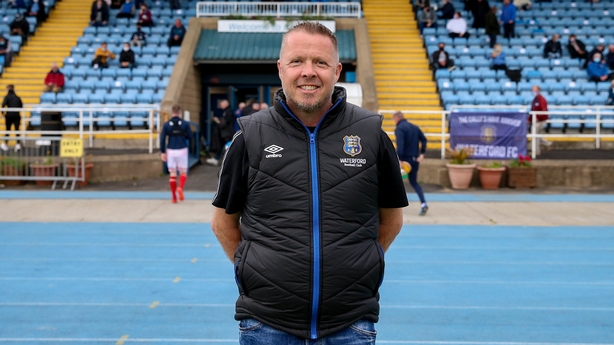 Forrest then released a statement this evening saying that he felt he had no choice but to dismiss Bircham after being "given an ultimatum".
"I am extremely disappointed to have had to make this tough decision we did today especially given the huge match we have facing us on Friday," Forrest said.
"I feel we were backed into a corner, given an ultimatum, which as an owner left me no choice but to act now in the long term best interests of the club. I would have only made this decision when left with no other option and I take no personal satisfaction from it.
"Therefore, it would not be right for me to comment any further on the above as we now need to put all our energy into Friday's game and have the squad fully focused.
"The club would like to thank Marc for the great job he has done for us and wish him all the best for the future."
Bircham became the club's fifth manager in 12 months in May when Waterford were bottom of the table. Their fortunes improved and they finished 27 points ahead of 10th placed Longford, narrowly missing out on outright survival.
The outspoken manager had earlier revealed his suspension by the club via a Twitter post which read: "After a brief TEXT conversation with the owner last night, and a difference of opinion on a couple of matters I have surprisingly been given a 1 week suspension meaning I will no longer be able to manage the team Friday night in the big play-off game.
"Anyone that knows me knows that I am a man of principles and will stick to them.
"That leaves me to say I have the utmost confidence in the Players and Staff to finish off this amazing journey with the win they so richly deserve after the mammoth effort and professionalism they have applied.
"Lastly to the fans for the massive part they have played in the team's turnaround, please don't underestimate the role you have played.
"Let's finish off the great escape, come on you Blues."
Just when I thought this season couldn't get any crazier !! pic.twitter.com/LdNi8QsPE2

— Marc Bircham (@marcbircham) November 23, 2021
The official Blues Supporters Club said in a statement to RTÉ that members are shocked and surprised by what has happened in the last 24 hours.
However, they added that their focus now is on ensuring that as many supporters as possible turn out at Richmond Park to cheer on the team in that decisive match.
Co-ordinator of the unofficial Blues community group and long-time Waterford FC fan Shane Murphy said the reaction to the manager's departure has been one of "absolute shock" among the support base.
"Nobody would have seen this coming," he said. "It's a major shock, especially as we have a huge game on Friday.
"There was such a sense of hope, unbelievable, and buy-in from the Waterford city and county community, and everything seemed to be going in the right direction, and now we're thrown into upheaval again."
The timing of the move is "crazy" with just days left to "one of the biggest games in the club's history," he added.
"They [the players] had worked to a plan so well over the last few months, things were really going well together and now I don't think they know where they are...
"We'll have a huge support on Friday, that's one thing, and I know those players are passionate about the club and they'll give their all no matter what happens. But it is a massive blow."