England's Harry Maguire has said his goal celebration against Albania "wasn't directed at anyone" after it was described as "embarrassing" by Roy Keane.
Maguire slid on his knees and cupped his hands behind his ears in a combative celebration to his goal in Friday night's 5-0 World Cup qualifier victory at Wembley, leaving the television pundit to produce a withering assessment.
Maguire's celebration was interpreted as hitting out at his critics from Manchester United's poor form, that has put Ole Gunnar Solskjaer's job on the line with the Red Devils slipping to sixth in the Premier League table.
And that left an infuriated ex-United star Keane to pull no punches in his half-time analysis.
"I think he puts his hands to his ears like he's shut the critics up but I think that's embarrassing," Keane told ITV.
"He's been a disgrace the last few months for Manchester United. If he thinks he scores he's going to shut his critics up...embarrassing."
Harry Kane hit a perfect hat-trick and Jordan Henderson netted a fine goal on a night when England opened the scoring from a set piece through Maguire's powerful header.
Southgate has kept faith with the under-fire Manchester United captain, who has endured difficult moments with his club.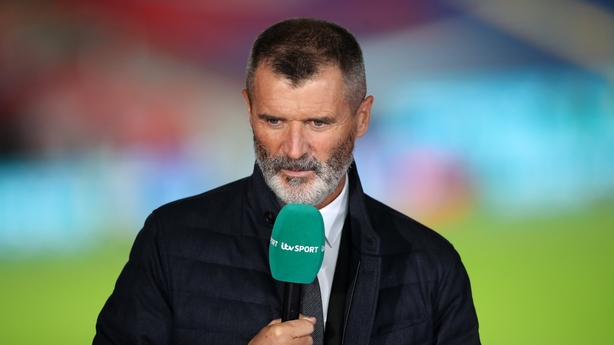 "I don't know, is he a Hulk Hogan fan? I don't know what the celebration was for," the England boss said when asked about recent criticism of Maguire.
"He's a fabulous player, two months ago he was in the European Championship team of the tournament.
"He's rushed back because he's the sort of player that has a huge conscience to help his club and I said during the week you get lots of players that hide in the treatment room when the pressure's on.
"He hasn't done that and I've got massive respect for doing that.
"But, you know, as a player, sometimes you can go into matches not 100% fit or short of the training that ideally you'd like.
"And, of course, you're always judged as if you're a fully fit player in those moments - as soon as you cross the white line, that's professional football.
"He understands that but I've had a really good chat with him earlier this week, reminded him of how important he is for us.
"He's been able to switch his focus, have a few more days on the training pitch, which has probably helped him as well, and his performance tonight was very, very good."