Peamount United midfielder Dora Gorman insists that her side are only focused on themselves as the Women's National League culminates in a dramatic final-day decider.
The defending champions take on Galway on Saturday evening knowing that a win will see them claim their third successive league crown.
Kicking off at the same time as Peamount and Galway will be Shelbourne, who face Wexford Youths, hoping for a slip-up from their Dublin rivals.
A draw could also to be enough for the Peas should Shelbourne fail to win, while a Peamount draw coupled with a Shelbourne win would see the sides finish level on points and force a play-off decider on Tuesday.
Given what's at stake on Saturday, Gorman is taking nothing for granted.
"The fact that it's going to the last day of the season is testament to how strong the league is and how strong the teams are," she told RTÉ Sport.
"At the start of the season we expected that every team would be putting it up to us, coming from last season, so it's not a surprise. It just shows how strong the rest of the teams are.
"From our point of view it's good that the two games are going on at the same time. We can just focus on ourselves and we know what we have to do.
"We go out to win every game so that will be at the forefront of our minds. When you start thinking about anything else, that's when you can get complacent and start making errors so we'll be definitely going out for the win."
Few expected the title race to go down to the wire, particularly after Peamount beat Shelbourne 5-0 in September to go clear at the top of the table but a surprise draw between the Peas and DLR Waves last week threw the chasing side a lifeline.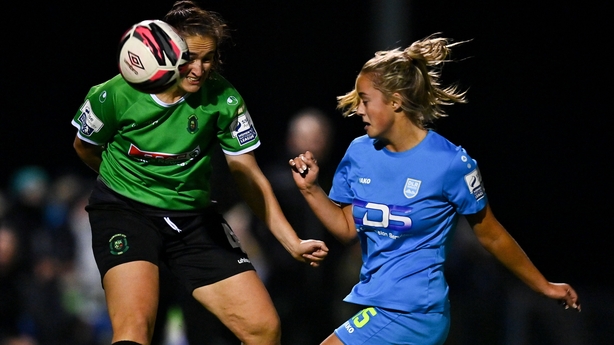 For Gorman that result is proof that the standard in the league is continuing to improve and despite having seen her side beat Galway twice this season already, she's wary of the threat that the Westerners will bring.
"The league has definitely gone from strength to strength and all the teams are capable of taking points off each other," she said.
"DLR were excellent in all the games we've played against them this year, they've really been pushing it.
"Galway have had a bit of an up and down season in terms of results but they're always really strong and they've got a great combination of youth and experience.
"There's no easy games anymore. I know sometimes people can see some of the results but at the end of the season things can taper off a little bit and it doesn't give a true reflection of things.
"Galway have been a team in transition throughout the year. Their management changed and they got some experienced players back.
"They've got young players coming through. Their U19s won the league and they had a good few players on the Irish U19s team.
"Then they have senior internationals coming back, people like Méabh De Búrca and Julie-Ann Russell, so I think you'd be very foolish to underestimate them. I think they can put it up to any team on their day.
"We're expecting a tough battle and they'll definitely be looking to finish their season on a high."
With both games going on at the same time the temptation will be there for Peamount players to listen out for the latest from Tolka Park, however despite the game being shown live on television, Gorman insists that her side can't afford to be distracted by what's going on elsewhere.
"We're just going to focus on our own game," she said. "It's good for the league and good for the finish that both games are at the same time, it's the fairest thing to do for everyone but we just need to do our own job.
"We're in the position where it doesn't matter how the other game goes - if we win, we win the league.
"It's a luxury that the other team don't have so they'll probably have to keep an eye on us but we just know a win will be it for us. That's what we need to do."