Back-to-back league titles, clinching the championship with three games to spare and topping the table since the halfway mark would all be traditional hallmarks of a great team. These have been achieved in 2021 by Shamrock Rovers. So, are they a great team?
The answer to that may depend on how long your memory is. For those who do not recall the homeless years before Tallaght and players like Terry Palmer, Mick Byrne or Liam Buckley, the 2021 champions may not seem all that special.
That is mainly due to the historically great achievements of Dundalk, and some of their competitors, over the past decade as well as 2020's unbeaten Shamrock Rovers team. But a longer look encompassing the league's century of history gives a kinder perspective.
Although this season is two games from completion, the Hoops have played their last meaningful game outside of a Dublin Derby that means more than three points nearer a league title, so a fair assessment of their merits can be made.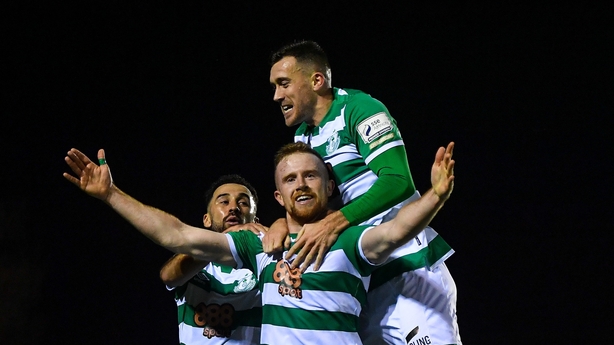 Where this Shamrock Rovers team comes up short, in purely relative terms to other champions, is that their points per game is the lowest of any team since Dundalk won their first championship under Stephen Kenny in 2014.
| | | |
| --- | --- | --- |
| Year | Team | Points per game |
| 2014 | Dundalk | 2.24 |
| 2015 | Dundalk | 2.36 |
| 2016 | Dundalk | 2.33 |
| 2017 | Cork City | 2.30 |
| 2018 | Dundalk | 2.42 |
| 2019 | Dundalk | 2.39 |
| 2020 | Shamrock Rovers | 2.67 |
| 2021 | Shamrock Rovers | 2.21 |
Shamrock Rovers haven't been able to meet the standards set by Dundalk and surpassed by themselves in 2020. Even winning their final two games would only get them to 2.25. This is nothing to be ashamed of. The 2.67 points per game in 2020 was the best seen in the league for 90 years, even if it came in a halved season.
Looking back further gives a different picture. When Dundalk finished on 2.24 in 2014 only once (Bohs in 2008) had a team done better since 1989. Many teams before had better numbers (2.21 is 54th all-time) but that was mainly in a one-division league with some weaker teams to pick on.
Obviously winning league titles is just about finishing with more points than your challengers, not necessarily racking up record number of points. Looking at points earned by the runners-up relative to the winners shows a great deal of dominance by this group led by Stephen Bradley.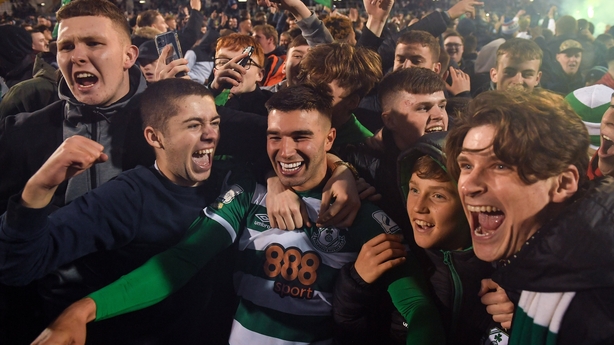 Second-place St. Pat's have 80% of the points of their south Dublin rivals. Only 10 times in history (one of those being 2020) have a runner-up been that distant. Only two other examples, Shamrock Rovers in 1987 and Bohs in 2008, have happened in the Premier Division era.
Perhaps the main reason Dundalk won so many points between 2014 and 2019 was because the competition provided to them, largely by Cork City, pushed them to be at their very best every time they stepped on the pitch.
| | | | |
| --- | --- | --- | --- |
| Year | Champion | Runner-up | Points proportion |
| 1936-37 | Sligo Rovers | Dundalk | 71% |
| 1938-39 | Shamrock Rovers | Sligo Rovers | 75% |
| 1944-45 | Cork United | Limerick | 77% |
| 1948-49 | Drumcondra | Shelbourne | 79% |
| 1966-67 | Dundalk | Bohemians | 79% |
| 1974-75 | Bohemians | Athlone Town | 79% |
| 1982-83 | Athlone Town | Drogheda United | 75% |
| 1986-87 | Shamrock Rovers | Dundalk | 77% |
| 2008 | Bohemians | St. Patrick's Athletic | 78% |
| 2020 | Shamrock Rovers | Bohemians | 77% |
This year's league has been remarkably competitive. The gap in points from the relegation play-off position in ninth to the usual final European spot of fourth is just eight points.
In the 11 years from 2009 to 2019 the average gap for the teams in those places is 25 points. This year's competition has come from the pack rather than a single chaser.
That is shown by the fact that Shamrock Rovers have lost two games to sixth placed Dundalk and eighth placed Finn Harps while taking ten points from a possible 12 against St. Pat's.
One slight against this team would be that they have not been as free scoring as many other champions. Before scoring three on Friday, they were in the unusual position for a table-topper to not only have not scored the most goals but were actually third in the scoring charts behind both St. Pat's and Bohs. That has happened twice before in the summer era, Shamrock Rovers in 2010 and Cork City in 2005.
They are on track to have the 18th worst goals per game of a league champion. They have only three times scored more than three goals in a game and only three times had a win by three or more goals. But their number of single goal wins is impressive at 12. The last team to better that was Cork City with 14 in 2014.
This is a little surprising as goalscoring in the league increased significantly this year. Goals per game are up 0.32 (2.52 from 2.20) which is the second-highest season increase of the summer era (only behind 0.34 in 2010).
They have had seven 1-0 wins, George Graham's Arsenal team never even had more than that in a season.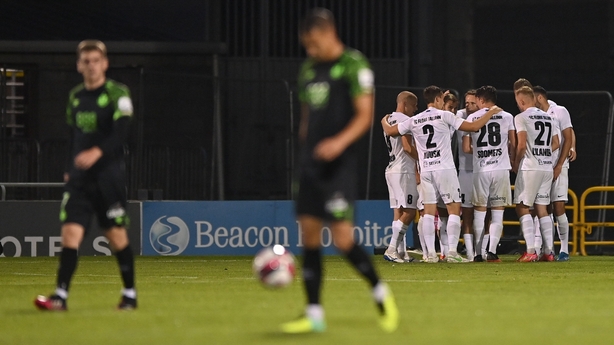 Last year's success was built on having conceded the fewest goals per game in league history. That was not reproduced this year, nearly doubling from 0.39 to 0.71. But that is very close to what the four-in-a-row team in the 80s did with a 0.69 total over those seasons.
Overall, Shamrock Rovers are set to score fewer and concede more goals than both the 2020 and 2019 seasons but one more point will at least see them beat the 2019 total.
Another way this Shamrock Rovers side may seem inferior to recent champions is due to their lack of cup success.
They went out of the FAI Cup in the last 16. Dundalk did the double in 2015 and 2018 with Cork City doing so in 2017. It has become expected for a league-winner to at least make the cup final.
However, of the 14 times in history that the double has been done, six of these came since the turn of the millennium meaning it only happened eight times in 78 years before then.
The Dundalk team of the middle years of the last decade set a new high standard on the pitch. In 2021, Shamrock Rovers haven't got as close to those standards as they did in 2020.
But having the bar set so high for them and their challengers can only be good for the future of the league.