Andrew Omobamidele will prepare to lock horns with Cristiano Ronaldo for the second time in his fledgling international career with the praise of Irish football royalty still ringing in his ears.
The 19-year-old Norwich defender was handed his senior Republic of Ireland debut as an early substitute against Portugal in September and along within his team-mates, came within a minute of securing a famous World Cup qualifier victory before the Manchester United superstar dashed their hopes with a last-gasp double.
Omobamidele's individual display at the Estadio Algarve won him a host of plaudits, most notably from former Ireland international Paul McGrath, who described the teenager's performance as "brilliant" on Twitter, and that remains a source of inspiration ahead of Thursday night's return Group A fixture in Dublin.
Omobamidele said: "It was great. After the game, I think my mam sent it to me. It's great to get a bit of recognition from one of Ireland's legends, a player who has done so much in the Premier League.
"It gives you that little pat on the back, a bit of recognition. It also gives you that extra bit of motivation because people are starting to recognise you, your talent.
"It makes you want to grow harder, so it was good."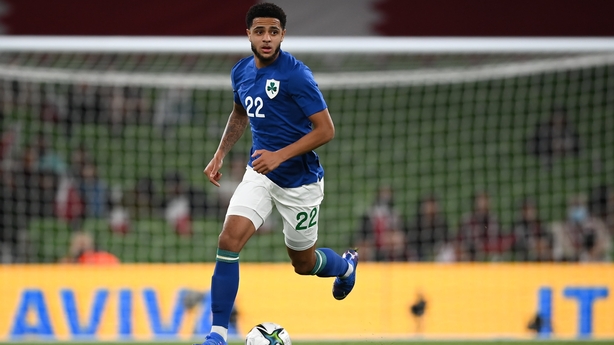 McGrath's approval is not the only way in which Omobamidele's profile has risen since bursting onto the international scene.
Asked if he is now recognised more frequently, he said with a smile: "Definitely from Leixlip, my home town!
"When I go back there, I try to do a couple of things with my old club Leixlip United. At the end of the day, I was in their shoes as well, so I try to help out there and in my community as well."
Such has been Omobamidele's impact in recent months that he has started Ireland's last two qualifiers, and he will hope to keep his place for a reunion with Ronaldo which will bring back as much disappointment as pride.
Asked about his contrasting emotions as his side led 1-0 in Portugal after 89 minutes only to see the 36-year-old power home two headers to snatch victory, he said: "When we were 1-0 up and the game was nearly over, obviously you can hear the experienced lads talking amongst each other and you get that feeling, 'When is the whistle going to blow? When is the whistle going to blow?'
"But you still need to be focused in and as we saw, the game can change like that.
"After, when the final whistle blew, there was just disappointment. But there are a lot of positives we can take from that game in that we held them up for that long.
"It was just those three minutes of football that can change a whole game."