A Brandon Kavanagh screamer, Bray Wanderers' only chance in over 180 minutes of football, left Galway devastated by the Corrib.

The Shamrock Rovers' loanee decided matters after two legs in which his goal was the sole memorable moment of quality. Bray now advance to meet UCD in the First Division playoff final, having defended stoutly in the second period.

United will wonder how they let this slip as they had pretty much all of what chances there were in the two legs. However, in the second half, they rarely troubled Brian Maher, and Bray grew in belief as the game progressed.

For full-time United, with a sold-out Terryland crowd, this was a tepid end to the season. Bray will fancy their chance of causing an upset and getting back into the top flight.

Bray pass the ball more than all other First Division teams and Galway pass it less than all but two – yet it was nearly all United in the opening half, after which they somehow trailed. More accurately, this was a half of endeavour over obvious skill, with one exception: Kavanagh.

His goal was beautiful from start to finish. He initially killed a ball with the outside of his left foot and then dictated the pace of the move; after a lovely one-two with Ryan Graydon, Kavanagh blasted into the top corner with his left foot.

He's better than this level – and at times like this one appreciates that. Save for one vital intervention by Stephen Walsh, Joe Doyle lurking before fouling, Bray offered nothing in the first half and less in the second.

United's high-tempo start saw them have virtually all of the territorial sway in the opening 15 minutes.

By that stage, David Hurley and Wilson Waweru had gone close. Waweru again threatened on 25 minutes and, through on goal, he probably should have squared for Ruairi Keating: it's not easy to beat Ireland under-21 skipper Brian Maher, especially from an angle as demanding as this one.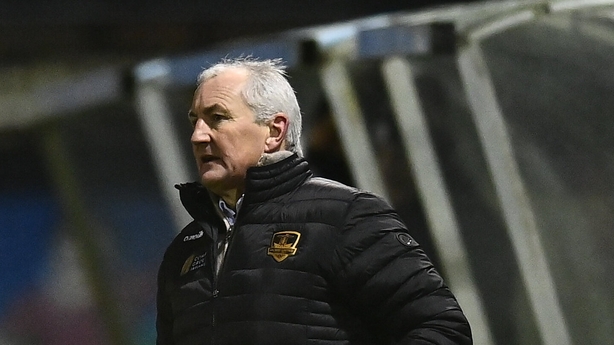 A fine cross from Walsh was headed over by Mikey Rowe on 29 minutes, with Waweru desperately unfortunate when hooking a loose ball from a corner-kick off Maher's bar 11 minutes before the break.

Bray were content to sit back in the second half, suspecting that Galway would go long at nearly every opportunity. Hurley found Keating four minutes in but he failed to trouble Maher, before Rowe screwed a shot wide from a decent position.

Keating tried to poke home halfway through the half but failed to trouble Maher. United's best chance would come with five minutes to go, the hugely promising Alex Murphy crossing but Wilson Waweru headed over with a team-mate perhaps better-placed.

A game that began before a heaving mass of Galwegians ended in relative silence.

Galway United: Kearns; O'Keeffe, Gorman, Brouder (Nugent 60), Walsh (Murphy 84); Boylan (Doherty 72), McCormack, Hurley; Rowe (Cunningham 84), Waweru, Keating.

Bray Wanderers: Maher; O'Farrell, Barry, Quinn, Barnett (Jones 70); Byrne, Clifford, Craven (Lovic 67), Graydon; Kavanagh; Doyle (Shaw 70).
Referee: Kevin O'Sullivan.