UCD stunned a 3,000-strong crowd at the Markets Field as they ran out 3-0 winners and effectively booked their place in the SSE Airtricity League First Division play-off final.
Paul Doyle and Colm Whelan netted 10 minutes from the end of either half and with Treaty really not carving out more than a single clear-cut chance, they can't have too many complaints. Whelan doubled his tally in the dying minutes to seal victory in the semi-final first leg.
Even by League of Ireland standards, Limerick's representation throughout the years has been a rollercoaster no engineer would sign off on.
And the latest chapter in that saga produced Treaty United – a squad pieced together by late-in-the-day phonecalls over weeks rather than months - with a desire to exist rather than to achieve.
In March, the objective was to be competitive. By May, it was to take it game-by-game and by mid-July, the city was bracing itself for a play-off.
Three thousand people crammed into the Garryowen venue and if the crowd could be considered healthy, the surface could not – making the opening half a slog.
Even moreso to UCD's detriment, who were trying to exorcise last year's play-off loss to Longford and acted as a poignant counterpoint to the city of Limerick when it came to consistency in senior football.
These sides' three meetings during the season were all decided by the odd goal, with the home side winning on each occasion, so it felt necessary for Treaty to come away with a positive result ahead of the second leg.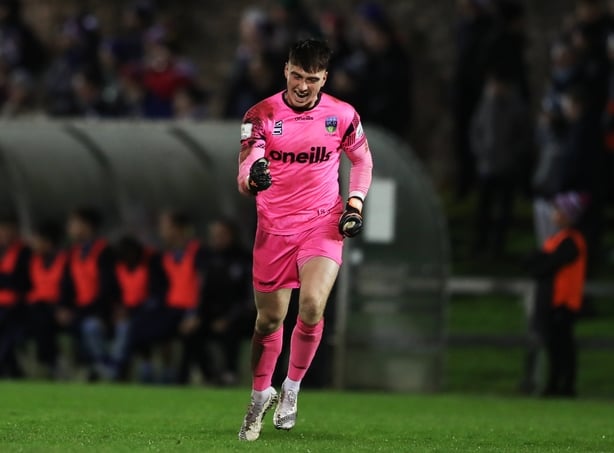 With little or no action to speak of after the opening half hour, it felt like a single mistake or moment of genius could be decisive.
Tadhg Ryan had probably been the home side's most consistent performer all year, but it would be his error to hand UCD the advantage on 34 minutes.
Paul Doyle stood over a free-kick on the right flank, and after attempting to catch Ryan out with a quickly-taken effort and failing, he was afforded a retake.
His second effort might have been even worse, but Ryan didn't gather cleanly and ball trickled into the net behind him.
Many questioned the absence of some key attackers like Sean McSweeney and Joel Coustrain from the starting XI, but by the time they entered play, the tie was flat.
That lack of tempo sucked the life out of the venue, and UCD capitalised – Colm Whelan doubling their advantage in the 80th minute with a calm finish – showing why the Premier Division big boys are circling around him.
And he wasn't done there – doubling his tally as the masses exited the Garryowen venue.
Treaty United: Tadhg Ryan; Charlie Fleming, Sean Guerins, Anto O'Donnell, Marc Ludden; Clyde O'Connell, Jack Lynch, Mark Walsh (Sean McSweeney, 64); Matt Keane (Willie Armshaw, 78), Kieran Hanlon (Dean George, 64), Stephen Christopher (Joel Coustrain, 78).
UCD: Lorcan Healy; Jack Keaney, Sam Todd, Evan Osam; Harvey O'Brien, Sean Brennan (Adam Verdon, 72), Paul Doyle (Evan Caffrey, 89), Eoin Farrell; Dara Keane; Liam Kerrigan (Mark Dignam, 89), Colm Whelan.
Referee: Rob Dowling