Damien Duff delivered a frank and honest assessment of the scale of the challenge he expects at Shelbourne after being unveiled as the freshly crowned First Division champions' new manager on Wednesday afternoon.
Duff turned down the job last Friday but after a weekend of soul searching - and some tugging at the heart strings from his son Woody - he changed his mind and decided to take on the role.
The former Republic of Ireland, Chelsea, Blackburn and Fulham winger has vowed to "give my life" to his players as he prepares for his first job in senior management.
"They asked me last week," Duff said at a packed press conference at the Clayton Hotel in Dublin.
"There was a lot of soul searching, I was humming and hawing. It's obviously been in the media already that I said no on Friday.
"Over the weekend, after speaking to [Sporting and Technical Director] Alan Caffrey, Doc [chief executive David O'Connor] and [chairman] Andrew Doyle, they wanted me to reconsider. It was just soul searching with me. Where do I want to go with my life? Probably mid-life crisis, you know? People have been telling me, 'you need to start coming up with a plan'.
"After coming back home after Celtic and getting involved in the Irish gig, I just wanted to be on the grass every day to keep improving as a coach, keep learning, keep trying new things. They were probably the only club that welcomed me with open arms."
"It's bucket-list stuff. I have to try my hand at management. I'm desperate to succeed," new Shelbourne boss Damien Duff tells @Corktod. He adds that he has no regrets over leaving the Ireland set-up. pic.twitter.com/WmMwaSPzlm

— RTÉ Soccer (@RTEsoccer) November 3, 2021
Duff has been working with Shels' Under-17s for the last year and a half. He cut his teeth in coaching at Shamrock Rovers, where he oversaw their Under-15s side, before taking on a reserve team coaching position with Celtic in 2019 and then returning to Ireland and working as Stephen Kenny's with the senior national team in the summer of 2020.
Six months later, he stepped away from that position. While acknowledging he's had a few outposts in a short space of time, Duff denied he lacks staying power, stressing the importance he places in stepping out of his comfort zone.
"Shels have let me get on with my thing for 18 months. I'm there, I've enjoyed it," he added.
"They've looked after me from day one. I'm back home 18 months and I didn't have a plan. I absolutely didn't. All I know is I love football, I love coaching, I love helping and improving players. Similar to when I said on RTÉ I'd be unhappy with myself if I stayed [with Ireland], I'd be unhappy with myself if I said no and turned it down. It's as simple as that.
"Why did I say no [initially]? Probably because I was in the south of France drinking red wine. I was on my holidays!
"Listen there were two reasons. One I like my life. I like to go away with the kids and have my own time. Secondly, it's totally out of the comfort zone stuff. Am I scared? Absolutely. Do I feel uncomfortable? Absolutely. But I've been preaching to kids since day one - my own two kids, the 15s at Rovers, the 17s at Shels - about showing personality, about showing courage, which they can lack at times.
"For me to say no on Friday I was lacking courage, I was lacking personality. So over the weekend, as I said, I didn't have to speak to anyone. Of course the board asked me to reconsider and I did. That was just soul searching. That's why I said no, for those two reasons alone: I like my holidays and I was fearful of what I was getting into."
Shels are planning for life in the top flight again, one year after being relegated. Ian Morris steered them straight back up to the Premier Division and Duff's task will be to keep them there.
"My ambitions are sky high but if we're being realistic, where Shels are at, they've been yo-yoing for a couple of years," he said.
"For me they're a sleeping giant but they have to stay in the league. First and foremost that's what we have to do. It's a special place, Tolka Park, because of the days I had with Brian Kerr there. I'm emotional. That tugs at my heart strings.
"It didn't help when my son Woody walked in last week with a Shelbourne jersey on! Stuff like that gets me. I sort of confronted him. 'Where did you get that?'. 'I bought it Daddy.' I was like, 'Pffft...I'm going to have to do this'.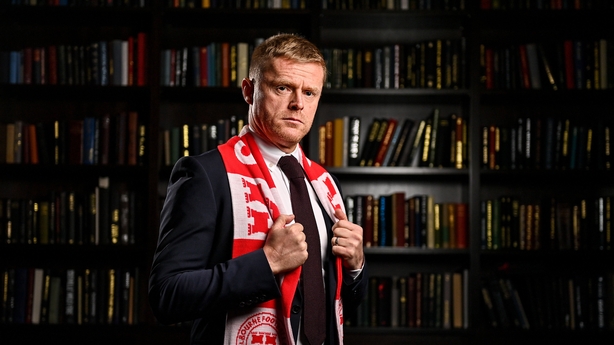 "I know it's a difficult gig. I know it's a team coming up with not one of the biggest budgets. I don't like losing games so I don't want it to fail. I know a lot of managers, when they do fail in their first gig, they probably never get another manager's role again.
"But that's stuff I'm fine with now. I'd happily be a barista, I'm halfway through my course. If this doesn't work out you might see me in a coffee shop."
"I'm absolutely fearful - and that's where I'm at my best. I didn't want to go to Celtic. Stephen Bradley, Glenn Cronin, Stephen McPhail - who I have the utmost respect for - made me go. My wife made me go. She came with the kids and moved them up. I was scared, I didn't back myself. I didn't think I was a good manager or a good coach. But they made me go and it was the most amazing time of my life.
"Going into the Shels first-team role, is it going to be easy? No. Is it going to be comfortable? No. But it's going to give me 24/7 focus which is what need because when I have an idle mind... it's not good for you."
Listen to the RTÉ Soccer podcast on Apple Podcasts, SoundCloud, Spotify or wherever you get your podcasts
We need your consent to load this rte-player contentWe use rte-player to manage extra content that can set cookies on your device and collect data about your activity. Please review their details and accept them to load the content.Manage Preferences