Manchester City boss Pep Guardiola says he has no doubt that Xavi will be a fine manager if given the job at his former club Barcelona following the departure of Dutchman Ronald Koeman earlier this week.
Barca sacked Koeman after a defeat by Rayo Vallecano on Wednesday and have since appointed 'B' team coach Sergi Barjuan as interim manager.
However, Xavi, who enjoyed a hugely successful 17-year career at the club and is currently head coach of Qatari side Al Sadd, is being heavily tipped to take over on a permanent basis.
Barca president Joan Laporta has admitted he has been in contact with Xavi over the last few weeks but refused to confirm whether he will take over from at the Nou Camp.
Guardiola, who managed the Catalan side between 2008 and 2012 and won a club-record 14 trophies, said: "I don't know what will happen. I'm pretty sure sooner or later it will happen... in case it does... I don't have any doubts he's ready to do the job.
"He knows the environment which is so important in this role. He knows the game, he has passion. He has more experience now than I had when I took over from the 'B' team at Barcelona.
"Koeman knows and Sergi knows and Xavi knows and I know, success depends on the quality and the commitment and the players. People still forget, we are responsible for everything, but our influence is more minimal than people believe."
Meanwhile Barjuan will take the team for the clash with Alaves at the weekend.
"My opinion about Xavi as a manager is he is in a process learning, evolving, I have really good references from close people who know him better than me in that way," he said at a press conference on Friday.
"I talked with him two months ago when we gave Ronald Koeman this confidence because I understand that we had to give him those months, the team needed some time to recover.
"I have a great relationship with Xavi, I have been speaking with him in the last month, I know his opinion about this squad, what he thinks has to happen. We talk as two friends and in this case my opinion is a really good one.
"I am talking to him because he loves football, he is a huge Barca fan, it is one of his goals in his life.
"If he is the one able to manage this squad, I have a great relationship with him and he is a possibility because we will see how everything will continue evolving.
"These are private conversations between friends and I cannot explain what we talked about.
"I already told you and I cannot explain anything about our options because it will not be professional and it will affect our plans. I am sorry, but I cannot tell you anything.
"I have always said one day he will be Barca's head coach but I don't know when. We have great references about Xavi at Al Sadd.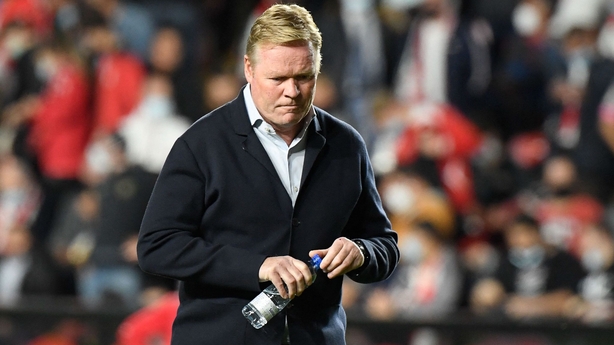 "All our reports about Xavi are positive. We can talk a lot about Xavi but I cannot give you more details. He is in all the papers, but we also have other options."
Koeman got a vote of confidence several months ago, but Laporta accepts he should have been fired sooner in the season.
"Probably, yes," he said. "Looking back it is easy to analyse, we felt Koeman deserved confidence to recover some injured players and it was a way to motivate the manager.
"I looked for some positives. Probably we had to make an earlier decision, I assume the responsibilities of this decision.
"The situation was not sustainable. We needed to act. We were not on course to achieve the objectives of the season, which is to win titles."