Vera Pauw has said that the Irish squad will have a "players' discussion" in the coming days regarding sexual misconduct in the game in the wake of allegations made against North Carolina Courage head coach Paul Riley.
English born coach Riley was fired by the club on the back of the allegations while US Soccer also removed his license.
The Republic of Ireland squad for the forthcoming Women's World Cup qualifiers against Sweden and Finland contains North Carolina players Denise O'Sullivan and Diane Caldwell and Pauw, who kept her comments on the matter brief, said that the squad would address the issue when all had arrived.
It was announced today that Roma McLaughlin would be replacing the injured Kyra Carusa in the squad, and the manager said that she did not want the conversation to take place until all were present.
"We will (discuss it)," said Pauw. "The team is not complete, we will when the team is complete of course.
"We want to have a private conversation about it because it's something very important in our game. We start a camp with this issue, of course.
"Completely open, we will see. It's a players' discussion and we'll see what is coming out."
LISA FALLON: PAINFUL ABUSE STORIES MUST BE HEARD
Pauw was speaking at a media event prior to Thursday's opening World Cup qualifier with world number two Sweden.
The game at Tallaght Stadium will have a capped attendance of 4,000 due to Covid-19 restrictions, but it is already sold out as fans flock to see not only Ireland, but one of the best attacking sides in the world.
In their 4-0 Group A win over Georgia last month, Sweden had a total of 36 shots at goal with another eight blocked down on top of that.
It's a formidable challenge but in 2021 Pauw's side have played a series of friendlies that she hopes will help prepare them for the test.
Denmark and Iceland, who they met twice, are both inside the top 20 while in their last outing they earned a brilliant 3-2 win over an Australian side currently sitting 11th in the world rankings.
"The ranking list is the objective measurement and we've lost a place because we have chosen to play high, high opposition," Pauw continued.
"Every game we get better. Every single game we get better even if we have lots of players on the pitch who usually do not play that much.
"I'm so proud of them because if you change the squad you still get better and the others who come in again get better and that means that the potential for the bench players is as big as the ones on the pitch.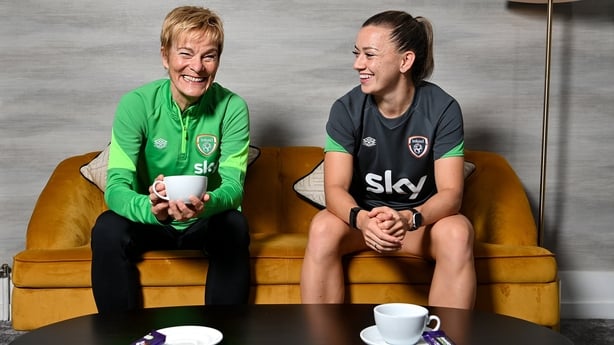 "They work so hard, we do a lot with the players who do not play that much to catch up so they also grow and that's usually out of camp. The way they respond is fantastic.
"Yes, we do grow every single game. We're getting closer but we need to see Thursday if we're ready for this level."
The manager was speaking after it was announced that Cadbury had become an official partner of the Irish women's team, and she said that it was clear to see how quickly the game was growing here.
"I was running in the park this weekend and there was one moment that I really noticed the difference with before.
"There was a family with an older girl and a younger boy and the boy wasn't interested but the girl was carrying a ball on her feet throughout the park.
"When I met them later the ball was still at her feet whereas before a girl would only play if she had brothers who were interested.
"I think that the momentum is so big and that we have sponsors like Cadbury coming in is so amazing."
Follow the Republic of Ireland v Sweden via our liveblog on RTÉ.ie/sport and the RTÉ News app, or watch live on RTÉ 2 and the RTÉ Player.