Ten-man Waterford resisted a late rally from Finn Harps to record a three-goal winning margin at the RSC on Friday evening.
After an early goal from Phoenix Patterson and a second-half strike from Junior Quitirna gave the Blues a 2-1 lead, Waterford's night was turned on its head when goalkeeper Brian Murphy saw red and Tunde Owolabi converted a penalty with 18 minutes remaining.
Then, Waterford scored twice in injury time through John Martin and Quitirna to wrap up the three points.
This is only a snapshot of a gripping league game in the south-east, which saw Waterford move within a point of Harps.
The league positions meant that relegation was an overarching theme to this game, and the visitors were very keen to get an early goal and sit back.
Finn Harps bolted out of the traps and nearly scored inside seven minutes when Owolabi shot powerfully at goal.
Brian Murphy used his years of experience in that moment to stand firm and deny the forward.
This woke up the Blues, who had a chance of their own, kickstarted by the an excellent pass from Anthony Wordsworth. The ball found Patterson and he cut inside before shooting at goal. Gerard Doherty read this well from the moment the forward adjusted his run and he saved.
A throw-in gave Waterford their next opening, and this was a flicked on header from Evan Ferguson which went wide.
The end-to-end opening faded into a tense game, which saw Waterford dominate possession while Finn Harps sat deep.
To break through the defensive wall, Waterford needed a deflected ball to the feet of Patterson, which was then shot into the bottom corner of goal.
Finn Harps stayed in their regimental defensive shape and were selective with getting forward. They created a few half-chances from corners, with Eddie Nolan and Patterson heading two of these away.
The Blues tried to break after the flurry of corners for Harps. Junior Quitirna led the break and the ball was taken from his feet by Mark Coyle. Waterford won it back and Niall O'Keeffe had a shot blocked by Kosovar Sadiki. Niall O'Keeffe recovered and played a succession of passes, which played the ball to Shane Griffin, who shot wide.
The whistle to restart the game saw Owolabi dash down the full length of pitch and just as he entered the Waterford box, Shane Griffin slid in to clear.
Waterford weren't bothered by this inspired chance from Harps as they immediately adjusted to Marc Bircham's plan.
They went very close to scoring from a free-kick which saw Patterson knock a ball on to John Martin, but he couldn't control and Harps knocked it away.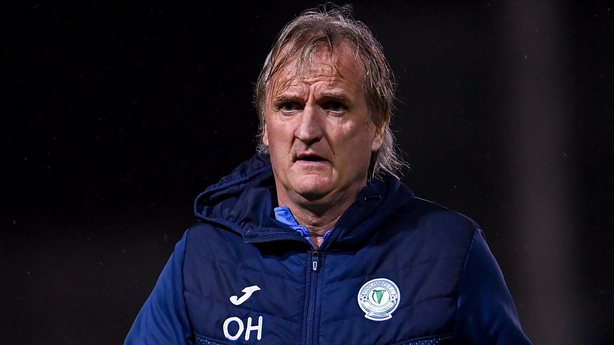 Harps had a decision to make at this moment of the game, and Ollie Horgan decided to change tactics by committing men forward in numbers.
This switch-up nearly caught Waterford out twice in quick succession. First, David Webster had a header well saved by Murphy. Then, Shane McEleney chipped a ball into the path of Owolabi, but he did not have the space to shoot.
With so many Harps players in the Waterford half, Ferguson spotted space and he sent a long ball into the path of Junior Quitirna. He sprinted with the ball into the box and McGinley tried to collect from his feet but instead the goalkeeper spilled it back to Quitirna, who tapped into an empty goal.
Harps's response lead to a corner, which lead to the ball bobbing around. In the middle of this, referee Graham Kelly blew his whistle and Brian Murphy saw red, which caused great protests from the Waterford bench.
A penalty was given and Tunde Owolabi had his shot saved by Matthew Connor, but the ball bobbed over the goalkeeper and went in.
With 18 minutes remaining, Waterford piled behind the ball to try and shut out Harps. This again played into the Blues as they were given space to break.
Their first opening saw Quitirna square the ball to Martin, who blasted the ball in from close range.
The second saw Quitirna fire across goal from close range, making it 4-1 to Waterford FC.
Waterford FC: Brian Murphy; Kyle Ferguson, Shane Griffin, Anthony Wordsworth, Junior Quitirna, John Martin, Niall O'Keeffe, Jack Stafford, Greg Halford, Phoenix Patterson, Eddie Nolan.
Finn Harps: Gerard Doherty (Mark McGinley 34); Jordan Mustoe, Kosovar Sadiki, David Webster, Barry McNamee, Mark Coyle (Luke Rudden 89), Shane McEleney, Dan Hawkins, Adam Foley, Ryan Rainey, Tunde Owolabi, Karl O'Sullivan (Mark Timlin 74).
Referee: Graham Kelly