Third time's a charm; that's the plan for Ireland manager Stephen Kenny, who stated that his ambition was to see his side win their UEFA Nations League group in 2022.
A relatively new addition to the international calendar, and after two previous renditions, Irish supporters would be forgiven for harking back to the days of meaningless friendlies, against Oman, no doubt.
For the maths of it all prove for grim reading since the inaugural campaign, which more or less, called time on Martin O'Neill's tenure as Ireland manager.
Following the glory (ish) days of Euro 2016, where Ireland drew with Sweden, before famously beating Italy in Lille, the national team hit a bit of a lull.
Not immediately, though, as the 2018 World Cup qualifying campaign proved a lively affair as Ireland came out second best in a tough group with Serbia, Wales and Austria.
But there were signs that the O'Neill-Roy Keane dream team was starting to creak, with a string of poor performances, most notably drawing 1-1 away in Georgia.
If the steady qualifying campaign was the calm, the storm blew across Dublin in November 2017 as Denmark came to town and razed the capital to the ground, beating Ireland in the World Cup play-off second leg 5-1.
The following year, 2018, it was the first time that there were no World Cup or Euro qualifying games scheduled, and Ireland didn't play a competitive game until 6 September, as the inaugural Nations League campaign began.
Some might say Ireland didn't play a competitive game until a month later, as Ireland began in Cardiff and left with their tail between their legs following a 4-1 drubbing.
Ireland managed two dour Danish draws in that short-sharp-sobering campaign, as two Welsh defeats and all-round ennui with the style and substance of O'Neill's regime led to a changing of the guard.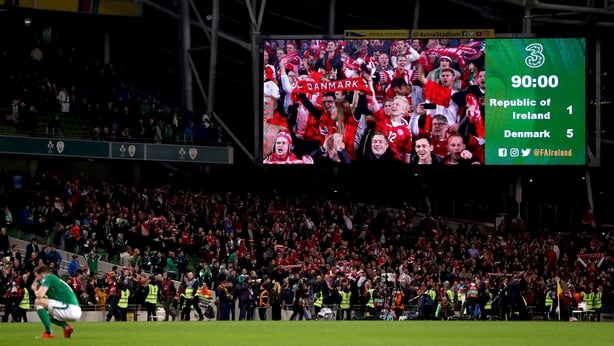 The next man in, Mick McCarthy, was not around long enough to experience the thrill-a-minute second coming of the tournament, which involved a re-jigging of sorts, meaning that Ireland maintained their League B status despite finishing bottom of their group.
Not that it made much difference, as Ireland's six matches – the group size increased from three to four – were played out in the embryonic months of Kenny's tenure.
Three draws from six this time out, including one against Wales, while the final tie with Bulgaria actually proved the first "important" result of Kenny's time in charge, as it prevented Ireland from finishing last in the group.
Which brings us on to the point of this particular piece – finally. For while the third offering of the Nations League does not occur until midway through 2022, it was brought to our attention by none other than the aforementioned Mr Kenny.
After what has proved a fairly impressive October window for Kenny and his side, where Ireland scored seven goals, won twice and kept two clean sheets, the manager was asked about his future hopes.
"The Nations League in June, we have four matches, and our ambition is to win the group, as that gives you the Euros play-off," said Kenny.
"We will take the Nations League extremely seriously and will be determined to win the group. That would be what we will be looking to do going forward."
In a World Cup year that will not offer any summer sessions – the 2022 edition does not begin until November – the Nations League PR department must be credited for snatching that particular international window to begin the new campaign.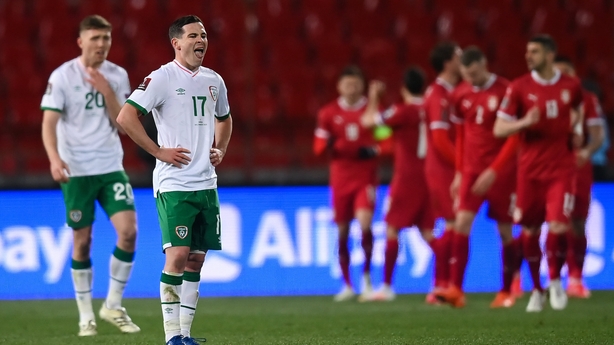 Ireland will play four of their games between 2-14 June, and will once again take part in League B, while they will play the remaining two games of the four-team group in September, which will allow them to put their feet up and enjoy watching the World Cup in Qatar throughout November and December at home like the rest of us.
Ireland will be heartened by the fact that they cannot play Wales for the third consecutive tournament, as they have been promoted to League A, where thankfully Denmark also reside.
So Kenny's side will go head-to-head (twice) with three other teams from what is essentially the second tier European outfits, which include our good friends, Serbia, as well as Ukraine, Sweden, Russia and Scotland.
The other sides Ireland could face include Iceland, Israel, Bosnia and Herzegovina, Finland, Norway and Romania, as well as the four promoted sides from League C, Slovenia, Montenegro, Albania and Armenia.
UEFA, as always, have written a good explainer about the entire process, however, there may be a little surprise for our Stephen come next summer.
"The format for UEFA EURO 2024 qualifying is not yet confirmed, including any details of how teams might earn play-off spots via the 2022/23 UEFA Nations League", reads the explainer.
So that group win might not yield a play-off place, as it did during the 2018-19 edition, however, if Ireland come out of their group on top, they should be in a very good position, confidence and form-wise to gain automatic qualification via the traditional route in 2023.
The UEFA Nations League 2022-23 draw takes place in Montreux, Switzerland, on 16 December.
Article was first published on 14 October 2021