Galway United manager John Caulfield has said that League of Ireland players are being treated "like guinea pigs" and also called for the Republic of Ireland to forfeit their European U21 Championship qualifier with Montenegro if certain players are prevented from travelling.
Irish U21 manager Jim Crawford named a squad for the qualifier against Luxembourg at Tallaght Stadium on 8 October and also an extended panel featuring extra home-based players for the Montenegro clash on 12 October – including Galway midfielder Alex Murphy.
That was because Montenegro is on the UK and German red list regarding Covid-19 quarantine restrictions, but it is currently not on Ireland's red list.
Under the current guidelines, any UK or German-based Ireland U21 player would have to quarantine before returning to their clubs. With that in mind, and with discussions still ongoing between the FAI, the FA and the UK government, a number of home-based players have been drafted in for the second fixture.
"They're being used like guinea pigs," Caulfield told RTÉ's Saturday Sport.
"They've picked a squad for the U21s and a number of players from England can't go. They'll rush our players to Montenegro so I think it's an insult to Alex Murphy, to our club and players in the League of Ireland.
"They're second choice and he's an U18 international, he's an U19 potentially, and they're calling him for the U21 team if 13 players can't leave from England. I think it's disrespectful to our league, club, Alex Murphy. It's poor taste.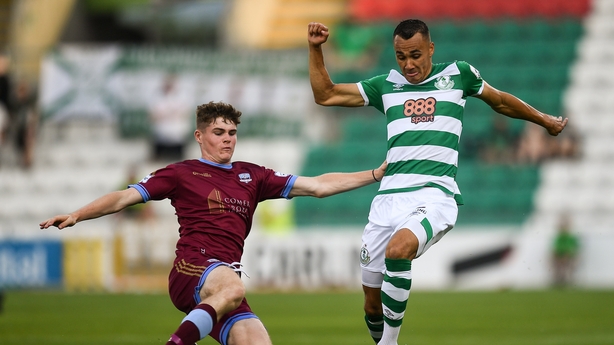 "If we can't get a team out to Montenegro then we should forfeit the match. The players from England who were picked in the first squad, if they can't travel well why should the guys over here be guinea pigs when they're not wanted for next Friday's match ( against Luxembourg) in the first place?"
Caulfield added that it was a move to showed disrespect to the domestic league.
"It's very disappointing because our players are being used for guinea pigs, our League of Ireland players are being used for guinea pigs for the Irish team.
"It's totally wrong and that's why people need to show respect and decency and while people may think a second panel, think it's great and we'll just give the League of Ireland fella the call-up – call them for next Friday, play him next Friday, and then take him to Montenegro if that's the case."
If the situation proceeds as it stands currently, league fixtures are likely to be impacted as 22 League of Ireland players would be involved.
"If that's the way it is, that's the way it is. A precedent has been set," Caulfield added.
"Normally games are not called off for U21 players, yes for senior internationals but not for U21s, but obviously a precedent is going to be set this week.
"Like I said, if the League of Ireland players are wanted, bring them next Friday night to the game against Luxemburg and play them in that game and then bring them to Montenegro."
We need your consent to load this SoundCloud contentWe use SoundCloud to manage extra content that can set cookies on your device and collect data about your activity. Please review their details and accept them to load the content.Manage Preferences