A close-range strike at the start of the second half from Phoenix Patterson was enough for Waterford to see off 10-man Drogheda United 1-0 at the RSC on Friday evening.
In a game which could have huge ramifications for this season's relegation candidates, Gary Deegan was sent off during a spirited game in the south-east.
The visitors had an ideal start when Ronan Murray was brought down just outside the penalty after two minutes. The winger stepped up and dropped the ball into a chaotic penalty area. It bobbed around before finding Killian Philips, and the midfielder headed wide from his position at the far post.
Waterford settled into the game with an excellent run from Niall O'Keeffe which brought the captain into the box, before the ball was swept from his feet through an excellent tackle. The Blues won the ball back and passed it to Darragh Power, who swung a cross into the path of Prince Mutswunguma.
The forward chested the ball down, spun around and unleashed a powerful shot towards the bottom right corner, which went narrowly wide.
After jabbing constantly through the first 10 minutes, both teams retreated into short passing games.
Drogheda fared better than the home side, as Darragh Markey twice picked the ball off in the centre and set up Jordan Adeyemo. Each time led to an overlap involving Conor Kane, and on both occasions his cross was well cleared.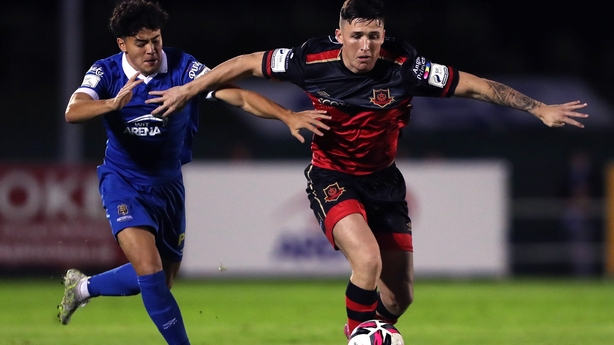 Waterford's passing game led to the ball getting to the feet of John Martin in the closing moments of the first half, but his shot was well blocked by Kane.
The second half began in the worst possible manner for Drogehda. First, Deegan was sent off after picking up a second booking, and then the Blues were given a free-kick at the edge of the box. The ball was played short to Patterson, who fired across goal to make it 1-0.
A brace of chances followed for the striker. The first was ended by the a lunging interception from Joseph Redmond, and his second attempt was well saved by Odumosu.
Drogehda enjoyed a strong spell in possession midway through the second half, but they could not play their way into space and trouble Waterford. Their best chance in this period came from Adeyemo, but just before he could shoot, the forward was flagged for off-side.
Substitute James Clarke thought he did enough to salvage a point for Drogheda late on, but his effort dropped tight into Brian Murphy's hands.
Waterford: Brian Murphy; Darragh Power, Cameron Evans (Jack Stafford 67), Kyle Ferguson, Anthony Wordsworth, Junior Quitirna (Greg Halford 74), John Martin, Niall O'Keeffe, Prince Mutswunguma, Phoenix Patterson, Eddie Nolan.
Drogheda United: David Odumosu; James Brown, Conor Kane, Daniel O'Reilly, Darragh Markey (Luke Heeney 45), Gary Deegan, Mark Doyle, Ronan Murray, Killian Philips (James Clarke 83), Jordan Adeyemo, Joseph Redmond.
Referee: Neil Doyle