Ole Gunnar Solskjaer is convinced Manchester United's penalty count has dried up since Liverpool boss Jurgen Klopp complained about the number they were awarded last season.
The United boss saw star man Cristiano Ronaldo have strong appeals waved away during last weekend's 2-1 Premier League victory at West Ham and another fall on deaf ears when the sides met once again in the Carabao Cup in midweek.
Asked if Ronaldo might have an issue with referees, Solskjaer added: "We just have to hope that we get what we deserve. I believe we should have had three penalties in the last two games.
"I don't know, but there was a certain manager last year that who was starting to worry about us getting penalties and after that, it seems like the decisions are more difficult to give. Surely I've seen a big, big difference since then on.
"But we just have to leave it up to the refs and hope that they will make the right calls very soon."
Ronaldo, 36, has made an instant impact since returning to his former club from Juventus this summer, scoring four times in his first three appearances to leave himself a marked man, and Villa boss Dean Smith has spoken about his excitement at the challenge of trying to stop the Portuguese superstar.
Asked if that was something his former United team-mate would have to get used to, Solskjaer replied: "Cristiano has been used to that ever since he came to the club, but maybe more so in say the last 15 years of his career.
"His first few years, I think everyone wanted to try to kick him because they wanted to stop him, and then he became such a top player that all the teams would have to have an eye on him.
"His record shows already what an impact he has had with us and he is ready for that challenge. He's so used to it, so no worries.
"But we're a team, we know we're more than just Cristiano and the players that I've got to choose from, if they have too much of an eye on Cristiano, there might be space for others."
Solskjaer will have Uruguay striker Edinson Cavani back in the squad this weekend after a muscle strain.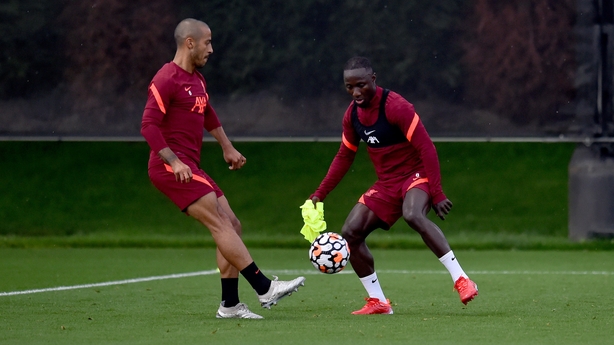 Klopp meanwhile does not expect Thiago Alcantara and Naby Keita to be sidelined for long after ruling them out of Saturday's game at Brentford.
Thiago sustained a calf injury during last week's home victory against Crystal Palace and fellow midfielder Keita hurt his foot in the midweek Carabao Cup win at Norwich.
On Thiago's injury, Klopp said: "It's not 100% clear. It's a muscle in the calf. It's an issue, obviously. (He'll be back) after the international break probably. I don't think it would be anything earlier. We will have to see."
Keita was withdrawn at Carrow Road after catching his foot in the turf and Klopp added: "It's nothing really serious, but it keeps him out of the next game for sure, and maybe a little longer, we will have to see.
"It's nothing serious, but it's obviously painful and we have to see how we can deal with that."
Trent Alexander-Arnold, Roberto Firmino, James Milner and Neco Williams are all expected to return to contention for the trip to Brentford.
Listen to the RTÉ Soccer podcast on Apple Podcasts, SoundCloud, Spotify or wherever you get your podcasts.