Five years a-waiting, it took Lucy Quinn just two minutes to make an impact in the green of the Republic of Ireland, as the striker's free-kick led to the opening goal in the 3-2 victory over Australia on Tuesday night.
The Birmingham City forward declared for Ireland five years ago, however, she only recently received her passport and eventually got to represent the Quinn clan as she was named to start by manager Vera Pauw.
A bright and bubbly start from the busy centre-forward against the 11th-ranked side in the world, Quinn was involved as a free-kick was awarded on the edge of the box and she put her hand up to take it.
Captain Katie McCabe was also looking to take the set-piece but not only did the new girl convince the skipper to let her take it, she delivered.
And it was not just her involvement in the opening goal that impressed, as Quinn looked lively throughout, leading the line, dropping deep or pushing wide, while linking the play well with her fellow forwards.
When the striker began the process of declaring, Colin Bell was in charge of the national side, and while his tenure has since tolled, Quinn maintained the push to play in the green jersey.
"It's been a long time coming," said Quinn, speaking to RTÉ Sport after the game.
"I honestly started the process about five years ago so this has been a real long process trying to get hold of family records, and it was something I always wanted to do.
"Obviously, with Brexit and Covid, there were speed bumps on the way. To even just be in at camp, I was happy to make my family proud."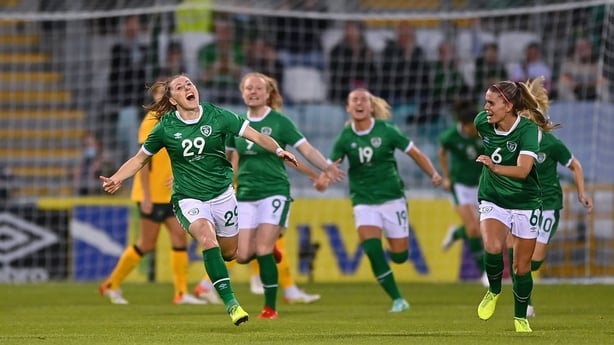 Quinn also had to get clearance from the English FA, having previously represented England at the Euro Beach Soccer Cup in Nazaré, Portugal, back in 2017.
England went on to win the event with Quinn the star of the show, not up front scoring goals, but rather with the gloves on. She was named goalkeeper of the tournament.
However, the representation of the country of her birth in the tournament did not preclude her from switching allegiances to the Republic of Ireland for senior tournament football.
"I did play a beach soccer tournament [for England], but it wasn't a FIFA affiliated tournament.
"And I have clearance from the English FA to say that I never represented them competitively which, again, was a little bit of extra time in the process to get my first cap. Beach soccer wasn't one really."
Ireland lead! Lucy Quinn's terrific free-kick cannons off Mackenzie Arnold and rolls in.
Live updates: https://t.co/EORUAQcQn9 #RTEsoccer pic.twitter.com/ZBx3IDuzgC

— RTÉ Soccer (@RTEsoccer) September 21, 2021
The dream start for Quinn and the experience of playing top-quality international football also proved most satisfactory.
"I couldn't believe it," said Quinn, in relation to the opening goal. "I wanted to just keep my head for the rest of the game.
"Australia were an unbelievable team, and I knew the standard was going to be higher than I've played before.
"I loved every minute of it and I didn't feel too much out of my depth. I found out this morning I was starting, it still doesn't feel real to be honest."
Being a friendly international, there may not be a dubious goals committee to take Quinn's free-kick away and, perhaps correctly, award it as an own goal to the Australian keeper Mackenzie Arnold.
But Quinn is claiming it and she cannot wait to share the experience with her family and allow the feeling to really sink in.
"To be honest, it hasn't sunk in. When I get inside and talk to my family maybe it will feel a bit more real.
"Unfortunately, [there was no family at the game], everyone was very last minute, they'll be definitely waiting to hear all about it.
"I can absolutely claim the goal no matter what it goes down as. I had to do something to make the keeper have to work.
"So for me it's a debut goal, no one can take it away from me."