The nature of football means that managerial jobs mainly become available when teams are in a bad place or sometimes when a manager has done so well that they have moved on to greater things, leaving a void to be filled.
When Stephen O'Donnell started his career in the dugout at St Patrick's Athletic in August 2019, they were in neither position.
They were stuck in the mud having not qualified for Europe for the previous three seasons, but he wasn't being asked to come in and save them from relegation either.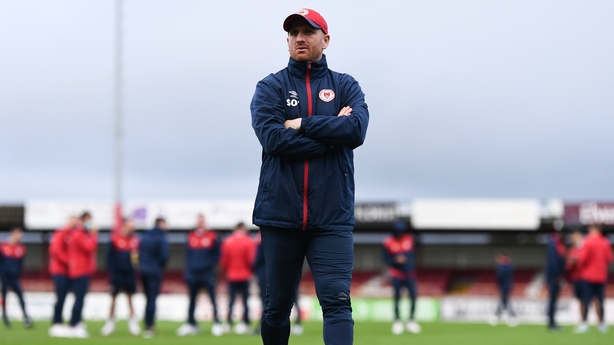 Early in his reign, things got worse before they got better, and the Saints took just 30 points from the first 25 games that took in the closing stages of 2019 and the shortened 2020 season.
That form suggested a team who should be more concerned with relegation than trophies and that it was a big job for O'Donnell to turn it around.
The jump into title contention in 2021 has been dramatic. Their points per game has gone up 0.69 from last year to this (1.17 to 1.85). That would be their biggest single season increase since they went from second bottom in 1954 to champions the following year.
That increase in points has only been bettered by eight teams in the summer era as listed below:
| | | | |
| --- | --- | --- | --- |
| Team | Season from | Season to | Points per game increase |
| Dundalk | 2012 | 2013 | 1.39 |
| Drogheda Utd | 2011 | 2012 | 1.21 |
| Derry City | 2004 | 2005 | 0.96 |
| Shamrock Rovers | 2008 | 2009 | 0.91 |
| Bohemians | 2007 | 2008 | 0.82 |
| Derry City | 2015 | 2016 | 0.82 |
| Bohemians | 2006 | 2007 | 0.79 |
| Cork City | 2013 | 2014 | 0.79 |
What is notable is how many teams made their biggest improvement in the year before going on to win the league and often with a new manager. The move into the elite is rarely incremental and often involves one great leap.
Stephen Kenny's first year at Dundalk saw a major turnaround, though it would be 2014 until they took the title.
Michael O'Neill transformed Shamrock Rovers in 2009 and then just required a second full season before getting to the top of the table.
John Caulfield immediately took Cork City from also-rans into contenders but would need a few more years before pipping Dundalk to a league championship.
Bohs were transformed in 2007, the year prior to back-to-back titles.
In what could be viewed as O'Donnell's first full season, he has taken them from two points above the relegation play-off to second in the table behind rivals Shamrock Rovers and still in with a fighting chance of glory.
Against the eight other teams, Pat's have won the same number of points (49) as the defending champions.
That shows impressive consistency but a team less able to produce their best on the biggest occasions. The final hurdle they need to overcome is beating the Hoops head-to-head.
Their three games this season have so far resulted in two losses and a draw with one fixture remaining.
All have been close in some way with Pat's holding a lead entering the final minute of the first, leading for 37 minutes before losing in stoppage time in the second and being level in the third after an hour before losing out down the final stretch.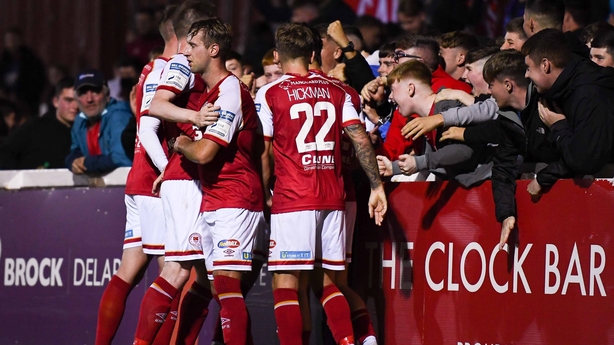 If Stephen O'Donnell wants to bring a league title to Inchicore, they will have to beat their nearest rivals at some stage. especially with a structure that involves four games per season.
The last team to win the league without a win over the team finishing second was Dundalk when they won the 1987-88 title without beating runners-up the Saints in any of their three meetings.
Is there reason to believe that the form from this year's three games and the previous south Dublin derbies, in which they are also winless, can turned on its head?
Since Pat's last home loss to Dundalk back in May, their goalscoring has gone from 1.42 per game prior to 2.0 per game.
That is a very high rate of goals. It has helped put them ahead of Shamrock Rovers as overall top scorers by three goals.
The team scoring the most goals in a season has won six of the last seven championships (the exception being Cork City in 2017).
Finding the back of the net has been a problem in this fixture with just three Pat's goals in the last 11, one of them being an own goal.
The Dundalk game was the only at home in which the Saints failed to score. Since then, they have won six in a row to go on their best home run since 2014.
Three weeks prior, was their only other home loss against Shamrock Rovers. Having won every other Richmond Park game, their home win percentage is 85% - the only team to go higher than that for a full season since 2003 was Dundalk two years ago (89%). One more win would equal their most in a summer season (12) with five left to play.
Conversely, the Shamrock Rovers defence has not been as good as it once was. In 2020, they conceded the fewest goals per game of any team in league history (0.39). That has doubled this year to 0.77 which is not even the best in the league.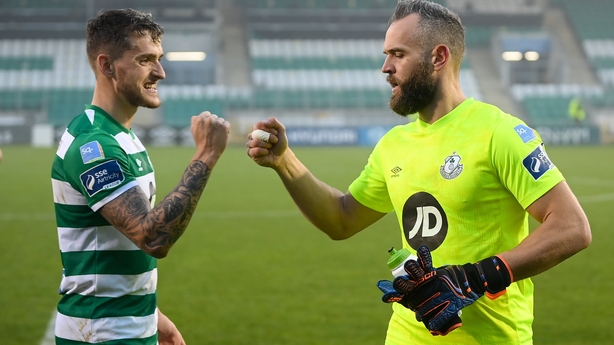 At the same time, as Pat's started their improvement in scoring, Shamrock Rovers went seven games without a clean sheet. That was their worst run since the start of the 2017 season.
Despite losing Liam Scales, that has improved recently with four clean sheets in five although it does include games against the league's two lowest scorers in Waterford and Longford Town. Turning around a deficit of six points having played one game more at this stage of the season would be a rare, herculean feat.
But if Inchicore outfit do want to overtake Shamrock Rovers at some stage, they are going to have to beat them face to face eventually, and whether that win ignites a neck and neck title race this year or lays down a marker for a more competitive battle in 2022 remains to be seen.
There is no time like the present.
Watch St Patrick's Athletic v Shamrock Rovers live on Friday night in the SSE Airtricity Premier Division live on RTÉ2 and RTÉ Player