Ireland manager Vera Pauw has said that the importance of player development continues to trump chasing results as they prepare for Tuesday's friendly with Australia at a close to sold-out Tallaght Stadium.
It's been a difficult spell for the Girls in Green and they go into the game on the back of a seven-game losing streak.
Tuesday's game, meanwhile, will come exactly a month before their World Cup qualifying campaign opens with a home clash with heavyweights Sweden, but Pauw said that getting a win before their match against the side ranked number two in the world was not the be-all and end-all.
"If you fear failure you will never succeed, that's our slogan of our process," Pauw said.
"We have no fear but we do respect them (Australia) a lot because they give so much pressure and they're so good in that. If you make one little mistake it's a goal against, but that is what we need to get ready for our game against Sweden.
"Of course we want to finally have a win. On the other hand, we have chosen our opponents to grow and to get better. What I said before, you will not grow if you go for points and have the press happy or have other people happy.
"What counts is if we qualify for the World Cup and the choice of opponent is related to that."
Pauw doesn't believe that the squad's confidence will suffer greatly if their losing streak is extended to eight games against Australia.
"Confidence grows if you have knowledge of the task under the highest pressure," she said.
"That experience is what we try to get, that brings confidence not winning 5-0 against a team ranked 50th in the world. That will not bring confidence.
"Confidence (comes) when you feel that you grow, that you get better, you're together in your teamwork, that you can cope with any opponent, that you can stop them from going forward, that you can get the best out of yourself and your own players.
It's looking like it could be a sell out as Ireland take on Australia at Tallaght Stadium tomorrow, and manager Vera Pauw has been delighted with the backing her team has received. #IRLAUS #RTESoccer pic.twitter.com/Zx85kIPRZV

— RTÉ Soccer (@RTEsoccer) September 20, 2021
"That is why when we got this opportunity to play Australia we said yes. We didn't think of seven defeats, we only think of getting better because that is how you qualify for a World Cup."
The attendance at Tallaght Stadium is capped at 4,000 due to Covid restrictions and tickets are in short supply for the game. It will also be the side's first match since the FAI announced the decision to pay the Republic of Ireland men's and women's teams the same match fees.
Pauw said that it is clear that the women's team are gaining more traction with the Irish public.
"It looks like it will be a sold-out fixture and that's amazing because the tickets could only go on sale this week because of all the hassle we had with Covid. Fantastic, I'm looking forward to the match."
She continued: "I think it (equal fees) can only give a boost to the development. It brings responsibilities, it brings also stability in the team.
"It brings that we have more rest. We do not only train but also rest because they might take off a few hours in the week.
"It's all growing, everything is growing, this is part of that whole process."
Ireland have used three different goalkeepers in their run of seven losses, Marie Hourihan, Grace Moloney and Courtney Brosnan. The latter two remain in the squad for this fixture and are joined by Eve Badana of DLR Waves.
Despite the rotation, Pauw said she knew who her first choice goalkeeper was, but fans will have to wait until the teams are announced to find out who that is.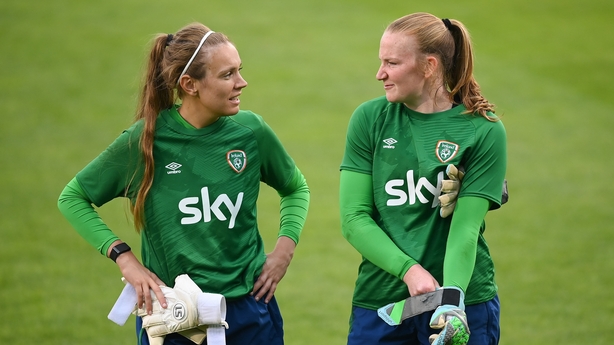 "At this moment there is one clear number one, yeah.
"It's not that I don't want to tell you but you never know if in the last training something happens so I'll keep that until tomorrow."
Pauw also paid tribute to Chelsea striker Sam Kerr who will be making her 100th appearance for Australia in Dublin.
"How good is that that you can play (against) a star like her? You can only get better because of it.
"It's a friendly, why would we not do that? It would be not smart to play an opponent that we would win easily against because we want to go to the World Cup and we want to grow."
We need your consent to load this SoundCloud contentWe use SoundCloud to manage extra content that can set cookies on your device and collect data about your activity. Please review their details and accept them to load the content.Manage Preferences