Last month was a fraught one for St Patrick's Athletic defender Lee Desmond.
The 26-year-old was briefly hospitalised after sustaining a head injury late on during a 2-1 win over Waterford following a collision and, after collapsing, was unconscious "for a number of minutes".
But Desmond feels he is on the road to recovery after a couple of small setbacks and could be back "sooner than expected" as he told the RTÉ Soccer Podcast.
"The recovery has been a bit up and down to be honest," he said.
"The night it happened, I got the all-clear with the scans and stuff like that and then it was the next week or two I got the usual concussion symptoms which is normal and then I got better and I tried to do a bit of light training by myself on the bike and jogging and then my symptoms came back which was a bit of a setback but it's to be expected with concussions, it can happen.
"I'm on the mend and I think I'm getting better again and hopefully in the next week or two I'll be back fully."
Listen to the RTÉ Soccer podcast on Apple Podcasts, SoundCloud, Spotify or wherever you get your podcasts.
We need your consent to load this SoundCloud contentWe use SoundCloud to manage extra content that can set cookies on your device and collect data about your activity. Please review their details and accept them to load the content.Manage Preferences
He added that "six weeks is probably a standard recovery time for concussion" and is hopeful of a training return this week.
"And you never know then. In the next week or two I should be back playing," said the three-time former Republic of Ireland Under-21 cap.
On the incident itself, Desmond has a clear memory of the accidental collision with his own goalkeeper Vitezslav Jaros.
"I remember everything to be fair. The ball bounced in the box and I tried to head it out for a corner and then obviously Vit's smashed into me and then I was lights out," he said.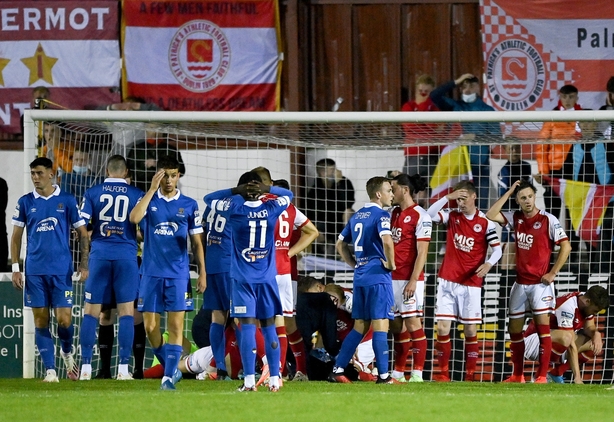 "I think, I'm told, I was out for 90 seconds to two minutes and once I woke back up I remember everything and it was scary for the first minute or two because it's basically your brain resetting after being off.
"So I couldn't see or speak and I was trying to move my arms and legs for a couple of seconds but they wouldn't so I didn't really know what had happened to me.
"But that all came back. The physio reassured me that would come back and it did and then I was in the ambulance and then in St James' Hospital within a few minutes.
"And that's it, I haven't had any memory issues or problems like that, just sort of headaches that have been keeping me back at the minute."
Desmond added that he had been in with a neurologist at the Mater Hospital on Wednesday who gave him the all-clear.
"It's just for peace of mind really. Once my symptoms go, I can kick back on and get back playing again," he said.