Josh Cullen has urged the Republic of Ireland to let their football do the talking as they attempt to make Serbia pay for their disappointing week.
The 25-year-old Anderlecht midfielder was one of Ireland's stand-out players as they followed up a heart-breaking and desperately unfortunate World Cup qualifying defeat in Portugal with a draw against Azerbaijan on Saturday evening.
That sends them into battle with the Serbians, joint Group A leaders with Cristiano Ronaldo and company, on Tuesday nine points off the pace at the halfway stage with their lingering hopes of making it to Qatar hanging by a thread.
Asked if the game was a must-win affair, Cullen said: "Yes, I think so, you could say that.
"Looking at the group, we have to win the game and our focus is on winning the game. We're confident we can do that with the group we have.
"But the responsibility lies with us as players to deliver. It's easy to talk and say we can do this and we can do that – it comes down us to delivering on the pitch and we have to take that responsibility as a team, and as players.
"It's never over until it's over. All we can do is try and win every game, control the controllables and the games that are in our hands. Our full focus now is on getting three points on Tuesday night and that's all that matters from now until then.
"We have to take each game as it comes and win every game from now until the end of the campaign. It's as simple as that."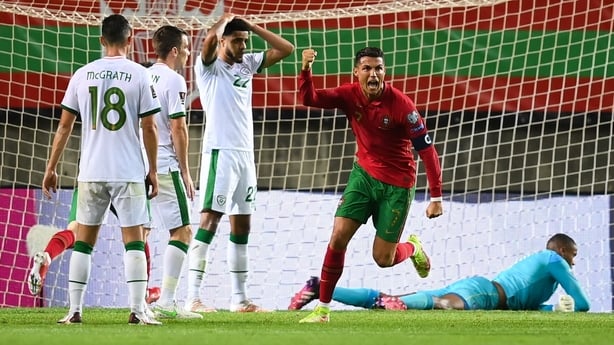 While Ireland turned in perhaps their most creditable performance to date under Stephen Kenny in Portugal only to be undone by Ronaldo's last-gasp intervention, they were made to pay for a lack of precision in the final third against Azerbaijan – the team ranked 112th in the world by FIFA.
In the event, they needed an 87th-minute Shane Duffy header to cancel out Emin Makhmudov's fine opener and spare their blushes on a night when victory was a must if Qatar was to remain, even distantly, on the horizon.
However, Cullen said: "We believe in the character and ability we have in the squad. All we can do is keep working hard, believe in ourselves.
"A little bit more quality in the final third and maybe a little bit more luck with ricochets in the box and we're here talking about a positive result.
"There is no time for us to be downbeat. It's a quick turnaround, we have to fully focus on Tuesday night. As players, it's our job to be confident and we have to be on Tuesday night going in against a good side."