Ireland's World Cup hopes may be all-but over, however, Stephen Kenny's side can still have a major say in how Group A plays out during the second half of the campaign.
A solitary point from the opening four games, and taking other group results into consideration, it would take a minor miracle for Ireland to sneak second place.
Portugal and Serbia appear to have the top two places secured as they share the lead on ten points apiece, and while they still have to play each other, following a 2-2 draw in Belgrade, both sides also have to travel to Dublin.
For Ireland, the road to Euro 2024 begins in earnest on Tuesday night as they welcome Serbia to the Aviva Stadium, and as long as the manager has the confidence of his employers to take the team for the duration, it gives Kenny a slight head-start to get it right, right from the start of the next campaign.
Fifteen months before that qualifying draw, with the campaign to run through 2023, what happens between now and then will play a part in the seeding and form that Ireland take into that process.
Tuesday's opponents are perhaps the perfect side for Kenny to test his emerging team against, and to see how far they have progressed since the beginning of his competitive tenure 12 months ago, and also how much they have learned as a unit since the reverse game in Belgrade in March.
Serbia are the prime example of a team that Kenny envisages Ireland to be comparable to, however, the side from the Balkans are certainly a few years ahead of the Irish on the team-building side of things.
Tuesday's visitors are familiar foes with the Irish, having played in the 2018 World Cup qualifying campaign together, with Serbia coming out on top over the head-to-head games – a 2-2 draw in Belgrade, before Aleksandar Kolarov's super strike in Dublin sent his side to the tournament, and Ireland into the play-offs.
So little between the teams, from a competitive perspective, but the roads really diverged as Serbia went off to compete at the 2018 World Cup in Russia, while that play-off sent Ireland into a downward spiral, following the Dublin debacle when Denmark ran amok in the capital, winning 5-1.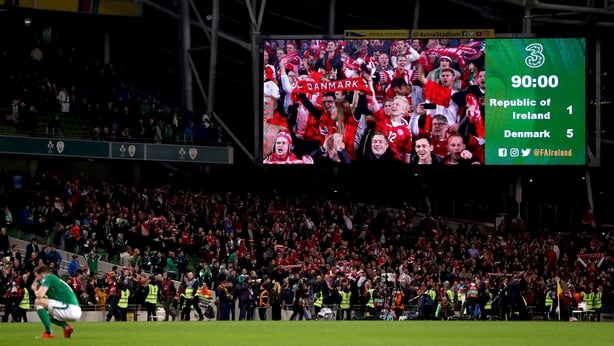 Four years on and it would not be a stretch of the imagination to suggest that Ireland have not yet fully recovered from such a devastating blow.
Serbia on the other hand, have since lost vital players such as the aforementioned Kolorov, former Chelsea defender Branislav Ivanovic, and Manchester United midfielder Nemanja Matic.
And while they missed out on Euro 2020, they appear to have brought the next generation through over the past three years and maintain a positive approach to the game, playing entertaining, attacking football.
Like Ireland, they have seen a few managers come and go over the past few years, but the arrival of Dragan Stojkovic appears to have added a bit of an x-factor to the team who often play on the basis that they will score more goals that their opponents.
Four against Luxembourg on Saturday, three against Ireland and two against Portugal, Serbia will come to Dublin with the same approach, and while it will take a strong defensive performance for Ireland to compete, Kenny's side will also be handed ample opportunity to play their own attacking game.
While Serbia's defensive unit can prove suspect, what separates them from Ireland at the moment is their attacking unit, possessing two key types of player that Kenny's current squad is clearly lacking.
Dusan Tadic controls the play and is key to almost everything creative that happens in and around the final third, and it was his influence that really turned the game in Serbia's favour in March, when Ireland were playing some good football in Belgrade.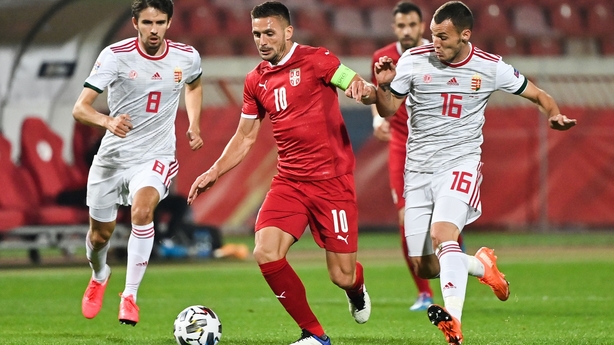 And when you have a man who has scored 43 goals in his last 46 games for his country, it can prove the difference between sides like Serbia and Ireland when they go head-to-head.
Aleksandar Mitrovic did not even start the game in March, but when he came on in the 63rd minute, it took him precisely 12 minutes to change the game from a tightly contested 1-1 to a guaranteed three points as Serbia went 3-1 ahead thanks to two sensational efforts.
Ireland did get one back in that game, however, James Collins' goal only came in the 86th minute and after playmaker Tadic had been taken off for the final stages.
Stephen Kenny's side have had played two tough games over the past five days, the second of which was made a lot harder than it should have been by allowing Azerbaijan take a half-time lead, while Serbia only face two qualifiers in this window and enjoyed a relatively facile evening on Saturday against Luxembourg.
Star striker Mitrovic was subbed off late in the game nursing an injury, placing a question mark over his involvement in the Dublin game.
But reports from Serbia now suggest that the injury is considered a minor knock and the Fulham forward is expected to travel, and no doubt, start the game.
Two teams with very different aspirations going into Tuesday's game, Serbia will be anxious for the win to keep pace with Portugal, while adding to the growing belief that they are getting closer to the continent's big hitters.
Ireland, on the other hand, are just trying to turn performances into results to really kick-start the Kenny era; the good week that the manager had hoped for has not presented itself, however, a good night to finish a tough week would prove most welcome.