Enough chances to win the game by two or three goals was the opinion of manager Stephen kenny following his side's 1-1 draw with Azerbaijan in Saturday's World Cup qualifier at the Aviva Stadium.
Chances created certainly pleased the manager, yet Kenny rued his side's profligacy in front of goal, before Shane Duffy eventually got Ireland back on terms to snatch a point.
It was almost a case of history repeating itself as Ireland returned to Dublin, disappointed by the result, yet buoyed by the performance in Portugal.
A near carbon copy of the situation in March when Ireland impressed – but lost 3-2 in Serbia – before coming home to the Aviva and losing 1-0 to a presumed weaker nation, Luxembourg.
The big Derry man spared his manager and his team-mates' blushes with a trademark flying header late in the game to salvage a point.
Not that the manager got an easy ride in the post-match press conference, as he was asked whether he thought he was still up to the task of leading the national side.
Natually, Kenny countered the suggestion and pointed to several recent good performances – which included tonight's 1-1 draw – and while he acknowledged that results were not as good as he would have liked, he re-emphasised the fact that he is attempting to build a new team.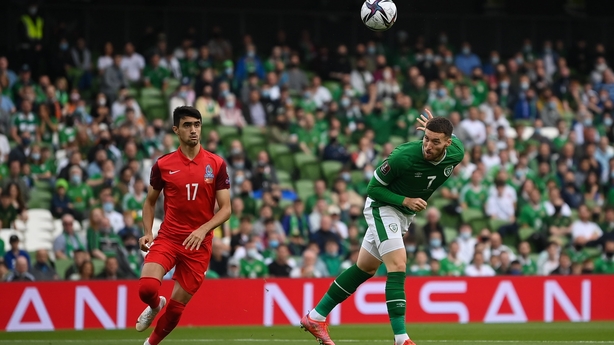 To his credit, the new-look side came flying out of the blocks at the Aviva, and could have been three up after ten minutes with Matt Doherty, Aaron Connolly and Seamus Coleman all with opportunities to open the scoring.
The intensity of Wednesday night did appear to take its toll, however, and the tempo noticeably dropped throughout the second quarter of the game.
Ireland still looked comfortable up to the 45th minute, but then a real lapse of that energy and intensity allowed Azerbaijan midfielder Emin Makhmudov way too much time to set up a shot from distance and pick his spot.
The game-plan was working up to that point, and while the Ireland team may have taken a breather coming up to half-time, they would have been planning a second-half assault to get the job done.
But suddenly it was an uphill battle against a side who were already compact in defence, and happy to park the bus for the entirety of the second half.
At that stage, Ireland had plenty of time to get the two goals required and come out with the three points, but perhaps panicked a touch too early and hit too many hopeful ball into the box, most easily dealt with by the visitors, backed up by a feisty, if frustrating, performance by keeper, Shakhrudin Magomedaliyev.
"It was probably a game that we deserved to win 3 or 4-1," said Kenny, speaking at the post-match press conference.
"I think we created a lot of chances. It was a game we deserved to win, we just didn't win.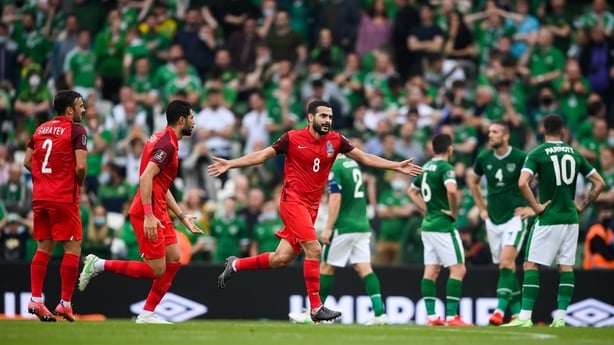 "We conceded obviously, Makhmudov scored, we've seen him do that so we should have closed him down better than we did.
"It was an unbelievable goal from his point of view, right on 45 minutes. So it was a real killer blow for us, right on half-time, it changed the narrative.
"But the attitude of the players was excellent, they kept going and created so many chances to try to get the win for us, and in the end, Shane Duffy got that important equaliser, and we just couldn't get that winner."
Kenny accepts that his side had to take responsibility for the defeat as a result of the missed chances, however, he was loathe to criticise the endeavours and application of his young side, who he felt played well overall.
"We are disappointed with ourselves, no doubt about that. We started the first 15 minutes really, really well, and we got right on top.
"They got a spell of possession, but they didn't really create anything, and then they did have one chance in the second half on the break. Gavin made a good save, but they didn't create anything in the game, it was just the shot from outside the box.
"We had so many chances, we missed the target a lot, which is disappointing and we paid a price for that."
Kenny admitted that the World Cup campaign was all-but over following the result in Dublin, which leaves Ireland with one point from four games. And in truth, it would appear that the manager is already planning for the Euro 2024 campaign as he suggested that it was an uphill task following the defeat in Portugal.
The front three that started the game against Azerbaijan are the future of this Irish side, and while Kenny was probably hoping that they would have had more of an impact, collectively they failed to blossom on the night.
Adam Idah, however, backed up his impressive performance in Portugal with another excellent outing and earned the man of the match accolade for his selfless work leading the line.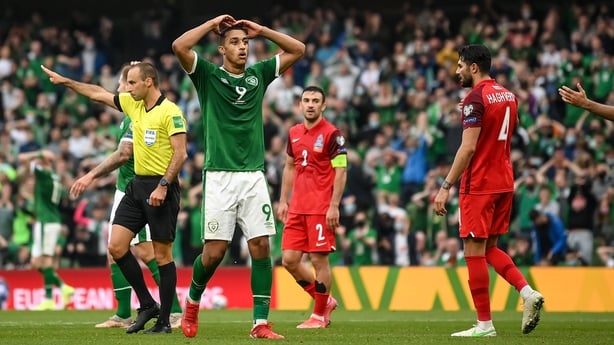 The manager admitted that Connolly was not able to reach the levels of the Portugal game midweek, while he felt Parrott played well – both were substituted, the former at half-time, and the Spurs striker midway through the second half.
The search for Robbie Keane's successor in the goalscoring stakes remains, however, there is a sense that this trio will produce a fair tally collectively over the coming years.
"The international team has not been prolific for a long time, but we are working hard to improve," said Kenny.
"Although Adam Idah didn't score, he did well as centre-forward and led the line brilliantly, linked play well and certainly caused a lot of trouble for the defenders.
"The critical chance that he missed was unfortunate, as he is pretty decent in those situations normally, and if he hadn't of touched it there were three players waiting to knock it in.
"But overall his performance was really good and I thought he was excellent really. But as I said, we didn't capitalise on a lot of our good build-up play in the manner that we should have.
"Aaron obviously couldn't get to the levels he played the other night. Troy nearly scored before I took him off, [he] worked hard, linked the play, did okay, so I wouldn't be critical of any of the players, really.
"They're not seasoned pros, they're emerging players, and there's room for improvement, there's no doubt, but that's the way it is."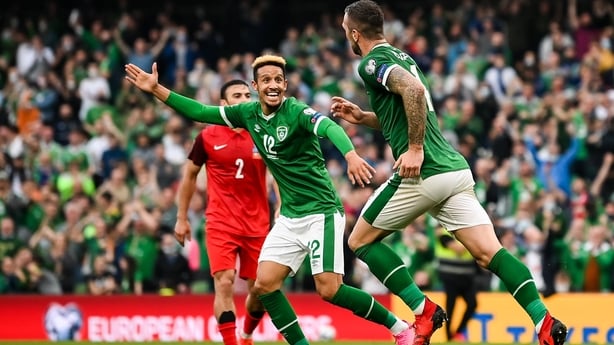 The manager said it was not up to him to say how he was doing in the role of senior manager, but stressed that he still is fully enthused by the task at hand and refuted suggestions that he wasn't working out in the role.
"No, I certainly do not accept that. Absolutely not," said Kenny, when asked whether he accepted that it wasn't working out for him.
"It's not for me to say how I am doing but we are building a team that can be very exciting. Today we saw a lot of good football.
"We are building a very good team, you could see that in Portugal. We were 1-0 up and we end up losing in injury time.
"We've got to turn performances into results.
"Today where we played a lot of good football and created a lot of chances. If we win 2-1, we're having a different conversation, so we're kicking ourselves that we haven't won that game."
Kenny was asked does he need another campaign to get Ireland to a major tournament, but he said his main concern was picking the team up for Tuesday's home clash against Serbia.
"What I've got to do now is actually pick the team up for the game against Serbia. They had a big win tonight, so we have to dust ourselves down, third game in six days and get ourselves right and put in a strong performance against a very good Serbian team.
"We've got to make sure we're right for that game on Tuesday, that's the main objective now at the moment."