While the SSE Airtricity Women's National League has been in full swing since March, a host of other Irish players are taking their first steps overseas in a pivotal 2021/22 season for the Republic of Ireland.
Vera Pauw's team begin their 2023 FIFA Women's World Cup qualifying campaign in Georgia on 17 September, boosted by the news that they will now receive the same match fees as their male counterparts.
Sweden, Finland and Slovakia also await in the bid to reach the finals, meaning that the form of Ireland's full-time professionals will be more important than ever.
One such player is Louise Quinn, who has rejoined former Arsenal teammate Katie McCabe and Brighton's Megan Connolly in England's Women's Super League (WSL) after moving to Birmingham City following a year with Fiorentina in Italy.
The defender will captain a team that finished second bottom last season, with the Blues announcing on Friday that Eleanor Ryan-Doyle and Emily Whelan - two young attackers last at Peamount United and Shelbourne - would swell the Irish representation at the club to six. Marie Hourihan and Jamie Finn signed earlier this week, while Harriet Scott is also on Birmingham's books ahead of their league opener at Tottenham on Saturday.
In the wake of a new WSL broadcast deal worth around €9 million per year, there is a renewed focus on this weekend's opening fixtures. On the day it was announced, however, it seemed fitting to first ask Wicklow native Quinn about the equal pay agreement.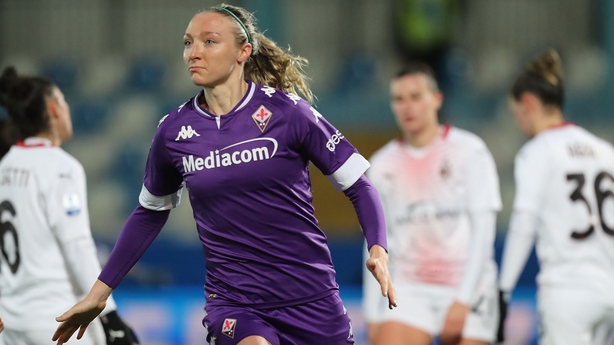 Quinn, after all, was one of 14 players who fronted up at Liberty Hall in 2017 to reveal that – among other shocking grievances – at airports Irish internationals had to change in and out of tracksuits they shared with other teams.
"For it to be over the line, it's massive," she told RTE Sport. "It just feels… great to be honest."
The 31-year-old is embarking on a fourth season in England having previously been – along with Ireland captain McCabe – a key part of the Arsenal side that won the WSL in 2019.
"Being in the WSL and being in England is where I want to play my football," Quinn said. "Where I feel comfortable but where I actually feel very out of my comfort zone at the same time because the level is just incredible."
Incredible is a good word to describe a goal Izzy Atkinson already created this season. The Scottish Women's Premier League starts for Celtic at Aberdeen on Sunday but the 20-year-old Dubliner recently shone in her side's first ever Champions League matches.
She fizzed an injury-time free-kick narrowly over in a 2-1 defeat against Spanish side Levante in Norway, before creating a breathtaking equaliser in an extra-time loss against Minsk.
Collecting the ball on the edge of her own area, Atkinson set off on a devastating break that left three defenders for dead. She then squared the ball for Rachel Donaldson to score a memorable goal.
A devastatingly wonderful counter??@izzyatkinson_ ?? @rachd_9

That team celebration??#UWCL | #MINCEL | #COYGIG pic.twitter.com/foPX8TbR7m

— Celtic FC Women (@CelticFCWomen) August 22, 2021
"My Dad and I are always talking about just being direct," the attacker, who made her first appearance for Ireland at 16, told RTE Sport. "A lot of players tend to take a lot of touches… I just got the ball and said 'I'm going, I'm going.'
"When I looked up there wasn't a player there. And I just kept running and kept running and kept running - and then luckily Rach D was at the back post."
Atkinson was disappointed that Celtic didn't get the results they deserved from those August matches, but she is pleased with how full-time football is going.
"With Shelbourne I would have been training three times a week max and a game at the weekend," she explained. "Over here it's training every day bar one day off, and we have a few gym sessions as well. So it's a completely different lifestyle.
"I wake up every day and it's football, football, football. I would have done a lot back home - even when I was at Shels - on my own, but it's not the same. It's just great waking up every day, that this is my life and I don't have anything else to do but wake up, play football, and train."
Moving to Celtic in March last year – a team that turned professional in 2020 – is clearly paying off, and Atkinson has since been joined at last season's Scottish runners-up by compatriot Tyler Toland.
The decision to move abroad is not one that Amber Barrett regrets either. Cologne were relegated on goal difference following her arrival in 2019 but last season the Donegal striker hit 10 goals in 16 games when they bounced back – unbeaten – as second division champions.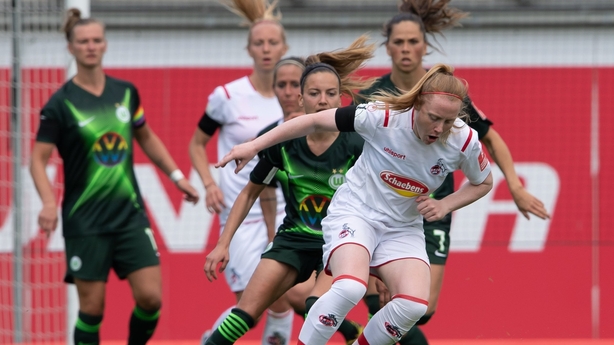 Having netted in a German Cup game to start her latest campaign, she said there was "never any question" about cutting her stay short.
"I would say that last year's season was more important to me than the first season," she told RTE Sport. "I was able to find my feet a little bit – able to learn my role in the team. I definitely felt more improvements last year than I did the first year. Much more settled and content."
The adjustment had been all the more difficult given that the 25-year-old had to go through lockdown while grappling with a new language.
"To be honest with you I take that now as a positive," she said. "Mentally, building my own resilience, I think it was the best thing I could have done… of course Covid added to that but without these little challenges you'll never better yourself in the long run."
As for her own game, Barrett has got used to having little time on the ball since leaving Peamount United.
"I definitely think I've improved in those situations, dealing with pressure, big defenders that are constantly at you," she said.
"I think those things will eventually keep building, and hopefully a really good year in the first league will improve that even more."
It is a difficult job. It is one of the most enjoyable but it's 24/7
Quinn, meanwhile, will now play her home matches at the 29,000 capacity St. Andrew's stadium after coming through a tough but "priceless" year in Italy. She hopes that new investment in England will see more Irish players to turn professional.
"Hopefully it just actually gives them more drive and ambition," she said of what the WSL deal means for Irish-based players. "It is a difficult job. It is one of the most enjoyable but it's 24/7. You've got to be fully in. You've got to commit your everything.
"Every second. You're always thinking about your meals, you're always thinking about if you're resting enough… you've just got to be switched on all the time.
"So if you can give that effort… if you have the talent, which obviously a lot of the Irish girls do, I just think they've got to back themselves. Some are still at a stage where they maybe think as well that they're not good enough to compete here but I think there's been so many Irish players that have come and succeeded that of course it's so possible.
"And we're only going to keep pushing on for that and encouraging - even if it's not England - for Irish players to go and be professional and play full-time."