New signing Raphael Varane and striker Edinson Cavani are pushing to be involved for Manchester United at Southampton, but goalkeeper Dean Henderson is still building fitness after contracting coronavirus.
Having announced a deal had been struck with Real Madrid on 27 July, the 28-year-old centre-back finally completed his move to Old Trafford last Saturday.
Varane was paraded on the pitch before the 5-1 win against Leeds and could make his United debut at Southampton this weekend, when Cavani is also pushing to return after an extended break.
"With regards to team news, that's given us a boost as well. Edinson has joined in, Raphael's joining him, so we're getting fitter and fitter," said United boss Ole Gunnar Solskjaer.
Asked if Varane and fellow summer signing Jadon Sancho could start at St Mary's, Solskjaer said: "Well, you'll see on Sunday.
"They've worked well, anyway. They've had minutes, we've had a very good week ourselves so it's still see who's making the flight down to Southampton on Saturday."
David De Gea is set to start at Southampton as Henderson builds fitness having suffered with prolonged fatigue after contracting coronavirus last month.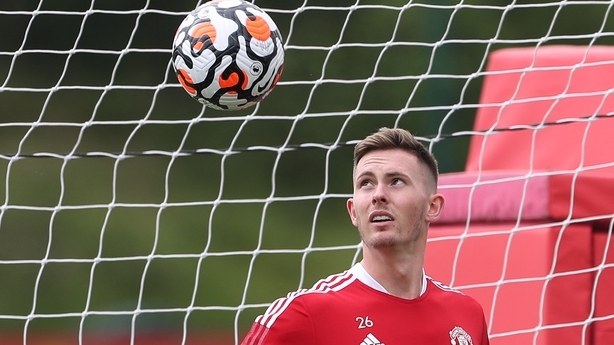 "With regards to Dean, he was tired after training so he felt that and we needed to check him up," Solskjaer said.
"Now he feels much better, he's passed all the tests that we have gone through with him and he's training.
"He's building himself up again because he's lost a last few weeks, but he's working in the gym hard, he's working out on the grass.
"He's not with full team training yet but he won't be too long."
Andreas Pereira moved to Flamengo today on a season-long loan while Brandon Williams is closing in on a loan move to Norwich. Solskjaer also expects James Garner to go out on loan.
But the Norwegian says January signing Amad Diallo may not end up making a temporary switch and that he is counting on Jesse Lingard, who shone on loan at West Ham during the second half of last season.
"Jesse's back to his fitness," Solskjaer said following the attacking midfielder's recent positive test for Covid-19.
"He's played really well in the behind closed doors game on Tuesday. He's come back bubbly and in good shape, so he's got a big part to play."
Solskjaer's side head into the match full of confidence but the United boss does not want the players to get carried away, a subject he turned attention to when asked about Paul Pogba's contract situation.
"Well, that's negotiations with Paul's representatives and the club," he said.
"For me and Paul we work together every day here and we keep on trying to improve, improve the team and to enjoy ourselves.
"When you win games you enjoy yourselves more and we've just got to make sure that we don't make this one game and everyone flies off on all these... you know we get big headlines and all the praise we get.
"It's about bringing more energy to the next one and being even better so one swallow never makes a summer."