Peamount United begin their Champions League adventure on Wednesday morning in the Dutch city of Enschede as they take on Serbian champions ZFK Spartak Subotica.
James O'Callaghan's side are looking to qualify for the Champions League group stages in September, and will need to beat the Serbian side in a one-off clash, before taking on the winners of FC Twente v Tbilisi Nike in the Round 1 final of the Champions Path of the restructured competition format on Saturday.
Should Peamount progress this week, Round 2 would then be a two-legged affair with the winners progressing to the group stages of the 2021-22 competition.
But first the tough challenge of ZFK Spartak needs to be negotiated and while Peamount had to travel, it is not an away game but a neutral venue, which should boost their hopes against the nine-in-a-row Serbian league winners.
The Serbian side boast several international players including Violeta Slović, Tijana Filipović, and goalkeeper Milica Kostić. Gabrielle Farrell is another of international standard having played for Jamaica, while the squad also contains players from the USA and Australia.
Currently in pre-season mode, Spartak warmed up for their Peamount challenge against Bosnian champions, SFK 2000 Sarajevo, and the champions of Croatia, ŽNK Osijek.
Preparations were affected as the club were awaiting on the confirmation of several foreign players including Vesna Milivojevic who returned to the club having played last season in Germany, and three new players, Sandra Ovusu from Ghana, and USA pair Karina Beltrip-Reyes and Jasmine Jackmon.
"Our desire is to qualify, there is no lack of motivation, especially in these qualifications," said Tijana Filipović.
"The players believe that we can secure a place in the second round and we all hope that we will succeed. We are ready and we look forward to the start of the fight."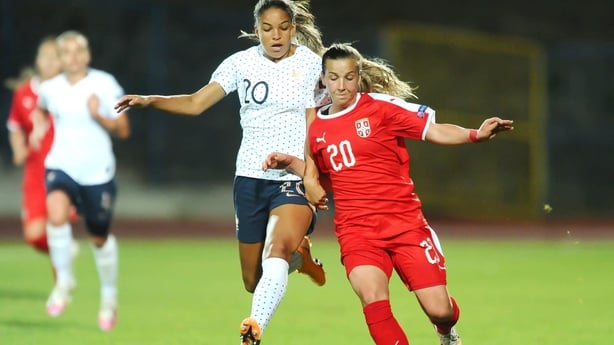 Team captain Violeta Slović added: "We are aware of the pressure. The Champions League is ahead of us, the most elite part of the club competition and the most important for us. We are trying to make our dreams come true and I believe we will succeed because we have worked 365 days for what awaits us."
The Dublin side are currently leading the league challenge in the Women's National League and will be similarly buoyed by their performance in last year's Champions League outting, where they were unlucky to bow out against Glasgow City via a penalty shootout.
Peamount can also look to a very experienced unit with international pedigree throughout the side from Aine O'Gorman to Karen Duggan and on to Puskas nominee Stephanie Roche leading the line.
Captain Eleanor Ryan Doyle is currently the league's top scorer with ten goals – shared with O'Gorman - while there are several underage internationals amongst their ranks including the highly rated Alannah McEvoy. Megan Lynch, Dora Gorman, Teigan Ruddy, Lauryn O'Callaghan, Lauren Kelly and Dearbháile Beirne also add quality to the squad.
Wednesday's encounter is Peamount's fourth European adventure, and have won four of their nine games that they have played and qualified for the knockout stages of the Champions League back in the 2011-12 season.
Forward Becky Watkins is unavailable, but the recent signings of Chloe Moloney, Rebekah Carroll and Lauren Kelly add depth to the squad.
And manager O'Callaghan is confident that his side will represent the nation and the league with pride, and knows that the European adventure adds prestige to the players and the club.
"Firstly, we want to give a good account of ourselves. We are champions of Ireland, so we are fully aware that we are representing our country, our League and our club," said O'Callaghan.
"The girls don't get a lot for winning our League, sure there is the prestige and the achievement that goes with it but they are not professional players, so the opportunity to represent Ireland in Europe is a huge honour."
Yet the manager is under no illusion of the difficulty of the task at hand against a side with lots of European experience.
"It's going to be a tough game. They have won their league 10 times, they are a professional team and have qualified from the group stages of the Champions League. So we are under no illusions how tough it will be.
"Our League form is good, we have confidence and momentum, and we are halfway through our season, while they are just coming out of their pre-season so that might us an edge. We are really looking forward to it."
Peamount United v Spartak Subotica, Wednesday, 18 August, kick-off 11:00am (Irish time), Sportcampus Diekman, Enschede, Netherlands.