Liverpool defender Virgil Van Dijk has signed a contract extension with the club which will keep him at Anfield until 2025.
The Dutchman, who signed for the Reds in December 2017 for a then £75million record fee for a defender, has been a key player since his arrival and played a major role in Jurgen Klopp's side winning the Champions League and Premier League in back-to-back seasons in 2019 and 2020.
However, he has not played for Liverpool since an ACL injury last October but is close to making his competitive return after successful rehabilitation and could even be in contention for this weekend's season-opener at Norwich.
The 30-year-old's current deal was due to run until 2023 but he has extended that by two years.
He is the fourth senior player to sign a new contract in recent weeks after Trent Alexander-Arnold, Fabinho and Alisson Becker.
He's 𝑶𝑼𝑹 centre-half ✊

The story continues… @VirgilvDijk 🤩 pic.twitter.com/bQInOG1ba2

— Liverpool FC (@LFC) August 13, 2021
Van Dijk told liverpoolfc.com: "It is something to be very proud of, that I am very proud of, that my wife and my kids are very proud of and obviously my agency.
"All the hard work we've put in so far continues and I am looking forward to what the future brings together with Liverpool. I'm delighted, very happy and proud.
"Unfortunately last season for me personally has been a season to forget, to learn from and take with me, but I have enjoyed my time here and will keep enjoying it in the next couple of years altogether with all of you."
The Dutchman is also optimistic about his chances of starting at Carrow Road.
"I feel like I am ready for the weekend, so we'll see what the manager decides," he added.
"It is going to be a totally different atmosphere and mindset for me personally as well. It is something we fight for, for the points, and hopefully we can get a positive result out of it."
Liverpool manager Jurgen Klopp, meanwhile, has launched a staunch defence of the club's transfer policy in the wake of their top-four rivals each spending upwards of £75 million this summer.
Premier League champions Manchester City - who are interested in the £150m-rated Tottenham striker Harry Kane - lead the way with the £100m signing of Jack Grealish from Aston Villa.
But Chelsea have just splashed £97.5m on bringing Romelu Lukaku back to the club and Manchester United spent £75m on winger Jadon Sancho from Borussia Dortmund.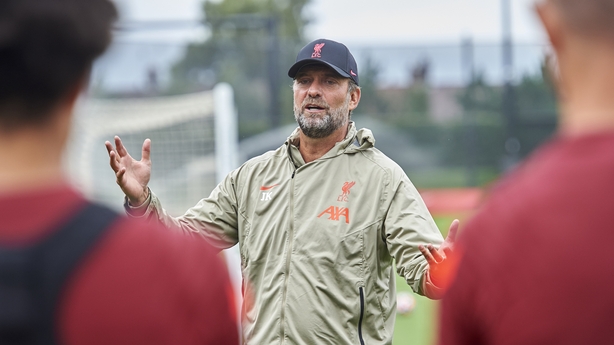 By contrast Liverpool have spent just £36m in May on RB Leipzig's Ibrahima Konate to plug an obvious lack of depth at centre-back but are not expected to replace departed midfielder Georginio Wijnaldum.
Klopp is not surprised by their rivals' spending but insists Liverpool have to operate differently.
"We cannot spend money we don't have. We cannot, the others can but we can't. That's my information," he said ahead of the season-opener at Norwich.
"Chelsea are not hiding their ambitions, Man United isn't, City isn't. We don't want to hide our ambitions because we want to fight for everything and in this moment it will be a massive fight.
"When the pandemic started and no-one knew how long it would be it was a difficult time for everyone, for football clubs as well. That is probably the reason why you ask me now if I'm surprised (about the spending).
"These clubs don't depend on these kind of things I think. We all know the situation of Chelsea, the situation of City, and we all know the situation of PSG (Paris St Germain), for example. What United is doing I don't know exactly how they do it. We have, obviously, our way to do it.
"I'm never surprised about the financial power of Chelsea, City or United. I am long enough in the country to know they always find a solution to do these kind of things.
"You cannot compare to the other clubs, they obviously don't have any limits but we have limits and we were quite successful given the limits in the last two years.
"That is what we should try again and not use it as an excuse that if we do not win a game we say it was because we didn't sign him or him. That will not be the case."