Vinny Perth has said that the Dundalk board are firmly behind him as he attempts to bring new faces to Oriel Park.
Speaking in the aftermath of their 4-1 loss to St Patrick's Athletic, Perth said that they believed that they had a number of players on board only for the situation to change at the last minute, while he addressed the frustration felt by some Lilywhite fans at Patrick McEleney's impending move to Derry City.
"I targeted four players that I wanted to bring in, not the whole four but four different players," he said.
"The finances were in the place, the agreements were in place with the other clubs – they aren't Irish based players, they were outside of it – but the deals fell through for different reasons.
"Players got offers elsewhere and it didn't happen and clubs then ended up pulling out of it.
"The board have backed me very clearly, and that's not in question in any shape or form."
While incomings remain up for debate, one player definitely heading for the exit is McEleney who this week scotched rumours that he would be open to remaining at Oriel Park.
"Patrick has been good for Dundalk but Dundalk has also been really good for Patrick. He's had a great seven or eight years, he has been well looked after," Perth continued.
"Listen, it's quite common. We lost Daryl Horgan in '16, we've lost some big players over the years, Richie Towell, etc, so it is what it is.
"We have the potential in this group to be a really strong footballing team and I think we have shown that in the last six, seven weeks since I've been back.
"The structure of the team suits the players but we're probably short a little bit of where we need to be and that's ultimately up to myself and the club to decide who fixes that for us."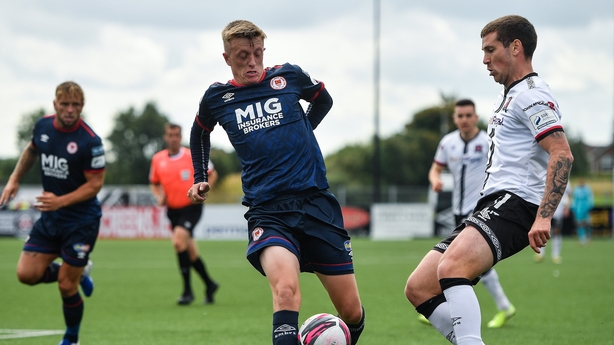 On the defeat to St Pat's, Perth was left scratching his head and believes his side deserved a lot more than to trail 2-1 at the break.
The visitors added another two goals without reply in the second half through a Chris Forrester penalty and a Matty Smith effort.
"I think, particularly the first 45 minutes, it was one of our best performances of the season and we went in 2-1 down which was surprising and difficult to take. I think we got going, we were very good.
"2-1 down didn't make sense but I felt we had enough on the bench to make changes and go and win the game but the penalty has ultimately cost us today. It ran away from us at the end.
"The mind plays tricks on you. I don't think the players were tired because the first 45 minutes they were outstanding, but the mind played tricks on them and they got tired as the game developed."