Manchester City have signed Aston Villa midfielder Jack Grealish on a six-year deal, the Premier League club have announced.
Grealish, 25, leaves Villa having made 213 appearances over the course of eight seasons, scoring 32 goals.
The Premier League champions had been heavily linked with England midfielder Grealish all summer, with a reported £100m British record deal agreed. Man City are also said to be keen on landing England striker Harry Kane in the next few weeks.
Grealish revealed the chance to play Champions League football next season and to push for top club honours were key to moving to City this summer.
"There are obviously a lot of reasons why I decided to come here. The manager has been a massive factor; playing under the best manager in the world was something I couldn't really turn down, (and) obviously the players that we have got here," Grealish said.
"Competing for major trophies is something that I wanted to do. It was something I couldn't turn down. Let's hope it is a successful one."
Grealish feels he can earn his place in Pep Guardiola's starting XI.
"It is something that I thrive off and I think everyone needs to be kept on their toes for competition for places," the midfielder said.
"There is so much talent here and I just cannot wait to get in and amongst it and speak with these guys.
"I still think I am young, I am only 25, so I can still learn from all these people.
"I can't wait to do that, to play and train with them and just be in and around them.
"You can learn from these people and I cannot wait to get started and to get playing."
Open letter to Villa fans
Grealish wrote an open letter to Villa fans on Twitter.
"I've been at Aston Villa for 19 years and I've been a fan my whole life. I've come up through the ranks and captained my club back to the top tier of English football. It's impossible to put my feelings into words, but I'll try," he said.
"When I first came to Villa I had my own personal dreams and ambitions like getting into the first team, scoring my first goal and scoring the winner in a derby. It wasn't until we got relegated that I felt a greater sense of purpose.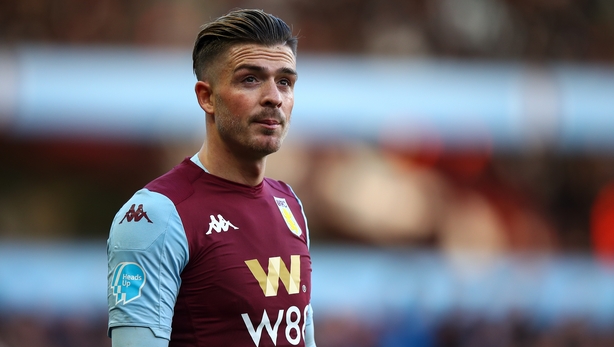 "Every time I put on the Villa shirt I played with my heart on my sleeve, being given the armband was both a privilege and an honour for me and my family and I've loved every minute of it.
"I want to thank the manager and my teammates, I'll never forget everything we achieved together... and to the fans who have supported me through everything, I can't thank you enough.
"All my coaches and all the people who work at the club behind the scenes who have done so much for me over the years - thank you.
"I'll always be a Villa fan - I love this club with all my heart and I hope you understand my reasons for seeking a new challenge.
"The club are in great hands, the manager, the lads, the new signings coming in - it's an exciting time to be a Villa fan.
"I'll see you all again soon. Until next time. UTV, Jack"