The holders needed 120 minutes to negotiate their path into the next round of the FAI Cup, but Patrick McEleney ensured that Dundalk fly to Estonia in good spirits after a 1-0 win over Treaty United at Market's Field.
McEleney was introduced on the hour mark which was less than ideal given fixture congestion but his standout contribution was winning the tie in laboured fashion. The 28-year-old's deflected shot found the bottom corner just before the break in extra time – and it was just enough.
Dundalk made four changes to the side that drew 2-2 with Levadia Tallinn during the week – with Cameron Dummigan, Greg Sloggett, Sean Murray and Han Jeongwoo coming into the mix.
It's no surprise to see a shuffle of the pack given the Lilywhites are contending with three games in seven days. And while the FAI Cup success of a year ago certainly was an achievement in its own right, it has certainly helped compensate for the drop in league form throughout a turbulent period.
Treaty come into this clash with five wins in their last seven and given pre-season expectations generally considered finishing top-nine in a ten-team division a success, the fact they're now likely landing a playoff berth is a testament to their dogged nature.
They welcomed back some of their most technically-gifted players in Sean McSweeney and Joel Coustrain, but Dundalk haven't lost an FAI Cup outside of Louth in 90 minutes for 15 years. That was the size of the task facing the First Division outfit.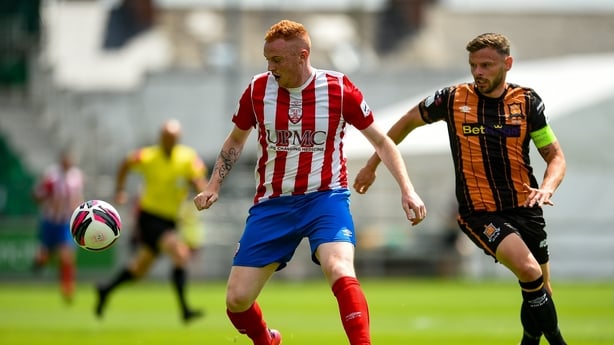 Since then, Limerick FC were denied a license, only to have a rebranded Limerick 37 come in and take their place. They then reverted to the FC moniker before going bust and falling out of senior football – only to be replaced by Treaty United.
Dundalk might be on a plane to Estonia on Wednesday morning, but they were far from flying in the first half of this encounter.
Realistically the only chance of the entire 45 came from Han Jeongwoo. His shot from a narrow angle on the left flank seemed destined for the bottom corner, but Tadhg Ryan got a firm hand to the effort.
Treaty United were dealt a blow just before the half though as Joel Coustrain, who had been lively, was forced off. Their success in the opening 45 generally came down that flank through good link-up between he and Sean McSweeney.
With no notable increase in the tempo, Vinny Perth was forced to introduce Will Patching and Patrick McEleney at the hour mark. Hardly ideal preparation for the week ahead, but it was as much a testament to Treaty's work ethic as it was to anything else.
Tadhg Ryan's dazzling display in the second half kept the Lilywhites at bay, and extra time was both a signal that Vinny Perth wasn't getting enough from his charges and that Treaty United could shock someone in the playoff at season's end.
Just as the hosts were hanging on for the break in extra-time, McEleney struck.
Despite all the grandiose pass-and-move that Dundalk are capable of, it was a scuffed shot that rolled into the far corner just out of the reach of Ryan that proved the breakthough.
Anto O'Donnell saw red very late on, too – but it was moot as the hosts continued to push, albeit to no avail.
Vinny Perth will breathe a significant sigh of relief while Tommy Barrett will no longer be able to deny his team's aspirations.
Treaty United: Tadhg Ryan; Ed McCarthy, Mark Walsh, Anto O'Donnell, Marc Ludden; Joel Coustrain (Matt Keane, 40), Jack Lynch (Callum McNamara, 74), Clyde O'Connell (Joe Collins, 74), Stephen Christopher (Willie Armshaw, 68); Sean McSweeney (Alan Murphy, 91); Kieran Hanlon (Matt McKevitt, 68).
Dundalk: Alessio Abibi; Raivis Jurkovskis (Sonni Nattestad, 96), Cameron Dummigan (Wilfried Zahibo, 110), Andy Boyle, Darragh Leahy; Greg Sloggett, Sam Stanton (Will Patching, 60); Daniel Kelly (Val Adedokun, 74), Sean Murray (Patrick McEleney, 60), Han Jeongwoo; David McMillan.
Referee: Neil Doyle