Dundalk head coach Vinny Perth has ruled himself out of the running for the Northern Ireland Under-21 job, insisting he has no intention of walking away from the Lilywhites.
Perth returned to Oriel Park four weeks ago having been sacked last August and has seen the club pick up 10 points from a possible 15.
Speaking ahead of his side's UEFA Europa Conference League second qualifying round first leg tie against Levadia Tallinn in Tallaght Stadium on Thursday night, Perth said that while the long-term plan with the club is unclear, he is committed to at least seeing out his short-term contract which ends on 31 December.
"I've been offered some jobs, but as it currently stands what has happened in the last four weeks is these players and the commitment levels that they've shown to me and to the team means that I have no intentions of walking away from this group," he said.
"I'm here to fight for them between now and the end of the season," he said.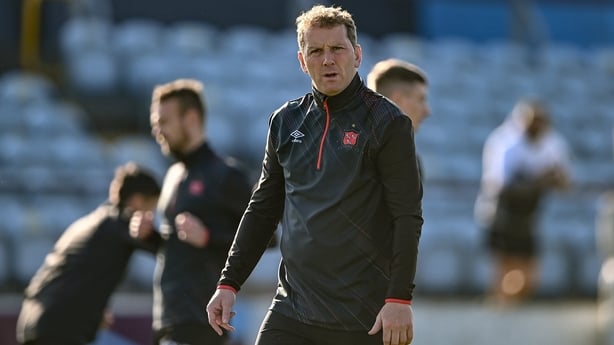 "People questioned whether I was the right man to come back into this dressing room. I didn't answer that. The players did. They've been absolutely outstanding for me.
"There's no way between now and the end of the season, bar Jose Mourinho offering me his assistant manager's job, or whatever, am I going anywhere.
"I'm here to fight for this group between now and the end of the season and, hopefully, if we continue to do what we're doing, that this club has a big future ahead of them with myself and some of those players in the background.
"I can't be any clearer than that. My commitment is to Dundalk for now until the end of the season, minimum, and hopefully longer than that."
The upturn in fortunes for the club since his return was further illustrated when Dundalk recorded their biggest aggregate European victory in their history in beating Newtown AFC of Wales in the first qualifying round, setting up the clash against Levadia.
The prize for the winner will be a third qualifying round tie against Dutch side Vitesse.