Dundalk manager Vinny Perth disclosed that his team have been hit with a "minor Covid outbreak" and will be without a number of players for their Europa Conference League tie against Welsh outfit Newtown tomorrow evening.
The Dundalk players were tested yesterday as part of UEFA protocols, with Perth confirming today that some positive tests were returned, though he couldn't clarify the exact number.
Perth said the club were still trying to ascertain how many players had tested positive and how many players would be ruled out as a result of being deemed close contacts.
"There's a lot going on. We have some issues in our camp in relation to Covid, which has broken in the last couple of hours," Perth told RTÉ Sport.
"We had a Covid test yesterday within the club as part of UEFA protocols. Over the last number of hours, we have started to receive those.
"There are some Covid issues within our squad. It's very early to give definite numbers on it but we do have some issues.
"Our doctors are in contact with the players. They haven't attended training today. They've been told to stay at home until we clear it up.
"Over the next number of hours, I'll get clarity on that. But there's no doubt we have some players missing the game tomorrow due to Covid.
"We worked on a lot of shape and phases of play yesterday, as football coaches do. We've had to change that drastically today. But it's the world we live in, we have to accept it. I believe Covid is rampant in our community, particularly with people aged between 17 and 30.
"A lot of footballers fall into that category. I think it's just the beginning of it. If sports teams are going to be tested, I think you'll find the numbers are quite high in that age-group."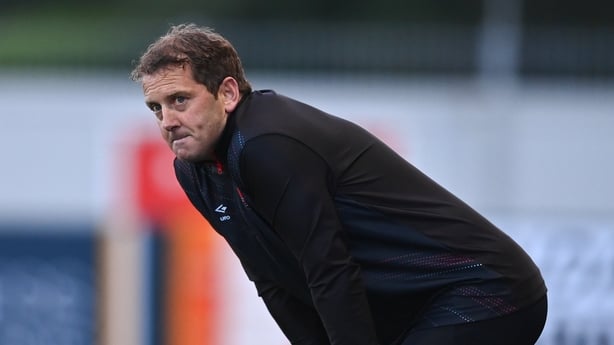 Their Welsh opponents are already without four players due to coronavirus issues. They could only finish seventh in the Cymru Premier in 2020-21 but Perth is wary of their threat, especially given the uncertain form of his own team in 2021.
"I understand the favourites tag but I think we're in a difficult situation. The Dundalk of 2019 and 2020 would definitely have been favourites for this game.
"It's very hard to know too much about them. They've got real experienced players. People who've been around this level for a long time. And I think they'll certainly be more of a unit than we would, I would think.
"Again, I know they have Covid issues. I don't know who is ready for them and who's not.
"It'll be a difficult game. They'll be a big, strong physical team, at set-pieces, they'll be a big threat. Their two centre halves are really good players.
"It is an opportunity for us. But I would imagine they will see it as a real opportunity for them if they've been looking at our current league form."
Listen to the RTÉ Soccer podcast on Apple Podcasts, SoundCloud, Spotify or wherever you get your podcasts.