THURSDAY 8 JULY
UEFA EUROPA CONFERENCE LEAGUE - FIRST ROUND QUALIFYING, FIRST LEGS
Dundalk v Newtown, Oriel Park, 5.45pm
FH Hafnarfjarðar v Sligo Rovers, 7pm
Stjarnan v Bohemians, 8.45pm
HOW TO WATCH
Dundalk v Newtown will be streamed live on LOITV. Streaming details for FH Hafnarfjarðar v Sligo Rovers - click here and for Stjarnan v Bohemians - click here.
WEATHER
It looks like it will be genrally cloudy in Dundalk with a risk of a few showers. Temperatures at their best - 16 to 20 degrees in mostly light breezes, varying in direction. For more go to met.ie.
In Iceland there is a greater chance of showers, with temperatures in the range 11 to 13 degrees.
A new creation is born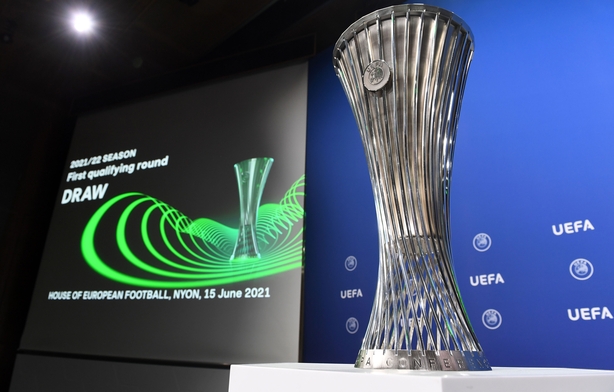 Deciding that the Europa League was too big, UEFA have, in their wisdom, added a third tournament in the shape of this Europa Conference League. As a result, there is now no round of 32 in the Europa League, though there will be a play-off round ahead of the round of 16 in the Conference League, all before the maiden final in Tirana on 25 May next.
You may have thought that the Conference League would be limited to teams of a certain ranking within UEFA's coefficient, no that is not the case. All associations are represented, with Tottenham flying the flag for the Premier League and Roma the representatives from Serie A. Nuno Espírito Santo and Jose Mourinho may lock horns at some point.
In all there are three rounds of qualifiers, before a final play-off round will decide the 32 teams that go forward to the group stage in September.
Prize money
Right, lets cut to the chase in terms of what Dundalk, Bohemians and Sligo Rovers can expect if they have a decent run through the competition.
The impact of the pandemic coinciding with the introduction of this third tier competition had brought some fears that the all-important European prize money was going to be cut. Such worries were ended with confirmation that there is even more on offer early on this season.
Starting with the basics, the three Irish clubs are guaranteed €250,000 for reaching this stage, which is a €10,000 increase on last year.
While that is a lip-licking fee, most LOI officials may think of Chris Tarrant on Who Wants to be a Millionaire saying "we don't want to give you that" and ripping away the cheque.
The Qualifying Rounds of the Europa Conference League start this month with games commencing on Tuesday 6th July 2021!??

Who is getting excited for this competition to begin???‍????‍??#UECL pic.twitter.com/YB4bWXxkF7

— UEFA Europa Conference League (@EuropaConLeague) July 1, 2021
This year one victory will be worth an additional €300,000 in terms of qualification through the first round and a second round exit bonus. This is a €50,000 increase.
Reaching the third round brings even more riches. That figure is now a ring-fenced €850,000, more than €130,000 than the Europa equivalent.
Finally, an exit at the play-off stage would net €1.15m and qualifying for the group stages €2.9m.
Reasons to be hopeful, but then there's Covid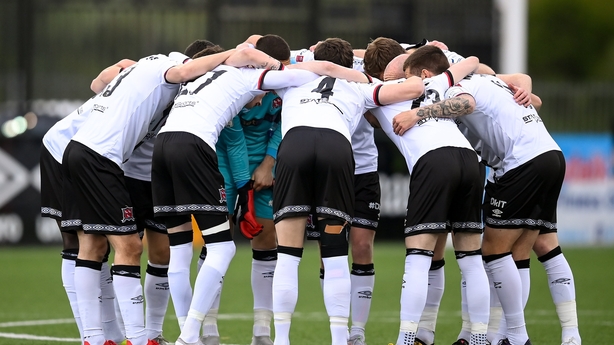 Dundalk are the only Irish club with a seeding this season and enter the first round with the third best co-effecient at this stage thank to their exploits of previous years in Europe. It's a favourable enough draw against Newtown.
Vinny Perth is back at the club and has steadied things somewhat. He will hope to steady things even more by ensuring that the Co Louth club have European football to look forward to again in 2022. Jumping a few hurdles in this competition will no doubt boost morale, but preparations for the visit of the Welsh have not been helped by a "minor outbreak" of Covid-19 within the Dundalk squad.
In assessing the current situation, Perth told RTÉ Sport: "There's a lot going on. We have some issues in our camp in relation to Covid, which has broken in the last couple of hours
"We had a Covid test yesterday within the club as part of UEFA protocols. Over the last number of hours, we have started to receive those.
"There are some Covid issues within our squad. It's very early to give definite numbers on it but we do have some issues.
"Our doctors are in contact with the players. They haven't attended training today. They've been told to stay at home until we clear it up.
"Over the next number of hours, I'll get clarity on that. But there's no doubt we have some players missing the game."
Sligo Rovers and Bohemians' task against Icelandic opposition seems, on paper, to be a little more difficult, though FH Hafnarfjarðar and Stjarnan are currently struggling in the Icelandic top flight.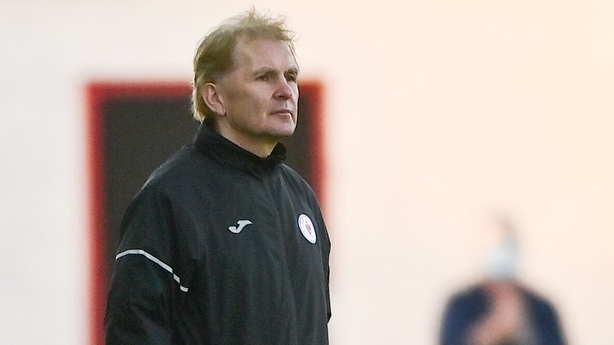 Sligo's cause is not helped with the news that two of their squad, including John Mahon, will not be travelling to Iceland due to Covid-related issues.
A broken wrist suffered by Robbie McCourt, Regan Donnelan's hamstring injury and an ankle injury picked up last weekend by Ed McGinty, adds to Liam Buckley's worries. That said the manager is expecting a tight contest when speaking ahead of Sligo's first foray back in Europe since 2014.
"We've seen quite a few of their recent games. They're competent for sure. It will be 50-50. I've said to our own boys that it will be tight.
"Our performances this year have been very good sometimes and bang average on others.
"They will look at us and think, 'OK, they played quite well against Bohemians and against somebody else they were bang average'.
"It's the same when I looked at them. They played well in some matches but in others they were bang average.
"We just can't afford to not put up a decent performance. I do expect us to play well.
"I think guys should be excited about playing in European competition, potentially getting through some rounds.
"This is our first hurdle to get over. We want to do well and try to get through. But it will be 50-50, there's not a lot between both teams."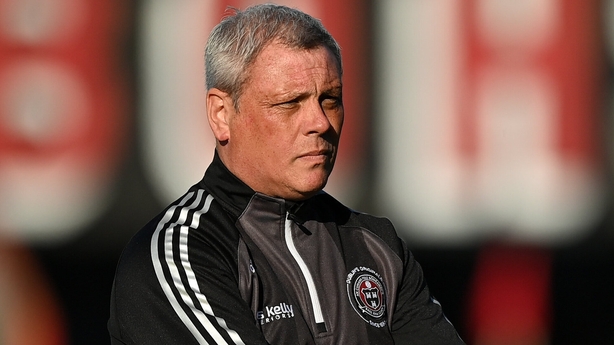 Aside from a recent 4-0 defeat to Sligo, Bohs have been the form team in the Premier Division. Boss Keith Long has watched Stjarnan a few times on the video, enought to get some indication of their worth.
Long told bohemianfc.com: "In the absence of being able to get to games, we have had to rely on video and one or two people on the ground who have been able to give us some information.
"The level of opposition is always going to be good in European competition. They are a big physical side, they are experienced. "They have good technical players throughout and are a threat from set-pieces.
"We will have to perform to our very best, there's no doubt about that to try to bring the tie alive back to the Aviva Stadium next week. It is something we have prepared for. We have had an eye on the opposition since the draw was made.
"Aaron Fitzsimons, our analyst, has done an unbelievable job pulling together all the clips and presentations for us.
"We have done as much due diligence on the opposition as we can but ultimately we have to go and perform.
"Stjarnan, albeit they have had an indifferent start to their season, we will have to put in a strong performance.
"Last year, against Fehervar, we played top quality opposition. Four of those players were in the Hungary squad for the Euros. One of them, Attila Fiola, scored against France."
The opposition
Newtown
The Welsh club play in the Cymru Premier League, where they finished seventh in the 2020-2021 season. This will be their fourth appearance in European competition - their last outing in 2015-16 saw them reach the second qualifying round of the Europa League against FC Copenhagen - where they lost 5-1 on aggregate. Their last domestic trophy came in 2015 when they won the Welsh Cup.
UEFA EUROPA CONFERENCE LEAGUE: In full flight

The players have arrived in Dublin ahead of Thursday's game: https://t.co/SgZXieFVjA

??Pictures courtesy of Paul Williams @h18pdwphotos pic.twitter.com/Ddwtxppetk

— Newtown AFC (@NewtownAFC) July 7, 2021
Latham Park, a ground that has a capacity of 5,000 will host the second leg on Tuesday next.
Newtown manager Chris Hughes spoke about Dundalk's "pedigree" ahead of the game. He told The National newspaper: "Dundalk were one of the highest seeds we could have drawn.
"We've got a tough tie ahead of us. They are in the middle of their league season and they've got a great pedigree in Europe.
"They've also got a couple of players with international experience, but we are all aware of the challenge and know how they are going to play."
He added: "Our achievement of getting into Europe can't be overlooked. For a club of our size to qualify for the second time in a few seasons is great, and we're not going to Ireland just to make up the numbers."
FH Hafnarfjarðar
Sligo Rovers' opponents have no shortage of European experience going back to the mid 2000s. In 2018 they reached the third qualifying round of the Champions League, while in 2016 they lost out to Dundalk on away goals in the same competition. FH have been Icelandic champions eight times and in 2020 finished second behind Valur.
In their side is Steven Lennon, who was at Dundalk in 2010. He was the Úrvalsdeild player of the season for 2020 with 19 goals. Goalkeeper Gunnar Nielsen had spells at Manchester City, Motherwell and Stjarnan who Bohemians face.
Ágúst Hlynsson in the midfield, an Icelandic U21 international, was previously on the books at Norwich City and Bronby.
Their domestic form has not been great so far in 2021, with just three wins from 11. They currently sit eight in the top flight.
The Kaplakriki Stadium, with a capacity of 6,450, is where this evening's match will take place.
Stjarnan
In 2014, Stjarnan won their first ever Úrvalsdeild karla title - the same year that saw them beat Motherwell and Lech Poznan en route to a play-off date with Inter Milan in the Europa League. A 9-0 aggregate defeat saw that fairytale journey end.
A year later their only Champions League journey saw them exit at the hands of Celtic in the second round of qualifying. In 2017, Shamrock Rovers got the better of the Icelanders in round one of qualifying for the Europa League.
Stjarnan finished third in the Icelandic top flight this season. Like FH, they haven't been pulling up too many trees so far this term, with just three wins from 12 so far. They sit seventh in the table, 14 points behind Valur.
This first-leg tie will take place at the Samsung Völlurinn ground that has a 1,298 capacity.