The Republic of Ireland are seeking to end a lengthy losing streak in the second leg of their Iceland trip on Tuesday afternoon [live on the RTÉ Player and RTE News channel] - but Heather Payne is adamant the challenging programme of friendlies will serve the team well in the medium term.
Vera Pauw's side have not won a game since 11 March 2020 - incidentally, the day the WHO officially proclaimed the Covid-19 virus a pandemic. That 3-0 win in Montenegro left them in a strong position to nail down at least a play-off spot in the Euro 2021 (now Euro 2022) qualifiers.
This, as we know, fizzled out in the autumn, a disastrous loss in Kiev in October ultimately proving fatal to the team's qualification chances. Since then, Pauw has signed on for another campaign but Ireland's losing streak has stretched to six.
Friday's 3-2 defeat in Reykjavik followed friendly losses against Denmark and Belgium in April. One thing all Ireland's recent opponents have is a ticket to the Euros - not to mention a higher world ranking than the Girls in Green.
For Payne, while the results are disappointing, the main priority is sharpening up before the World Cup qualifiers commence in September. She argues it's preferable to play teams of a higher quality rather than pad out your win ratio stats against weaker sides.
"We've been playing opposition that are ranked higher than us in the last five games so of course it's going to be a challenge," she said.
"I think we're better off challenging ourselves than just getting easy wins.
"It's disappointing to lose again, our first-half performance just wasn't good enough.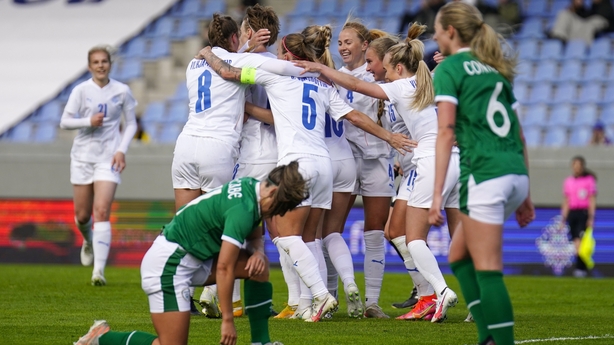 "We came back out in the second half and got a couple of goals. We could have drawn, we had a good few chances as well. So, that's a positive to take. It's good to play these games, these are the teams you want to be competing against.
"It would be nice to get a win before the campaign. But no matter what, September is a fresh start for us. We're starting a brand new campaign. Our first game is Georgia so we're looking to that. This camp is just to get prepared for that. Getting a few goals would help us get prepared for Georgia and Sweden.
"That's what we need to focus on. Against the lower teams such as Georgia, we need to be scoring more goals so we can get our goal difference (up).
"I think that's difficult. In a campaign, if you win, you win. That's what you need, you need to be winning games to qualify. A performance and a win would be absolutely ideal on Tuesday if we can go and do that."
The first half in the Laugardalsvollur Stadium could have hardly have gone much worse. By the time, Dagny Brynjarsdottir capitalised on some slow-witted Irish defending to make it 3-0 on 39 minutes, a heavy defeat appeared probable.
But Ireland did rally impressively in the second half, aided by the fact that the substantial wind was now at their back rather than in their faces.
The game was at least memorable for Payne herself. The 21-year-old Florida State University player started the Irish comeback early in the second half, slamming the ball to the roof of the net for her first goal for her country.
Payne pulls one back for Ireland at the start of the second half #ISLIRL
?? Live updates - https://t.co/jgUqqYrri3?? Watch live - https://t.co/bZMmmPDnlU pic.twitter.com/9Hqlh5OWnx

— RTÉ Soccer (@RTEsoccer) June 11, 2021
"I feel like it's been a long time coming," acknowledges Payne, who made her Ireland debut in 2017.
"I just wanted to finally get my first goal. Once you get it, then it's done and hopefully I can kick on and get a few more goals. That's what we've been lacking until now. We haven't really been scoring many chances. So, I was very happy to get my first goal."
With time almost up, Amber Barrett nabbed a second to reduce the arrears to 3-2 but the clock allowed no scope for an equaliser.
While the second half display was encouraging, Payne was keen to stress that the opening 45 wasn't up to the team's standards.
"The first half wasn't good enough, our mentality (wasn't good enough). Of course, you can blame the wind but other than that, we weren't winning individual battles.
"And as a team collectively, we weren't good enough. I think we just sat down and said we're much better than what we displayed in the first half. We went out in the second half with a different mentality. And yeah, we nearly got the draw but we knew the first half just wasn't good enough."
"It would be nice to get a win before the campaign. But no matter what, September is a fresh start for us.
Friday's game saw a 17th cap for Payne, who is currently based in the States as part of Florida State University's soccer programme - formerly the stomping ground of her international teammates Megan Connolly and Megan Campbell.
"It is tough travelling back and forth. When I'm in college, I have classes. It is a bit of a challenge. Hopefully, I can continue coming back for camp. It is tough, with the time difference and everything. But I just have to do what I have to do, really.
"In the fall, I didn't play as much because I had been coming back to (international) camp all the time. So of course when I leave, there's other people there that can play, so it's only fair. We just had the NCAA tournament over there, I was lucky enough that I started every game in that. I happy enough to get my place back and show my manager what I can do."
The NCAA tournament ended in disappointment for Payne with a loss in the final, the two Megans having won the competition during their time with the Seminoles.
"It was great to be in the final and even the final four, it was my first time in the final four. It was really disappointing not to win it. Yeah, Megan Connolly and Megan Campbell have both won one so I nearly feel as though I should win it. I've two more seasons left so hopefully we can go all the way this year.
"I have a year and a half left in Florida. I will be looking to come back and play professionally. So, it just depends where I want to go and see where I'll be taken in. Hopefully, I will be returning to England some day."
Listen to the RTÉ Soccer podcast on Apple Podcasts, SoundCloud, Spotify or wherever you get your podcasts.