Brian Kerr is shocked that Robbie Keane is still an FAI employee, over a year after he lost his position as Republic of Ireland assistant coach.
Keane was appointed to assist Mick McCarthy on a four-year deal - reportedly worth €250,000 per year - under previous FAI CEO John Delaney in 2018.
However, Stephen Kenny opted not to retain Ireland's record goalscorer and caps winner when he took over in April 2020.
"I'm disappointed that it's taken so long," Keane's former Ireland boss Kerr told RTÉ Sport.
"Money is scarce. They (the FAI) have had no crowds at the matches, no season ticket sales and no major sponsorships announced. You can understand that because it's a difficult marketplace; the international team isn't winning games.
"There's a lot of doom and gloom. It's been tough.
"Within that, surely you'd think they'd get that one dealt with so that Robbie isn't being paid for not working. I'm sure he'd prefer to be working.
"Robbie was given a four-year deal by the previous maestro while the manager only had a one-campaign contract. That was a mad situation from the start.
"It goes back to a lack of leadership and good decision-making around football. Hopefully the FAI are on the road to avoiding such mad decisions, it will be more reasoned with better guile and judgement."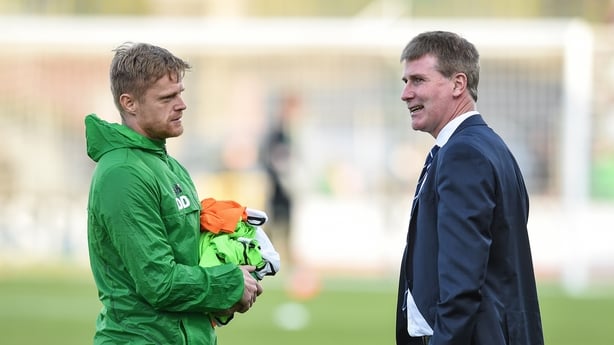 Kenny opted for Keane's former international team-mates Keith Andrews and Damien Duff instead but Duff surprisingly walked away earlier this year and was followed four days later by goalkeeping coach Alan Kelly.
Kerr hopes Duff will be involved again with top-level football in Ireland and wonders whether pandemic stresses might have played their part in his decision.
"Football in the last year, it must have been extraordinarily difficult trying to manage and coach the team, with masks on and whatever other regulations were in place," said Kerr, who was speaking at the launch of the Football for Unity festival.
"I'm sure it wouldn't have been comfortable or enjoyable around the international team and there should always be an amount of enjoyment around it.
"Even if you were winning some games you might have a level of enjoy ment but there's none if you're not winning games.
"I don't know why Alan Kelly or Damien Duff chose to step away but I'm sure it wasn't helped by those aspects.
"Damien has always been very dedicated. It must have been a very big decision for him to go from Celtic, which was very successful, take a job with the international team and then pull away from that. You don't know if that opportunity is going to come for him again.
"He's gone back doing underage stuff with Shelbourne. He's obviously a very highly respected coach and I never heard anyone say anything other than positive things about his work on the training pitch.
"So you would presume he has a role to play at a higher level again in the future.
"He doesn't seem to have any desire to take on a League of Ireland first team, which is a bit unfortunate. I'm sure plenty of clubs would love to have him."