It has been quite the Irish journey for Eve Badana, both on and off the pitch.
The DLR Waves goalkeeper is hoping to feature for Vera Pauw's Republic of Ireland side in the international friendlies against Iceland on Saturday and the following Tuesday as part of the final preparation period ahead of their World Cup qualifying fixtures later this year.
You couldn't blame the Canadian-born shot-stopper for desperately wanting game-time.
Almost a decade after making her international bow, the 27-year-old has just three caps to her name. A significant reason for that was, up until her 2017 retirement, the presence of legendary keeper Emma Byrne.
Throw in a cruciate injury to the mix, and subsequent competition with Marie Hourihan, Courtney Brosnan and Grace Moloney, but the former Cork City goalkeeper is philosophical regarding her single-digit tally of caps.
"I can't look at things and be disappointed by the years that have gone by, the time on the bench. Every opportunity I have taken to learn to train and develop," she told RTÉ Sport.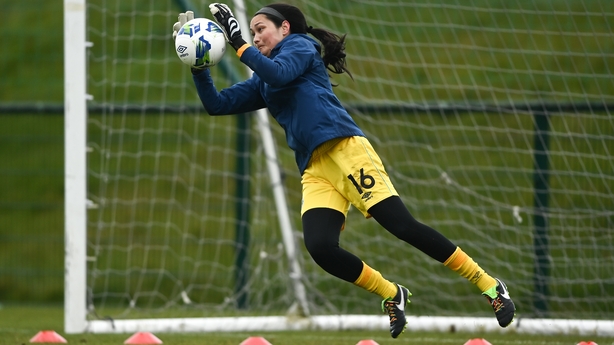 Hourihane's injury has potentially opened things up in Iceland somewhat. Moloney and Brosnan started a game each in the friendly defeats to Denmark and Belgium in April, the latter getting the nod in the decisive World Cup qualifier defeat to Ukraine in Hourihane's absence.
Badana says no-one has been guaranteed minutes in Iceland, but it's a far cry from her last visit to the country; a care-free weekend taking in all the sights to celebrate her sister's 30th birthday.
Indeed Badana's journey has been a long and winding one off the pitch also.
I set my sights on doing anything possible to play for Ireland. Luckily that came about
Born and raised in Canada – her Tyrone mother emigrated and met her future husband there – the soccer-mad youngster showed great promise all the ways up, representing her country at the U-17 World Cup in Trinidad and Tobago in 2010.
As luck would have it, she would come up against current Irish team-mates Moloney, Megan Campbell, Denise O'Sullivan, Rianna Jarrett and Harriett Scott when Canada went down 1-0 to the Girls in Green.
"I set my sights on doing anything possible to play for Ireland. Luckily that came about."
The following year came her first call-up, but it was from chatting to UCC students at the World University Games that connections were made and she decided to continue her education on the Banks of the Lee, Badana completing a two-year postgrad in law while also turning out for Cork City.
"It's been a balancing act, like everyone else, balancing different aspects of your life."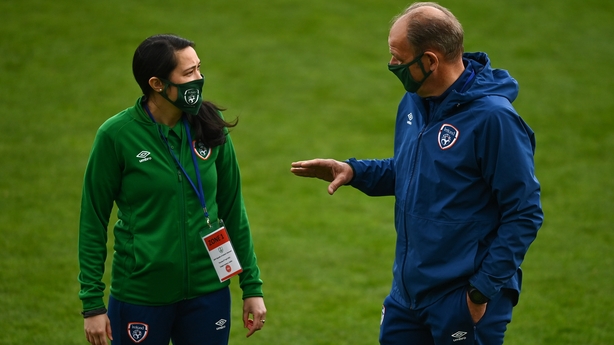 Badana moved to Dublin and is now working in commercial practice. The final exams are looming in the Law Society, but football continues to play a huge role in her life.
DLR Waves occupy fourth spot in the Women's National League, nine points adrift of leaders Peamount United and Badana says the potential in the team is encouraging for all associated with the club.
"It's been a few years of building, catching a glimpse of what might be out there if we keep pushing."
She believes the quality of the domestic league is growing with every season, and is one of eight homegrown players in Pauw's squad for the two games in Reykjavik.
After a long wait, Badana's time may be coming.
Watch Iceland v Republic of Ireland on Friday 11 June and Tuesday 15 June on the RTÉ Player and the RTÉ News Channel from 6pm.