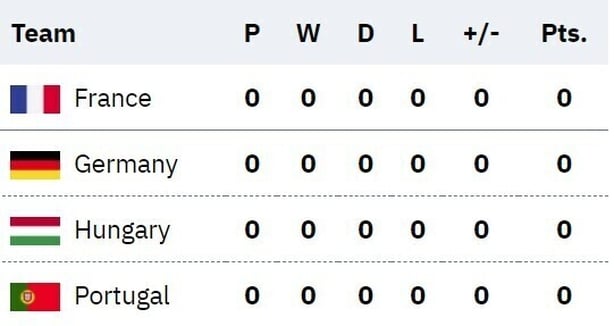 Every tournament has its proverbial 'Group of Death' where giants are squeezed into the same bracket.
And there is no doubt that Group F fits that description. The presence of World Cup holders France, reigning European champions Portugal and a leading football nation like Germany attests to that.
Hungary also have the capability of being more than awkward for that trio and happen to be in decent form.
But given that the Euros opening stage does offer the opportunity for up to three teams - rather than two - to advance from the group and into the knockout stages, perhaps the 'Group of Purgatory' or the 'Group of Reprieve' may be more apt a title. However, footballing 'death' remains a possibility if the team finishing third in the group find themselves at a disadvantage compared to the third-placed nations in other groups.
Monikers aside, when the Euro 2020 qualification process came to an end and Group F's residencies became clear, it was the group that elicited the most anticipation.
'Home' advantage in this pan-European schedule goes to Germany and Hungary with Munich's Allianz Arena and Budapest's Puskas Arena hosting all six group fixtures.
That could help make the difference as the current form guides suggest France and Portugal are favourites for not just the top two places but also the tournament as a whole based on form and the talent at their disposals.
But stranger things have happened as all the nations have discovered at various tournaments down through the years.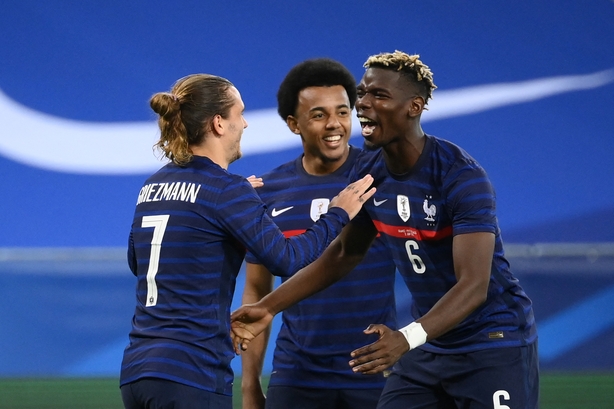 Country: France
Manager: Didier Deschamps
Captain: Hugo Lloris
Star man: N'Golo Kante
Best European Championship performance: Winners (1984 and 2000)
Fixtures:
15 June: Germany @Munich, 8pm
19 June: Hungary @Budapest, 2pm
23 June: Portugal @Budapest, 8pm
Given their exploits in Russia three years ago, France remain many people's favourites to claim continental honours.
The core of the squad remains in place, with World Cup winners Antoine Griezmann, Kylian Mbappe, Paul Pogba, N'Golo Kante, Raphael Varane and Hugo Lloris maintaining a formidable spine, even if many of those names - Chelsea's midfield dynamo Kante and PSG forward Mbappe aside - have not exactly lit it up at club level in the intervening years.
In some ways, Les Bleus are less than the sum of their parts under Didier Deschamps with abundant talent marshalled into a cohesive and organised unit that does not rely on their natural attacking quality. But that degree of conservatism has proved effective and the World Cup trophy is evidence of his methods working.
Which makes it all the more interesting that the manager has chosen to throw in a wildcard as he blindsided observers with the unexpected recall of Karim Benzema.
The Real Madrid attacker has been the talisman for his club over the past couple of seasons but had not been selected for France by Deschamps since 2015 after a blackmailing scandal over which he faces a trial in October.
Bitter public comments in the intervening period had followed and there had been no suggestion that any rapprochement was nearing.
It will be an interesting dynamic with fellow forward Olivier Giroud in particular given that Benzema had referred to the veteran target man as like a "go-kart" as opposed to his Formula 1 status.
Deschamps has shown a willingness to bring players back in from the cold as the presence of Adrien Rabiot in the Euro 2020 squad and across fixtures last year would suggest, with the midfielder having been dropped in 2018 for refusing to be on the World Cup standby list.
If Benzema recovers from injury and slots back in seamlessly, France will be stronger for it and it adds an extra string to an already impressive bow.
Coupled with their good form - a home defeat to Finland in a friendly last November is the one blemish - the French have all the ingredients to go far and avenge their Euro 2016 final defeat to group rivals Portugal.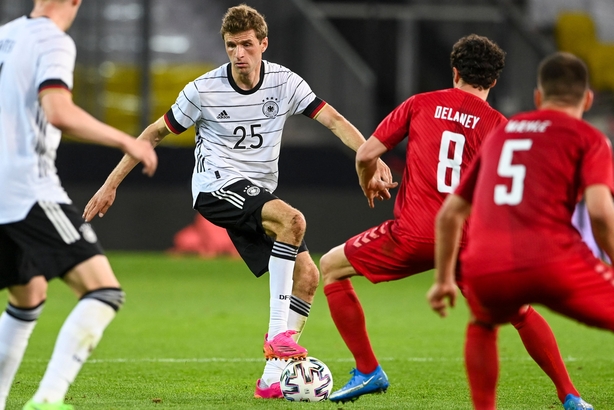 Country: Germany
Manager: Joachim Loew
Captain: Manuel Neuer
Star Man: Manuel Neuer
Best European Championship performance: Winners (1972, 1980 and 1996)
Fixtures:
15 June: France @Munich, 8pm
19 June: Portugal @Munich, 5pm
23 June: Hungary @Munich, 8pm
While France made one very high-profile recall for the tournament, Germany doubled that score with Joachim Low bringing Thomas Muller and Mats Hummels back into the fold.
It shows a sign of the manager's desperation as he looks to bow out of a mostly successful 15-year stint in charge with an acceptable finish.
The Germans had a bad World Cup in 2018 when they crashed out at the group stage ignominiously. And they remain shaky, especially defensively.
The nadir was the 6-0 defeat to Spain in the Nations League last November but the likes of Turkey and Switzerland have each put three goals past them during the past 12 months - although the Germans did salvage draws in those games.
But a 2-1 home defeat to North Macedonia in the 2022 World Cup qualifiers in March had the alarm bells ringing.
So to see Loew recall two players whose international careers he had abruptly ended - along with Jerome Boateng who remains in the cold - after the 2018 World Cup exit shows the level of immediate concern as the manager seeks added experience within the ranks.
Muller and Hummels join Manuel Neuer and Toni Kroos as the last remnants of Germany's 2014 World Cup-winning squad. There is younger talent elsewhere in the shape of the versatile Joshua Kimmich, Champions League final goalscorer Kai Havertz, Serge Gnabry and Timo Werner who will hope to have more luck in front of goal than he found at club level for Chelsea. Teenager Jamal Musiala has also impressed in Bayern Munich's midfield.
But overall, it does not appear to be a squad capable of going all the way, although tradition often dictates that the one nation that cannot be written off is Die Mannschaft - and if they make the knockout stages they have enough to thwart teams that may appear stronger on paper.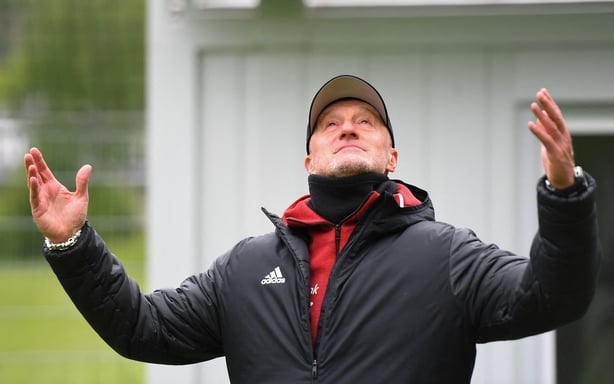 Country: Hungary
Manager: Marco Rossi
Captain: Adam Szalai
Player to watch: Willie Orban
Best European Championship performance: Third (1964)
Fixtures:
15 June: Portugal, @Budapest, 5pm
19 June: France, @Budapest, 2pm
23 June: Germany, @Munich, 8pm
The football superpower of the early 1950s when Ferenc Puskas and the Magical Magyars patented an early version of Total Football, Hungary's ambitions are more modest these days.
However, Euro 2020 marks a second continental championship appearance in succession for a side managed by Italian Marco Rossi.
While the Hungarians will be the underdogs in this group, they have enjoyed decent form over the past 18 months.
In their 11 previous competitive fixtures in World Cup qualifying and the Nations League, they have lost just once - a 3-2 loss to Russia - while picking up seven victories, including Euro 2020 play-off wins over Iceland and Bulgaria.
However, they have not played any of the stronger nations during that run which leaves a question mark about how they will cope with the challenge of facing France, Portugal and Germany.
They will have home advantage against the Portuguese and French with Budapest among the host cities which may throw some grains of optimism in their favour.
On the other hand, they were dealt an injury blow when RB Leipzig midfielder Dominik Szoboszlai was ruled out with injury.
The most expensive player in Hungarian football history after his transfer to the Bundesliga in January, he also netted the goal against Iceland that helped the team qualify for the Euros, so he would have been expected to be a key player for them.
They are likely to line-up in a 3-5-2 formation with Bundesliga-based players Peter Gulacsi (goalkeeper), Willie Orban (centre-back) and Adam Szalai (forward) key parts of a spine that also houses Bristol City's Adam Nagy in midfield.
Not much is expected of Hungary in this group but that could actually benefit the Magyars, coupled with the two home games.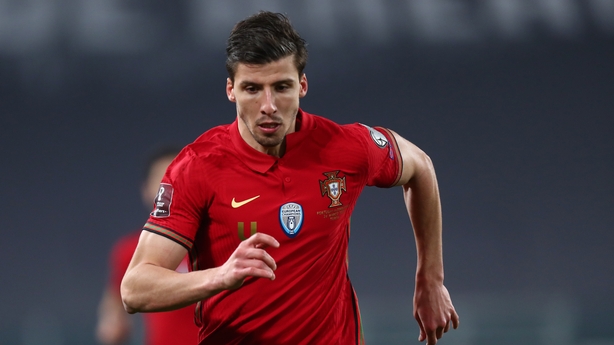 Country: Portugal
Manager: Fernando Santos
Captain: Cristiano Ronaldo
Star Player: Cristiano Ronaldo
Best European Championship performance: Winners (2016)
Fixtures:
15 June: Hungary @Budapest, 5pm
19 June: Germany @Munich, 5pm
23 June: France @Budapest, 8pm
Portugal come into Euro 2020 as reigning European and Nations League champions. They were surprise winners at Euro 2016 but have more individual talent to complement Cristiano Ronaldo than they did back then.
The likes of Bernardo Silva, Joao Felix, Diogo Jota and Manchester City's outstanding centre-back Ruben Dias have risen through the ranks since the memorable triumph in France five years ago and will be among the favourites to go all the way this summer.
The spine of the side is impressive from Wolves goalkeeper Rui Patricio to the aforementioned Dias, Joao Cancelo at full-back, Danilo Pereira, Manchester United's Bruno Fernandes and Bernardo Silva in the midfield and Felix. Not to mention captain and totem Cristiano Ronaldo who continues to plunder goals in Serie A in his 36th year.
Since September 2020, they have lost just once in a competitive setting against group rivals France last November in the Nations League. Otherwise results have been consistently good, even if they did make hard work of recent victories over Luxembourg and Azerbaijan in the World Cup qualifiers in March, with a draw in which Serbia fought back from 2-0 down sandwiched in between.
Certainly from an Irish perspective, given the Boys in Green are in the same World Cup qualifying group, Portugal will be a team to watch closely across the group and, if as expected they march beyond that, far into the knockout stages.